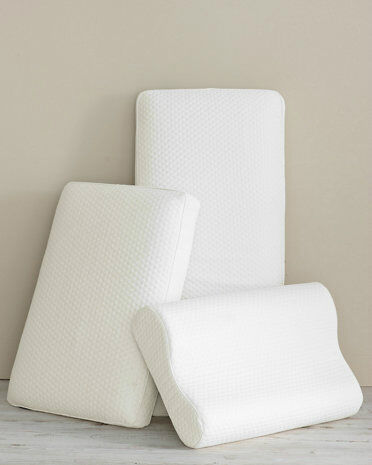 When you want to have the best night of sleep you possibly can, there are ways to make your experience as comfortable as possible. The right pillow can enhance and add to a wonderful night of sleep, so purchase a memory foam pillow for the ultimate sleep experience. What is a memory foam pillow? It's made from a type of foam that can easily support your back and neck by conforming to your individual body shape. The memory foam "moulds" to your neck and head, creating a comfortable cradle for your head while you sleep.
This can help relieve pain in your neck while you are sleeping. It's a thicker, heavier type of pillow and doesn't feel the same as a normal pillow, but once you have moulded the pillow to your shape, you will feel very supported all night long. While there are many different types of memory pillows, it's simple to distinguish which one might be right for you, whether it's low-density or high-density foam, simply by knowing the types of memory pillows that are available. Memory foam is also available in mattress form, so if you really love your memory foam pillow, you may want to consider purchasing a matching mattress for full body support. With the proper information about memory foam pillows, selecting the right one to suit your wants and needs can be really quite simple.
Types of Memory Foam Pillows
Memory foam pillows don't just come in one traditional style. There are many kinds of memory foam pillows designed to give you support in the areas where you need it most. If you're having neck issues, a neck roll might be perfect for you, but if you like being a little elevated at night but still comfortable, a wedge would work. Select the memory foam pillow for you with your own personal needs in mind, to get the relief you need overnight. Keep in mind that most memory foam pillows do come in sizes such as twin, full, king, and queen, to fit your bed properly, as well as different brand, such as Tempur memory foam pillows.
Traditional Pillows
Some memory foam pillows come in the style of traditional bed pillows. These traditionally styled memory foam pillows are great for people that want the look and feel of a regular pillow, but the support of a memory foam pillow. Traditional memory foam pillows usually also offer easy airflow so you'll stay cool while you're sleeping, which is a plus.
Check for a hypoallergenic pillow if you suffer from allergies to enhance your comfort, but most memory foam pillows don't attract dust mites the way traditional pillows do, which will lessen allergy symptoms on the whole. These pillows can vary in price according to what size pillows are needed, and what brand the pillows are.
Contour Pillows
Contour memory foam pillows look a bit like a pillow with a dip in the middle. This dip provides support for your neck, while your head is cradled in between. It may be funny shaped, but this type of memory foam pillow can provide optimal support if you like sleeping on your back. Check to see if the pillow is hypoallergenic if that is a concern for you. Also, if care is an issue, some contour foam pillows can simply be slipped into the washing machine for easy cleaning.
A contour pillow can also be great to help alleviate snoring, circulation, and alignment of the spine, to ensure a great night of sleep. If you often wake up with a stiff neck in the morning, a contour pillow may be the answer to your sleep problems.
Neck Roll Pillows
A neck roll memory foam pillow is exactly as it sounds: it looks like a giant roll. This circular shaped pillow made of memory foam is a good option for people that suffer from neck and lower back pain. Neck rolls can also be used in a variety of ways, such as while you're travelling in the car or on an airplane, because of their more compact shape and design. A nice memory foam neck roll can even be disguised as a throw pillow on the couch, and used for support while you read, relax, or watch television.
Get a neck roll with a cover for easy cleaning, and you can combine a neck roll pillow with a traditional memory foam pillow for more support for an aching neck and back.
Egg Crate Pillows
Egg memory foam pillows are memory foam pillows that have little bumps on them for added texture. It may look uncomfortable, but the egg crate on top of the pillow actually provides additional support. The egg crate design also provides extra ventilation for air while you sleep. Egg crate pillows usually come in the contour style of memory foam pillows so your head and neck is given a lot of support.
This works best for sleepers that enjoy sleeping on their back or sides, and since the egg crates can be a little hard at first, it is probably a safe bet for someone that really needs a lot of support and is willing to put up with some initial discomfort until the egg crate moulds to the neck and head.
V-Shaped Pillow
Choose a V-shaped memory foam pillow if you really want to improve support to your neck. It's a comfortable choice for stomach sleepers, and your head and neck fits right into the V-shape perfectly. It's perfect for taking stress and pressure off of the neck. It can also be used as a companion to a traditional style pillow, and can be purchased with covers for easy washing.
Wedge Pillow
Wedge memory foam pillows prop the body up and are shaped like a big wedge. The smaller end of the wedge goes under your body and you lay your head on the large side of the wedge. This elevates your upper body and can help alleviate issues like snoring, acid reflux, heartburn, and leg pain and problems. Keep your body supported and increase circulation with a wedge pillow. For people that have medical issues that require them to be slightly elevated or upright, a wedge pillow is a comfortable solution.
It's also great for sleep apnea and to help drain your sinuses. A wedge pillow doesn't have to be used for just sleep; use it while you're reading, relaxing, or watching movies to stay supported any time you are sitting or lying down. Combine a wedge with a neck roll for extra neck support.
High-Density and Low-Density Memory Foam
When you're choosing a memory foam pillow, you may notice that some are made with low-density foam, and some are made of high-density foam. What's the difference? Low-density foam is going to be softer than high-density, but it may not provide as much support, either. Low-density pillows may also cost less, if you're on a strict budget. If you don't need as much support and you like the feel of a lighter weight pillow, a low-density pillow may be right for you. However, if you need the support and you want durability in a pillow, choose a pillow that has high-density foam.
The problem some buyers have with the high-density pillow is that it's uncomfortable with the first few uses, but once it conforms to your unique neck, head, and body shape, it will become more comfortable.
How to Buy a Memory Foam Pillow on eBay
Purchase a memory foam pillow on eBay for an affordable price on a comfortable new pillow. Search memory foam pillows to see all of the available styles, or you can search for a specific pillow, such as a contour memory foam pillow or a wedge memory foam pillow. See if the pillow you are purchasing comes with a cover or not, and ask if the seller can bundle the pillow with a cover or two for a discounted shipping rate. A cover can protect your memory foam pillow, and be easier to wash than the whole pillow itself.
When you shop on eBay, choose merchants that are Top-Rated Sellers, and check for high feedback scores so you can buy with confidence. Communicate with sellers about buying a memory pillow that's perfect for you, and if the seller is local to your area, arrange a pickup in person so you can alleviate shipping costs to have your pillow sent to you.
Conclusion
For people that wake up in the morning with sore, aching necks, and a tired, strained back, a memory foam pillow is the solution to the problem. By supporting your neck, head, back, and sometimes, your entire upper body, you will begin to wake up ache free in the morning instead of feeling exhausted after another night of missed sleep. Memory pillows can help with so many issues, from snoring and sleep apnea to chronic heartburn. You may just need a neck roll for a stiff neck, or you may want to go with a wedge pillow to give your whole back the support it needs to ensure a great night of sleep.
Memory foam pillows are generally easy to care for, and they are also beneficial for allergy sufferers since most of them are antimicrobial as well as hypoallergenic. Once your memory foam pillow has moulded to your individual body, you'll be sleeping in the utmost comfort and your aches and pains will reduce substantially, if not disappear completely. Stop missing out on sleep, and buy a memory foam pillow instead.