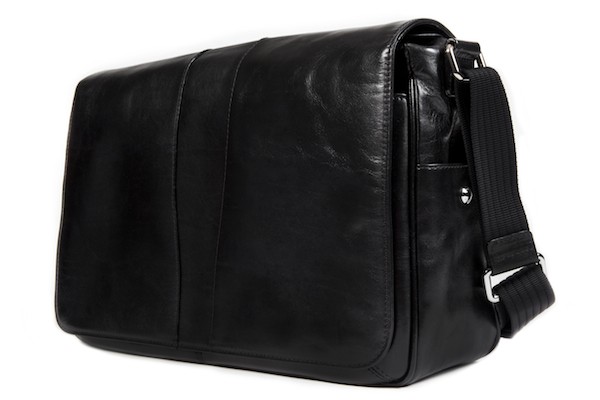 Watch the activity within any bustling city centre and amongst the traffic ride couriers who transport important business and legal documents between clients. Around their shoulders sits a bag that carries the important papers. Messenger bags have historically been used by couriers both on bicycle and on foot to increase the speed of conducting business. Once considered a bag strictly for couriers, messenger bags now fulfill important storage roles for business professionals, as well as high school and college students. The multifarious role of messenger bags has also increased the number of options that men have to choose from before buying messenger bags.
Men can find messenger bags in travel stores, office supply stores, and the men's accessories section of large department stores. They can also go online and search for messenger bags at the leading auction site, eBay. However, men should spend some time preparing to buy messenger bags, since the number of ways to use messenger bags has increased. Men should learn about the multiple purposes of messenger bags, the type of messenger bags, and what to look for in a men's messenger bag, especially the type of material used to construct the bags.
What Is a Messenger Bag?
A messenger bag, which is often referred to as a courier bag, is a sack made out of materials that protect documents and other important items from damage. The term messenger bag comes from its use as a storage unit for messengers who retrieve and drop off business correspondence within a small area. Users wear the bag over one shoulder by a secure strap that winds around the chest to allow the bag to rest on the user's back. Messenger bags have undergone radical design changes, with many manufacturers producing messenger bags as fashion statements for fashion-conscious professionals. Contemporary messenger bags exude urban sophistication, while providing space for more than just business and personal documents.
Multi-Purpose Messenger Bags
Messenger bags incorporate features that expand the way consumers utilise the storage units. Aside from the sturdy straps, messenger bags possess quick release buckles, adjustable hinged buckles, and the capability to attach numerous accessories that make them perfect for cyclists who take long distance trips. Some of the accessories that cyclists can attach include: lights, cell phone holsters, and U-locks. Stabilising straps prevent messenger bags from swinging during bicycle rides. The top-opening, one-strap design provides cyclists with easy access to messenger bag contents.
Many men buy messenger bags as fashion accessories that provide more than simply storing business and personal documents. Instead of backpacks, many high school and college students carry colourful messenger bags to and from school. The large interiors can store bulky electronic devices, such as laptops and multiple cell phones. Compared to backpacks, messenger bags provide students with easier access to books, notebooks, and school supplies. Messenger bags also provide better weather-resistant properties, which is especially important for students who commute by bicycle.
Types of Messenger Bags
Messenger bags are not categorised by the materials used to make them or their style. Instead, most manufacturers categorise messenger bags by their primary functional role: size.
Large
The classic messenger bag used by cycling couriers falls into the large category. There is plenty of room to store boxed documents and architect renderings. Students can virtually stock a mobile classroom into a large messenger bag. Travellers can be seen wearing large messenger bags that hold numerous books, a computer, headphones, and snacks.
Medium
Medium-sized messenger bags comfortably store average-sized laptops, manilla folder files, and small umbrellas. Professionals who commute to and from work enjoy this type of messenger bag for providing both an interior storage space, coupled with exterior pockets that store smaller items. Medium messenger bags are slimmer and less bulky than classic messenger bags, which means they are the best type of messenger bag to carry on an airplane.
Small
Compact messenger bags can either be worn around the waist or stored inside of a large interior coat or jacket pocket. Men use this type of messenger bag to store organisers and travel wallets, which have been secured by a strong chain. These are ideal carry-on messenger bags that also make good homes for cell phones and other smaller electronic devices.
What to Look for in a Men's Messenger Bag
The transformation of messenger bags from strictly functional ways to carry large items to stylish bags that define the personalities of professionals means that the features that men should seek in messenger bags have changed. While functional features, such as size, still matter in the messenger bag buying process, men now must consider a few style parameters.
Feature

What to Look For

Size

Messenger bags come in myriad sizes, from bags that store netbooks to bags that have the capability to store documents for cross-country trips

Messenger bags may look large from the outside, but it is the interior that matters; test out the size of a messenger bag by placing some paperwork and a laptop inside of it

Colour Design

Colour design is a matter of personal preference, decide on the type of colour design you want before visiting a store to avoid being overwhelmed with choices; consider more conservative designs for professional tasks and more creative colour designs for personal organisation

Strap Length

Choosing the strap length can be the difference between walking upright and placing unnecessary stress on the shoulders and back; messenger bags should hang near the waist, regardless of the user's height; look for messenger bags that have adjustable straps

Organisation

Men may only need one large pocket to carry a laptop or several pockets to organise files for a business meeting; the number of messenger bag pockets directly influences the level of organisation

Closure

While velcro is cheaper, men should consider messenger bags that secure important documents with snap-on attachments or even a zipper that locks; closure features determine security and durability of messenger bags
After men decide on the five primary features, they should then turn their attention to deciding on the material used to make messenger bags. While manufacturers integrate materials to make hybrids, men should consider messenger bags made entirely of one of three materials.
Materials Used to Make Messenger Bags
The material used to produce messenger bags largely influences how much messenger bags cost. While style may be one reason to choose a certain messenger bag material, men should put more weight on a material's durability and waterproofing properties. Men should consider three messenger bag material options.
Canvas
Canvas is a rugged material used to withstand everyday use, from the pounding a bag takes on a school bus to rubbing against office walls as a user stands to chat with colleagues. Students like canvas as a trendy retro fashion statement that allows them to carry all of their books and school supplies. Canvas prevents the types of tear that school books cause on synthetic backpacks. Manufacturers waterproof canvas messenger bags to protect stored objects from unexpected downpours.
Synthetic
Nylon is the most popular synthetic messenger bag material for people who live in rainy or humid climates. Manufacturers treat synthetic messenger bags with a water-resistant coating that keep portfolios and important legal documents dry. Couriers tend to choose this type of material for their messenger bags, since they spend much of their time outdoors. Students buy synthetic messenger bags that contain multiple compartments for keeping school supplies and homework dry.
Leather
Leather has become the material of choice for professionals who want both style and a functional mobile storage unit. Treated leather bags come in a variety of colours and sizes to match individual tastes. Some leather messenger bags possess built-in laptop sleeves that can hold laptops 15 inches or smaller. Since leather does not have strong water-repellent properties, users should make sure any leather messenger bag they choose has been waterproof treated by the manufacturer.
Buying a Men's Messenger Bag on eBay
Men can find a wide variety of messenger bags on eBay, including bags that have become hip in the workplace. Use eBay's search engine to find sellers who offer the type of messenger bag that matches your shopping criteria. Try to specify the keywords that you type into the search engine to reduce the number of search results pages. For instance, typing "leather messenger bag" or "Fossil messenger bags" eliminate search results that do not match your buying parameters. Once you find an eBay seller, navigate to that seller's product page to review return policies and delivery terms. Most sellers also provide an enlarged photograph of the messenger bags that they have for sale.
Consider buying from eBay's Top-Rated Sellers. eBay rewards sellers who have earned reputations for offering superior products at reasonable prices. Top-rated sellers also entice buyers with generous return policies, which is an important factor to consider when buying a messenger bag. Sellers also receive customer feedback that appears on their product pages. Look for sellers who have garnered positive customer feedback for at least a year. The positive feedback should include a couple of comments about selling men's carrying bags. Once you consummate a successful transaction with a messenger bag seller, you can contact that seller to inquire if he or she has set up an eBay store to sell other products.
Conclusion
News travels fast because couriers race through busy city streets carrying important business and legal documents. They carry the important documents in messenger bags, which can consist of one large interior space for storage or multiple compartments that organise documents according to a courier's route. Messenger bags manufactured for couriers must be made of materials that can stand to take a pounding and weather elements. The most important element of a courier's messenger bag is the strap, which should provide easy document access and enough strength to remain attached to the messenger bag.
Messenger bags are now popular amongst business professionals and students. Before buying messenger bags, they must consider size, closure, colour design, organisation, and strap length features. The most important feature of all, material, determines how well messenger bags withstand the wear and tear of ordinary usage. Students prefer canvas for its high durability, while business professionals prefer more stylish leather-constructed messenger bags. The number of features and materials used to make messenger bags means the best place to shop for the mobile storage device is at the leading online auction site, eBay.