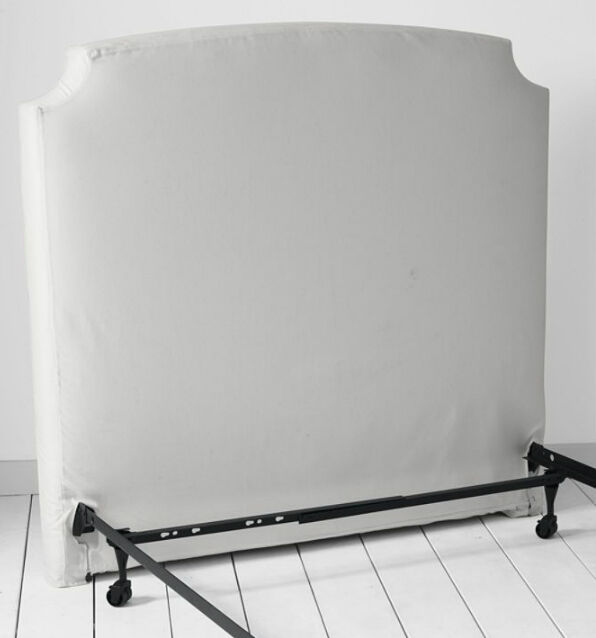 A metal bed frame can match the decor of any bedroom, be it traditional, modern, Victorian, or art deco. When you purchase a mattress and box spring, it generally comes with a plain metal bed frame. In time, you may want to purchase a more elaborate metal bed frame for the mattress to enhance the look of your bedroom or just for functional purposes. Most metal bed frames sold separately often come with a headboard, baseboard, and rails. They are both decorative as well as functional. Metal bed frames can be made of a variety of materials, including aluminium, iron, and brass.
Metal bed frames are found at bedding supply stores, furniture stores, and online shops, including on eBay. Choosing a metal bed frame should not be difficult, once you know the size of your mattress and have an idea about the material and style of the frame. If you lack inspiration, you can search the Internet or eBay for good ideas. To make an informed decision, you should know the main sizes of bed frames available and also the features of the most common metals that are used to manufacture bed frames.
The Size of the Frame
The first thing that you need to do is measure your bedroom to be able to choose the size of the metal bed frame that you want or need. If you already have a mattress, you can measure it as well to make sure you buy a bed frame in the same size. You should also consider the decor of your bedroom. For example, if you have a large room and large pieces of furniture, you may want a large bed. If you lack space or have small pieces of furniture, a king size bed frame would look out of place. You just measure length, width, and height of the mattress and box spring.
The King Size Bed Frame
The standard king sized bed in the UK is 150 cm by 200 cm. If your room is small then the king sized bed is probably not for you as it would not leave you enough space to move around in the room. If, however, you have a large room with plenty of available space, choosing a king size bed is a good decision. You may also want to consider how many people are going to use the bed before buying a king size bed frame.
The Standard Double Bed Frame
The standard double is 135 cm by 190 cm. It is more than comfortable for a single person, but also for a couple. A standard double bed frame is a good idea if you have a large bedroom or if you do not need much other furniture in the room. When measuring the available space, you should take into account the other pieces of furniture that you already have or plan to purchase for the room. Just like a king size bed frame, a standard double one should fit comfortably in the room, while also leaving you enough space to move around. When measuring the room, you should also consider the size of the door as you will have to fit in the bed frame after you purchase it. Some bed frames come in several pieces that need to assembled, others come in one piece and you must be able to fit them through the door of the bedroom.
The Standard Single and the Small Single Bed Frames
The standard single is 90 cm by 190 cm and suits a single person. A metal bed frame in a modern style and with minimal decorations can be a perfect addition to a child or teenager room. The small single bed frame is 75 cm by 180 cm and is well suited for a child's bed. Even if the child's room is very small, a metal standard or small single bed frame can fit comfortably and leave enough space for a wardrobe, a desk, and a chair.
The Toddler Bed Frame
A toddler's bed is 70 cm by 140 cm. Metal frames for these types of beds can be simple or shaped like an animal or a car and can come in various colours, such as white, red, or blue. When purchasing a bed frame, you should consider that some of them may lack the support for the mattress, which can be made of either metal or wood, and if this is the case, you need to purchase it separately, making sure it fits the mattress and the bed frame.
Types of Metal Bed Frames
Metal bed frames can be made of a variety of metals and metal combinations. Sometimes manufacturers use metal frames for strength, other times for aesthetic purposes as many intricate decorations can be made from metal. Some metals are more lightweight than others, other metals are rust-prone or rust resistant, so you should know the main features of the metal used to make bed frames before you make a purchase to ensure you get what you want.
Aluminium Bed Frame
Aluminium is lightweight and mostly hollow. Manufacturers use aluminium to make bed frames because it is malleable, meaning it can be easily shaped into tubes and bended into any form desired. Manufacturers use the aluminium to make complex shapes, flowers, and birds because of this malleability. A person can easily lift and manoeuvre an aluminium bed frame because of its lightweight. Aluminium is also one of the least expensive metals. It is used to make all types of bed frames, from crib frames to ornately-designed single, double, and king size bed frames.
Iron Bed Frame
Iron beds are sometimes extremely ornate and expensive, but they can also be found in relatively simple designs at affordable prices. Unlike aluminium, iron can be heavyweight, so two people may be needed to move an iron bed frame. Iron is also prone to rust, so iron beds are sometimes painted or treated with solutions that prevent rust. Iron bed frames are possibly the most beautiful metal bed frames that you can find, and are also durable so they make a good investment. Manufacturers make all styles of bed frames out of iron, from futons to highly decorated and unique designs to match anybody' style preferences.
Brass Bed Frame
Brass is a traditional metal for beds, so you can find frames in all shapes and sizes made of brass, but the most well known is the four-poster bed. Brass is not as light as aluminium and not as heavy as iron. It is between the two especially when it is hollow like most four-poster beds are. The traditional brass bed has been around since the Victorian era and there are as many designs of brass bed as there are of iron and aluminium.
Styles of Metal Bed Frames
The most common styles of metal bed frames are the four-poster bed, the futon, and the square frame bed. Not all metals lend themselves to all styles, so manufacturers use certain metals only for certain styles of bed frames. You should consider this when looking for a metal bed frame. If a style of frame you like is not available in a particular metal you prefer, it may be because manufacturers have found that other metals are better suited for that style. So you can either choose a different metal or a different style.
The most traditional of the bed styles is the four-poster bed. It features four poles stretching from the floor upward. The four-poster bed is also sometimes called a canopy bed because a canvas top can be draped over it to create a tent effect. This is a classic bed style that has been around for centuries. The frame of the bed stretches between the poles but the poles support the main portion of the weight of the bed, so they need to be sturdy.
The futon is relatively new style when compared to the other common bed styles. The futon is a frame with a thin hard mat over it. Most futons are made from iron or aluminium but occasionally a brass one can be found. Futons frames are usually convertible to sofas. These beds sit low to the ground with four small posts taking the weight while heavier crossbars distribute the weight.
The square frame bed is relatively standard when it comes to metal or wooden beds. It can rest completely on the headboard and footboard or it can rest on pillars. Sometimes the headboard is higher than the footboard but it still has that same style. Although it can be made from any one of the common metals, the square frame bed tends to be hard to move due to its long components so you should consider this if you plan to move house often.
How to Buy Metal Bed Frames on eBay
Although some metal beds may be difficult to find, eBay has a wide selection of bed frames in all sizes. If you go to eBay's website and type in the kind of metal bed you want into the search box, then click 'search', you get a list of all the metal frame beds for you to choose from or just to browse through. When you select the one that you like, you can simply click on the listing and it will display the information about the bed. Read through the listing carefully. It should have all of the dimensions of the bed, what size mattress it takes, and both the shipping and return policies.
If you have any questions, you can ask the seller. While you are at the listing, take a look at the seller's feedback and rating. This will give you an indication of the seller's reputation on eBay and may help you in the selection process. Many of the sellers have very high ratings and positive feedback but it is always good to check on any positive or negative ratings they may have.
Conclusion
Metal bed frames can enhance the decor of your bedroom, if chosen appropriately, according to size and style of the room. Metal bed frames can be found in simple designs or very ornate and beautiful ones, but they also can be very heavy, such as those made of iron. Other metal frames, like aluminium ones, are lightweight and can be easily moved by a person.
Knowing the dimensions of the mattress can help you choose the right size metal bed frame but you should also consider the dimensions of the room and of the space available for the bed. A metal bed frame is something that lasts a very long time and is very durable but unfortunately it can be very heavy and sometimes expensive. However, there are many styles of bed frames, made of different metals, so choosing the ideal one for your bedroom should not be a difficult endeavour. Before you purchase a metal bed frame, browse through the listings on eBay either for inspiration or for finding the bed frame that you have been looking for at an affordable price.