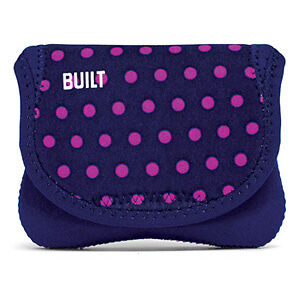 Mini camera cases are designed for the very smallest cameras. Often these are small compact cameras, which are sometimes viewed more as fun cameras, and can be carried everywhere, ready to point and shoot at any time and in any situation. Small compact cameras are very durable and have a smooth exterior. For example, the lens usually retracts, and there are no protruding buttons. They are often waterproof and can withstand shocks, so they need little in the way of protection from a camera case. Users of these cameras are unlikely to need to carry many accessories – at most perhaps a spare memory card or spare batteries. Mini cases for compact cameras are often brightly coloured or decorated and are sometimes seen more as fashion accessories than as essential items for protecting the camera.
However, small cameras can also have a higher specification with more features. This includes the newer POV (Point of View) cameras, which have been specifically developed for those who want to photograph adventure activities such as cycling, surfing, rock- climbing, and skydiving. These small but powerful cameras can be attached to a helmet, chest strap or similar, or mounted on equipment such as a bike. They often need additional accessories such as camera housing, additional housing doors, etc. because they are used in active situations, and the case needs to afford a higher level of protection for these cameras and their accessories.
Different Mini Camera Cases
Mini camera cases generally fall into three categories: soft cases, semi-hard cases, and hard-shell cases.
Soft Mini Camera Cases
Soft mini camera cases are a very popular option with compact camera users. Their flexible nature means they can be permanently kept in a handbag or school bag, ensuring the camera is readily available at all times. However, there are often additional options for carrying the case separately. As they are made from fabric, PVC or other soft material, they are affordable, and they generally have a fleecy interior which avoids scratching delicate camera parts such as the LCD screen. Soft cases tend to be universal rather than specifically tailored for one model, as their soft make-up will not harm the camera if it slides around, so an exact fit is not essential.
Different Kinds of Soft Cases
| Kind | Description |
| --- | --- |
| Drawstring pouch | Made of fabric with drawstring closure. May have a D-ring attachment to allow clipping to a belt loop or bag. Gently padded for protection, and the soft interior protects against scratching. May have a pocket for spare memory card. |
| Flap pouch | May be made of fabric, PVC, neoprene, or similar. Flap closure with velcro, popper, or magnetic catch – allows quick access to the camera. Soft interior for protection. Wrist strap, loops for attaching to a belt, or D-ring, as additional carrying options. May have an accessory pocket. |
| Zip pouch | Similar to a flap pouch but with a zip closure. Affords better security for the camera, but may make it slower to access the camera. Size is very important; if the case is too small, the zip may be damaged or damage the camera when being closed. Likely to have a wrist strap and other carrying options. May have accessory pocket. |
| Wallet | Looks similar to a wallet or large purse. Features a flap to close, usually with velcro, a popper or magnetic catch. Designed to keep in another bag so unlikely to have additional carrying option. May have an accessory pocket. |
Semi-Hard Universal Mini Camera Cases
Semi-hard mini cases give more protection than soft cases so are suitable for more expensive cameras. They are often created with a clam-shell design, making them ideal for a range of cameras. The semi-rigid moulded exterior is often lined with a fleecy material to cushion the camera against bumps and give protection from scratching, and they are often water resistant and shockproof.
Different Kinds of Semi-Hard Universal Mini Camera Cases
| Kind | Description |
| --- | --- |
| Metallic effect clam-shell | These are smooth and sleek and can easily be stored inside another bag. Usually have a wrist strap for carrying and sometimes a D-ring to allow clipping to a belt loop. Unlikely to have loops to allow attaching it to a belt. May have space for spare memory card. |
| EVA clamshell | These are designed as more practical cases to house and protect a compact camera when outdoors, e.g. hiking or climbing. Generally have a wrist strap but also additional means of attaching to a rucksack or similar, e.g. D-ring or belt loops, so camera is easily accessible when on the move. Possible pocket for spare memory card. |
Semi-Hard Specific Mini Camera Cases
These cases are designed for specific models of camera and are intended for more expensive models. Retro-themed designs are popular in this category, with many resembling classic leather camera cases. Sometimes with a removable flap closure. Small cases for POV cameras generally have semi-hard shells.
| Kind | Description |
| --- | --- |
| Classic camera-case style | Frequently made of leather or faux leather (often brightly coloured), these are an exact fit, often screwing into the bottom of the camera, and can remain fitted while the camera is in use. Depending on the camera design, some have a hole to allow the lens to protrude. Usually have a flap with a popper or magnetic catch, which may be removable. Some are water-resistant. May also have a wrist or neck strap, perhaps detachable. Unlikely to have space for accessories. |
| Novelty retro-themed cases | Often made from leather or faux leather. Novelty designs are popular, e.g. resembling a miniature leather school satchel. |
| Small POV camera cases | Small cases specifically designed to house POV cameras and accessories. Box-shaped, with foam inserts in the lid and bottom of the case which are cut to fit the camera and a few accessories. Lightweight, but offer excellent protection from damage and the elements. |
Hard-Shell Mini Camera Cases
Hard-shell mini cases are generally made from moulded plastic or aluminium, making them strong and lightweight and enabling them to give good protection for the camera. They are usually more expensive and so are probably best for cameras at the top end of the range; some designs also have recesses inside to hold the camera snugly, and hard-shell cases are often waterproof and dust-proof. They may have a clam-shell design, with a wrist strap for carrying, and possible means of attaching the case to another bag. They may also have a small pocket for spare memory cards.
Underwater Mini Camera Cases
Underwater mini cases are specifically designed to seal the camera inside, allowing it to be used underwater.
Buying a Mini Camera Case
Firstly, it is important to consider the kind of camera that will be stored in the case. A relatively inexpensive compact camera will not need a costly case that offers a high level of protection as the camera is already well-protected. The case is more likely to be used as a means for carrying the camera easily. Users with expensive cameras, especially POV cameras, will want a case that is more practical, ensuring the camera is safe from damage, yet easily reachable when it is needed. A higher specification case is probably a better option in this situation.
Think about the purpose for the camera case. Will it be used primarily to protect the camera or is it more of a fashion accessory? Will it be kept mainly inside another bag, or will it be carried separately? Would an enclosed case or a retro-themed classic design be most suitable? Will the camera be exposed to rough outdoor conditions or used mainly inside?
Take time to consider whether a soft, semi-hard, or hard-shell case will be the best solution. With semi-hard or hard-shell cases, it is more important to ensure that the camera fits properly inside without struggling to close the case or allowing the camera to slide around inside. Either one of these factors could result in damage to the camera, so it is important to check the dimensions carefully before purchasing; listings usually give the interior measurements of the case to allow buyers to check if their camera will fit properly. If there are foam recesses to house the camera and accessories, check to ensure that they will fit.
Conclusion
There is a very wide range of mini camera cases to choose from, including trendy themes, retro designs, practical protective cases, and even waterproof options. By taking everything into account before deciding which kind to purchase, buyers are bound to find a camera case that is perfect for their individual needs and circumstances.