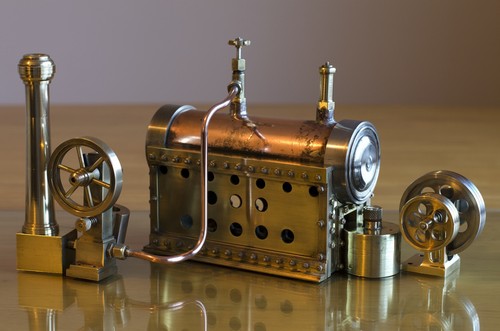 Model steam engines can be used for different reasons in a variety of ways, from powering miniature trains for railway enthusiasts to educational demonstrations for students. For more experienced and advanced steam enthusiasts, building engines from scratch is also a popular pastime.
However, this guide will look at how to go about making a steam engine purchase that can be classified as a toy or game. In particular, it will look at auction website eBay which has many steam engine components available within its listings from an array of different sellers.
A Background of Model Steam Engines
In the late 19th century, model steam engines began to be manufactured by different companies, mainly from Germany, and their use in replica locomotives became more popular with the general public as time passed. Their value and enjoyment factor were limited early on however as their complex and rigid design were off-putting to some people.
Into the 20th century, more accessible designs such as boats and fire engines, as well as train replicas, meant that model steam engines hit a boom period around the half point of the century. Many companies who became successful around this era such as Wilesco, Mamod and Marklin are still manufacturing model steam engines today.
Steam Model Trains
The most common toy that is associated with model steam engines are train locomotives.. Live steam engines are powered when the steam becomes under pressure, obtained by heating water in a boiler.
The boilers in steam locomotives are usually made from copper although steel is also okay for larger models. The most important aspect to consider when powering a steam boiler at home is the water level. It can't be either too full or completely empty. If all the water in the boiler does evaporate then the heat from the burner may damage the mechanics of the train itself.
Much larger live steam models that can fit in humans are also a feature of some model steam engines; they fit on bigger scaled tracks with wide gauges. These can be constructed in large back gardens but are more commonly found in amusement parks.
Other Models
Other models that can run on steam engines include:
Wagons
Boats
Cars
Winding engines
Model Steam Engine Buying Considerations
Remember to set the suitable budget for the model steam engine in respect to how much you can afford. Remember that shopping on eBay can offer the chance to purchase goods at a much affordable price that would be found elsewhere, especially if shopping at auction or interested in used items.
Also consider at what level the steam engine will be used at and who will be using it. Some modelling enthusiasts or even inquisitive children may become interested in putting together their own steam powered engines; buying certain accessories or spares can assist with this.
For more information on the model steam world then consider looking into purchasing magazines or catalogues that are devoted to the topic. These, along with other specialist websites can provide much more detailed information on the various uses for older and also newer model steam engine models, be it for locomotives or other types of transport. Acquiring knowledge from specialist steam enthusiasts can be the difference between a shrewd purchase and a disappointing one.
Advice for Buying Model Steam Engines on eBay
Although eBay is the best way to go about obtaining a steam model engine, there are some potential risks with making a purchase from an independent seller.
When reviewing the item's description, does it appear if the seller knows what they are talking about? Have they listed any detailed information at all? Be sure to ask as much as possible about the model to receive a fuller picture of its history and working capabilities.
Some sellers will claim the engine is an original or misplace information in order to make their model steam engine appear more valuable. Again, make sure the cost of the purchase ties in with what the item is actually worth.
In contrast, the person selling the item may not be clued up at all with their model steam engine; this can lead them to list it in an inappropriate way unintentionally. Again see if they can provide as much information as they can in relation to such simple aspects as the piston, safety valve, plug and boiler.
Check out the pictures as closely as possible that the seller has provided with their listing. Ideally, in regards to full models of locomotives, boats, etc, they should be numerous and as close up as possible as to give an all-round view of the item.
To ask a seller a question then simply click on their profile and find the Contact Member on the left-hand side of the page. Remember some of the above points and don't feel timid in asking as much as possible. It is their duty to supply this information before realistically putting an item out for public sale.
Checking their feedback history and rating is another way of staying safe on eBay. By looking at this a more refined consideration can be made to whether they are a trustworthy seller or not. Comments from previous transactions should again provide you with the opinions of others who they have dealt with previously.
Finally, it is possible to check the other items that the seller is currently selling. If many of these are steam based then this will almost certainly indicate that they will know what they are talking about when coming to answer a potential question.
eBay Buyer Protection
To cement the safe nature of using eBay for both new and established users, the buyer protection programme has been developed in order to assist with any potential problems with a purchase. In this case, if thesteam model doesn't arrive or match the initial description, it can be sorted by using the Resolution Centre.. In some cases, there may be the possibility of reclaiming any lost costs. To try and settle any problems with the purchase then try using the following guidelines:
The first aspect to consider is if the seller has had chance to package and ship out the steam engine in the first place. Recall what was said in the item description in regards to the delivery process. For example, is it being delivered from far away? Make sure to give more leeway to something being delivered from another country. Also, remember to allow time for payment to go through before worrying about the particular steam engine model not turning up.
It is advisable to contact the seller before the listing has ended if unsure over any details about the engine. Even if this is not necessary, then another tip is to make contact after the item has been won to finalise details of when it will be shipped out, etc. If waiting for a response, then make sure to check if your contact details are correct or if the reply may have diverted into the junk mailbox instead.
If contacting the seller has so far been unsuccessful then there is the option to request their private details in the form of their personal email address and phone number. To do this then click on the 'Advanced&' link on the homepage, and then select the 'Find Contact Information' from the menu bar on the left hand side. By entering the seller's User I.D and the item number in question this personal information will be displayed.
A lack of appropriate correspondence by now should be ringing the alarm bells and contact should now be made to eBay via the Customer Support page. An 'unresolved case' can now be opened and a refund may be issued under eBay Buyer Protection.. Remember to open a case in under 45 days or it may not be possible to officially open up a dispute.
Searching for Steam Model Engines on eBay
To find the appropriate steam model trains in eBay then typing in a particular search term will bring up a lot of relevant results. These can be narrowed down into different categories and also be other preferences such as the condition and price.
Type in "model steam engine&" into the search bar.
Select the 'Steam' sub-category from the 'Toys & Games' main category from the left-hand side of the results page.
It is now possible to differentiate between locomotives, Live Steam models and accessories for steam engines that people may have listed.
Other aspects to choose between include those with free P&P, items from the UK only and also which certain brand is preferable.
Conclusion
eBay has become the most popular platform for model steam enthusiasts to sell their goods on; this obviously makes it the most efficient place to search out the appropriate item.
Be careful when buying a steam engine as some items on the market may be relatively old and potentially unworkable; combat this on eBay by reading the item's description carefully and asking the relevant questions.