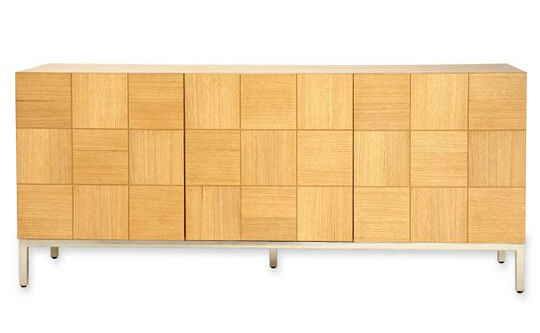 Sideboards, or buffets, are free standing cabinets that can usually be found in dining rooms or eat-in kitchens. Typically, they feature drawers and cabinets for table settings, and the tops can be used to serve and display food. Some sideboards have raised backs that may incorporate storage space or a mirror.
Modern Sideboards: Contemporary or Vintage?
The word 'modern' can mean two different things when it comes to furniture. First, it can refer to an item that is new as opposed to pre-owned. It can also refer to the early to mid-twentieth century style known as 'modern.' Now, more than a half century later, the modern style is part of the history of design, and early examples are considered antiques. New furniture is still being produced in the modern style, but it is available in many other styles, too.
Vintage Modern Sideboards
The modern period in furniture design started in the 1920s. Both the Art Deco movement, which produced more ornate and stylised pieces, and the simplified, 'form follows function' styles of the mid twentieth century are generally considered to be part of the modern design movement. The sideboard continued to be an important piece of furniture until the late twentieth century, when fitted kitchens became standard and many households no longer needed the storage they provided. The table below describes some twentieth century modernist sideboard styles.
| Type | Description |
| --- | --- |
| Art Deco Sideboards | Art Deco was an attempt to create an original and modern style that still embraced creative detail. Art Deco sideboards, which were being produced from the 1920s through the 1940s, often feature a streamlined shape, high-gloss wood veneers, and storage space from the floor to the serving area. Some Art Deco sideboards have mirrors at the back, but most do not. |
| Modern Minimalist Sideboards | Modernism was a reaction against the sentimental, complex and often inconsistent designs of the Victorian period. It embraced the use of mass production and machine-made parts. Minimalism finds beauty in pure function, simplified to its essentials. Minimalist sideboards will usually have a simple, prismatic shape and hardware that is either highly geometric or hidden. Although some modernist sideboards use finished wood, other are black, white or feature splashes of bright colour. |
| Danish Modern Sideboards | Danish modern is a branch of the modern design movement that values high quality materials, particularly hardwoods, and that uses their natural beauty as a focus. Like other modernist styles, Danish Modern design is clean and simple. |
| 1950s and 1960s Style Sideboards | In the 1950s and 1960s, sideboards often featured short, thin legs. Most buffets from this period are simple rectangles without a raised back and with no mirror, and they are often fitted with metal legs at jaunty angles. |
Contemporary Modern Sideboards
The new sideboards being manufactured today come in a variety of styles. Some are modernist, some are reproductions or imitations of older styles, some take their inspiration from more than one source, and some follow directly from furniture making traditions. Below are a few examples of the categories that new sideboards are generally placed into.
| Type | Description |
| --- | --- |
| Reproduction Sideboards | Reproduction sideboards are simply new sideboards made in imitation of antiques. They can be a good choice for people who want a new piece of furniture in good condition, but prefer an authentic looking, classic style. Some reproductions are built with the same methods and materials that were used in the originals. Others simply aim to capture the look of an antique. Examples of reproduction styles include Gothic, Italian, Louis XIII, Neoclassical, Louis XVI, Queen Anne and Regency. |
| French Country Sideboards | French Country is a simple but classic look that often includes decoratively cut boards and cabinet doors with ornate panelling. Sometimes, these pieces are painted a light colour. |
| Scandinavian Sideboards | The Scandinavian style is similar to Danish Modern. Scandinavian sideboards feature simple designs with an emphasis on the quality of the materials. They are usually solid wood or wood veneer. |
| Contemporary Style Sideboards | Sideboards that are classified as contemporary often represent today's take on modernism. They are frequently glossy black or white, with hidden hardware. These often come as part of a matched set that includes a dining room table and chairs. |
| Traditional Style Sideboards | New sideboards that are categorised as traditional often feature details from country style or antique furniture, but the design is simplified and they are built of modern materials. Like contemporary-style sideboards, these are often included as part of a dining room set. |
| Arts and Crafts, Mission, and Shaker Style Sideboards | These styles are both modern and traditional. They are modern in the sense that they are being manufactured today and are not considered reproductions or part of a revival. However, these styles have existed for a hundred years or more. Look for straightforward designs influenced by Asian and rustic furniture. |
Sideboard Issues: Construction
Flat pack furniture is delivered disassembled, in boxes, and it has to be assembled on site. The boxes are less costly to ship than a fully constructed piece of furniture, and they are also easier to carry up stairs and through doors. Although some furniture that's delivered this way is low in quality as well as low in cost, it is fairly easy to find serviceable and attractive solid wood flat-pack sideboards at reasonable prices. For those who are on a budget and who are competent with a hammer and a screwdriver, one of the greatest advantages of buying a new sideboard is the opportunity to buy a flat-pack product. However, people who do not feel comfortable assembling their own furniture should avoid flat-pack sideboards.
Sideboard Materials
Sideboards can be made out of any of the materials that are commonly used for furniture. For example, many people prefer solid wood sideboards. Pine sideboards, maple sideboards, walnut sideboards, cherry sideboards, and oak sideboards are all popular. A solid wood sideboard will be easy to paint or refinish, and if it's dented or scratched, the damage can be sanded out and will not reveal a cheaper material under the veneer. Solid wood sideboards can be used for decades or even centuries. If their construction is high quality, they will age gracefully, even as they begin to look less than perfect. Sideboards can also be constructed out of composites that are covered with wood or plastic veneer. Older and higher quality veneered sideboards will feature a veneer of decorative and costly wood over a less expensive wood, like pine or poplar.
Sideboard Issues: Veneers
Veneers are problematic because if they're damaged, it can be very difficult to restore them to an acceptable appearance. This is especially true of modern-style pieces, which depend on a simple and perfect look for their appeal. Fine pieces of veneered wood furniture can be repaired and restored by furniture specialists. For the past fifty years, veneered furniture built out of cheap and flimsy composites has been popular because of its low cost. These pieces can look good when they're new, but they tend to have a limited service life. They often scratch easily, and any bit of damage can ruin their appearance. If heavy things are stored in or on them, they may sag.
Sideboard Issues: Transport and Fit
Fitting a sideboard into an existing house takes a little bit of planning. They are fairly large pieces of furniture, and it's important to confirm that they will fit into the space intended, with enough room left for circulation and for the use of other furniture. Generally speaking, the edge of a sideboard should be at least a metre from the edge of a dining table to leave room for chairs to be pulled out and for people to sit. However, more space may be required for walking between occupied chairs and the sideboard. If the sideboard is going to be delivered fully assembled, then it is also a good idea to confirm that it will fit up any staircases and through any doors between the street and its final destination.
Finding Modern Sideboards on eBay
eBay has a whole section for pre-owned sideboards in twentieth century styles: Twentieth Century Sideboards. Subcategories include Art Moderne Sideboards, and Art Deco Sideboards. The Reproduction Sideboards section has newer sideboards built in historic styles. For new sideboards, explore the Sideboards section in the furniture category, and check off 'new' in the left hand column.
In Conclusion
From Art Deco to minimalist, the modern sideboards of the twentieth and twenty-first centuries have made a stylistic break from what came before. eBay has a wealth of options for people who are seeking genuine modern-style sideboards from the twentieth century, as well as brand new sideboards in modern and traditional styles.