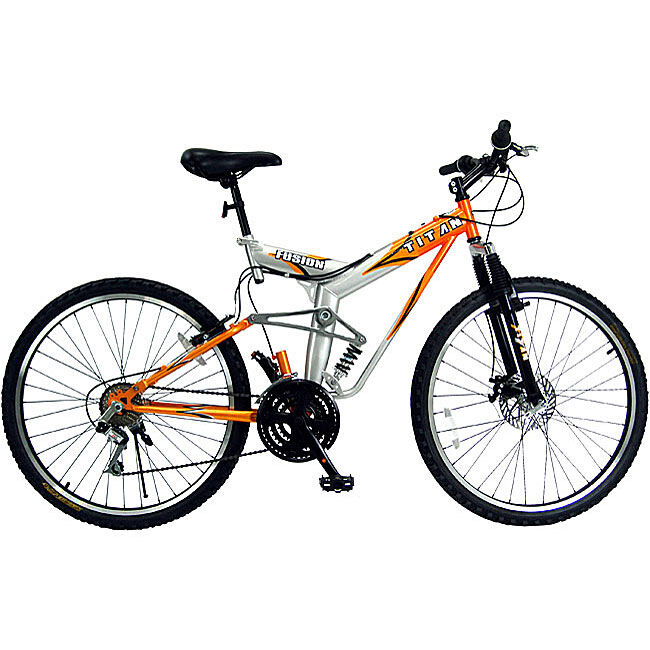 Mountain bikes are currently the most popular bikes for people of all ages. Versatile, durable and easy to ride across even the trickiest of terrain, it's easy to see why this kind of bike has become the nation's favourite. Many people have never bought a mountain bike before and before purchasing a new bike are more than likely to have plenty of questions to ask to find the best bike at the best possible price. The choice of mountain bikes is now larger than ever before, with cyclists being given an almost overwhelming amount of technical options to choose from to fine-tune their bikes to suit their riding styles. This guide will explain what to look for in a mountain bike and just how to pick up the perfect cycle on eBay. The guide will look at providing information on the style of the mountain bike, budget levels, type of bike brake, potential frame, and how to select and buy the bike.
What Style of Mountain Bike?
Mountain bikes come in all types and sizes. One of the most important features on a mountain bike is its suspension. Therefore this is how most specialists would divide bikes into categories. Suspension is extremely important to a rider's experience, whilst ineffective suspension can ruin a ride by bouncing the cyclist up and down repeatedly when crossing bumpy terrain. Too much suspension can absorb practically all the impact that lumps and bumps create and reduce the enjoyment factor for those who want a rigorous ride.
The preferred action points to find a mountain bike is to look at all of the options available to you in the case of suspension and make an educated decision based on the information in this guide, so that choosing a suspension setup will work effectively for the cyclist. The four categories that are used to define the kind of suspension a mountain bike has are:
Rigid-Rigid mountain bikes have neither front nor rear suspension
Hardtail-A hardtail bike has front suspension, but none at the rear
Softtail-The opposite of a hardtail bike; suspension at the rear, none at the front
Dual Suspension-This has suspension at both the front and rear
The kind of suspension to choose for your bike will be completely down to you. When choosing the suspension just remember that price does factor into the equation. Dual suspension bikes are generally considerably more expensive than other models and are often criticised because of the lack of excitement they provide. A general piece of advice for beginners would be not to look at dual suspension bikes. Firstly they are unlikely to represent good value for money for a novice cyclist and secondly there can be added benefits from the added sensitivity and responsiveness that is offered by a bike with hardtail or rigid suspension to help improve cycling skills.
How Much Should I Expect to Spend?
For a complete novice when it comes to mountain biking, naturally it's better off starting a little closer to the bottom of the price scale. A beginner's bike is likely to cost between £150 and £300, although for those on a tighter budget, you can frequently pick up brand new mountain bikes for as little as £80 on eBay. A slightly more experienced cyclist who is perhaps looking for an upgrade from their current model should expect to pay between £300 and £700 for a good quality bike for someone of their skill level.
Advanced mountain bikers looking for a new set of wheels can pay as much as £1500 for a state of the art bike. At this end of the price range, you will be practically guaranteed full suspension and a professional-standard bike. Of course, it's not wise to buy such an expensive purchase unless you're a seasoned cyclist. There is little point spending excess money on an expensive bike, only to become disinterested in cycling a few months later. Beginners are much better off looking for a basic model to begin with, then upgrading to a more advanced bike.
Whatever the budget, there are a number of alternatives on the market, but balancing up the budget versus what features are required for the ride is all important. This guide aims to highlight the main factors in the decision-making process that will provide an easier choice when selecting the bike.
What Type of Frame is Best?
There isn't much choice for mountain bikes when it comes to frame shape; most have a low-set frame because this protects a rider from landing on the crossbar should you be thrown from your seat whilst riding. You have many more options however when it comes to the kind of material for your cycling frame. Each frame material has its own individual strengths and weaknesses. Here is a table explaining the various positives and negatives of buying a bike with a frame made from the most common four materials.
Material

Positives

Negatives

Titanium

Strong

Light

Rust-proof

Expensive

Limited Flexibility

Carbon Fibre

Strong

Light

Rust-proof

Known to Shatter

Expensive

Poor Longevity

Aluminium

Light

Inexpensive

Rust-proof

Weaker than Most

Difficult to Repair

Dents Easily

Chromoly

Strong

Durable

Inexpensive

Heavy

Known to Rust
What this table shows is that every material used to make mountain bike frames has its advantages and disadvantages. Every purchase needs to weigh up these alternatives carefully and decide which will be the right frame based on the individual requirements. Once decided what kind of frame is required, eBay allows the opportunity to search mountain bikes by frame type, so the ability to make the correct and informed selection is easy.
Mountain Bike Brakes
Brakes are important if you're travelling down a dirt track at considerable speed and there is a requirement to reduce your speed. Most mountain bikes will come fitted with one of two different types of brakes, the first ones are the more traditional 'V' brakes and the second are the more complex disc brakes.
V Brakes
V brakes have always been popular with mountain bikers because they are affordable and reasonably reliable, they are easy to fit on the bicycle and maintain once installed. However, if youmanage to damage your wheel in any way, it's likely that the V brakes will no longer be able to make enough contact with the wheel to slow it down sufficiently, which of course is extremely dangerous.
Disc Brakes
Disc brakes on the other hand are much more similar to the brakes that are fitted on modern cars. Disc brakes will provide the bike with a significantly improved stopping distance when compared with V brakes. Despite this, disc brakes are far more expensive than V brakes and it is only recommended that you pay for a mountain bike with these kinds of brakes if the rider is already an experienced and committed cyclist.
How to Find Your Next Bike on eBay
Searching for the perfect mountain bike on eBay has never been simpler. Search for mountain bikes and by simply checking your preferences in the search refine box to the left hand side of the page, this can narrow your options down quickly to the bikes that match the requirements for the purchase. Search by anything including brand name, frame size, price, brake type, frame material and suspension type.
Sellers can also list technical specifications of each bike in minute detail, meaning all types of cyclists will be able to cast their expert eye over each bike before they decide whether or not to make a bid. Not only do we list some fantastic deals from independent sellers, we also have mountain bike listings from some of the UK's biggest high street names like Sports Direct and Argos, so the ability to browse through listings from retailers of all kinds will make sure that you get your perfect mountain bike for the most competitive price. So, if it's price, convenience and a large selection of new and used mountain bikes you require, then eBay should have the solution for all your needs.
Conclusion
There are plenty of different factors that individual buyers have to bear in mind when thinking about buying a new mountain bike. Firstly take the suspension style into consideration:
Do you need the comfort of full suspension or would you prefer something a little more rigid?
What kind of frame will suit your cycling style best?
Are the anti-rust and superlight qualities of Carbon Fibre appealing to you or would choosing something a little more traditional like aluminium be more sensible?
What kind of brakes is required?
Are V brakes adequate, or do you require the disk brakes option?
What is your total budget for the product purchase?
What is your current standard in cycling performance?
How often will you be undertaking this hobby?
Whatever you're looking for, why not search eBay to find the perfect mountain bike today. Just remember to wear that all important safety equipment when you're riding your brand new cycle on the rough terrains.