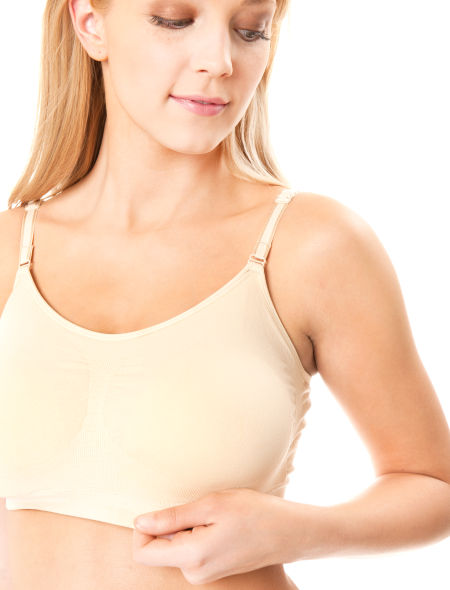 Having a baby is a lovely yet very busy time for a new mother. There are many things to consider for the comfort of both mother and child. One of the many choices a family must decide is whether the new mother is going to nurse her child. When a woman chooses to nurse her newborn, logistics are the next important consideration. Nursing can be a challenging, complicated experience if the mother does not have the knowledge or tools necessary such as the ability to make a comfortable nursing bra purchase. The mother's comfort is one of the first things to think about, as this will impact how easily she is able to nurse her child. A nursing bra becomes an important tool the mother utilises to allow discreet, comfortable nursing while providing support throughout her day.
This guide provides the information necessary to help choose a comfortable nursing bra. It covers a variety of different types of nursing bras, pros and cons of materials, and highlights the different features offered. Nursing bras are available in maternity shops and online. eBay has a large selection of nursing bras to choose from with many different preferences and sizes.
Features of Nursing Bras
There are three main varieties of nursing bras to consider including bras with nursing flaps and bras made out of a more stretchy material without nursing flaps. The third type of nursing bra to consider is a sleeping bra. While nursing bras without nursing flaps tend to be more comfortable due to their stretch and give, they also do not provide the same amount of support that a bra with nursing flaps provides. It is best to remember that both types of nursing bra still give some degree of support even when providing stretch.
Nursing Flaps vs. More Stretchy Bras
Some nursing bras have a feature called the nursing flap. Nursing flaps use hooks, clips, zippers or snaps to release the cup of the bra from the point where it attaches to the shoulder strap. This allows the cup to be released from one side of the bra, making it possible to nurse more discreetly. Nursing bras that do not have the nursing flap feature tend to be made out of more stretchy materials, allowing the bottom of the bra to be lifted up and over one of the breasts, or pulled down and to the side of the breast. This style of bra is typically more comfortable but does not offer as much support as a nursing bra with flaps, making it a poor option for larger-breasted women.
Underwires vs. Soft Cups
When purchasing a nursing bra, whether or not to include an underwire in the bra is another important consideration. Research has shown that underwires can sometimes cause the milk ducts to become blocked, which can cause the mother pain and lead to infection. Despite this, an underwire bra does have its advantages. An underwire bra gives much more support than a soft cup bra does, which is why some women choose to have a nursing bra with an underwire. Some nursing bras come with a removable underwire, allowing the woman to alternate between a softer nursing bra and an underwire bra with more support.
Sleep Nursing Bras
Whether to wear a sleep nursing bra as a nursing mother is a personal choice, with some mothers choosing not to wear one. Wearing a sleep nursing bra allows a mother to wear nursing pads in order to keep milk from leaking during sleep. Sleeping bras typically do not have underwires and are made of a more stretchy material. Sleep nursing bras do not typically have nursing flaps, and do not provide the same amount of support as a nursing bra worn during the day. They do offer a sleeping mother a certain amount of comfort and security regarding leakage and support.
Materials Types for Nursing Bras
Nursing bras can be made out of a variety of different materials. Some of the more prominent materials are cotton, polyester, spandex and lycra. A nursing mother will find that there is a significant amount of milk that leaks, and cups made out of a more stretchy material allow room for a nursing pad. A nursing pad is a pad that can be inserted into the cup to keep leaks from coming through the bra and outerwear. While polyester provides a lot of support its lack of stretchiness is not a good option for the cup of the bra. Another drawback of polyester is that it does not breathe like cotton does. Materials that breathe, like cotton or a cotton blend are a good option for a nursing bra because they allow the skin to dry out.
More stretchy materials, such as spandex and lycra, are more comfortable but do not have the same support as cotton or polyester. For this reason, a good compromise would be to use a cotton blend nursing bra.
Measuring for the Correct Nursing Bra
It is always important to wear the correct bra size, as wearing an incorrectly sized bra can cause pain in the breasts, arm and back. Rashes from chafing can also occur when a bra is too large or too small. It is also best to buy the correct size as buying a bra that is too big will not provide the support or comfort that the a nursing bra should provide. Sizing will differ between brands, so once a brand is decided on, it is important to match measurements with the brand's own sizing chart. Keep in mind that bra size does change during pregnancy as well as after the baby is born, and after nursing for a while.
Band Size
To measure for the correct nursing bra size, first measure for band size. The band of the bra fits around the rib cage of the body, below the breasts. The measuring tape should fit snuggly around the core. Make sure to write down the size in centimetres and keep the measurement along with the bust size.)
Bust Size
After the band is measured, the next step is to measure the bust. Make sure the measuring tape is comfortable and snug around the back and over the top of the breasts. The bust and the band size are then used to find the cup size.
Cup Size
Typically when bra sizes are labelled, the number is the band size, while the letter indicates the cup size. To find the cup size, subtract the band size from the bust size. The difference can then be converted into the letter cup size. Below is a chart that provides the approximate cup size.
| | | | | | | |
| --- | --- | --- | --- | --- | --- | --- |
| Cup Size | AA | A | B | C | D | DD |
| Difference | 10-12 cm | 12.5 cm | 15 cm | 17.5 cm | 20 cm | 22.5 cm |
Once these measurements are available finding the correct size is as simple as finding the brand of bra desired and locating the brand's sizing chart.
How to Find a Nursing Bra on eBay
Nursing bras are available at maternity shops and online. eBay has a large selection of nursing bras available. Bra size can vary quickly during pregnancy and while nursing, and finding a variety of brands and sizes that suit your requirements is possible on eBay. Begin by searching for nursing bras on the eBay home page. From here you can perform a keyword search to find the type of nursing bra you are looking for. For example, type "B cup nursing bra" into the search bar and click search. eBay will populate only this size nursing bra so you can easily find what you are looking for.
Because bras are light and easy to ship, once the correct size and type are decided, it is possible to buy a few bundles of items from a few different sellers without incurring significant postage charges. It is important to remember that bra size may fluctuate from the end of the pregnancy to well into the nursing period. To address this, you can either buy a range of sizes to begin with or simply take advantage of sellers who offer faster postage options and buy new sizes as and when you need.
Conclusion
The arrival of a newborn baby is a very exciting time for a family. There are lots of changes and things to be prepared for in time for the baby's arrival home. One of the many details to be factored in is nursing and how to make it a more comfortable experience for both mother and child. There are a few choices that need to be decided upon when purchasing a nursing bra. Firstly there is the type of nursing bra desired; either one with nursing flaps or a more stretchy bra that lacks nursing flaps. The second option to consider is whether to have an underwire for support, or to go with a soft cup for comfort.
The type of material is something that can be considered once these options have been decided upon. A buyer must also factor in the sizing of nursing bras and find a bra size which is most comfortable for the mother, while bearing in mind the fact that bra size is likely to change throughout the process. eBay has a large selection of nursing bras types and brands to choose from and is a great place to start searching.