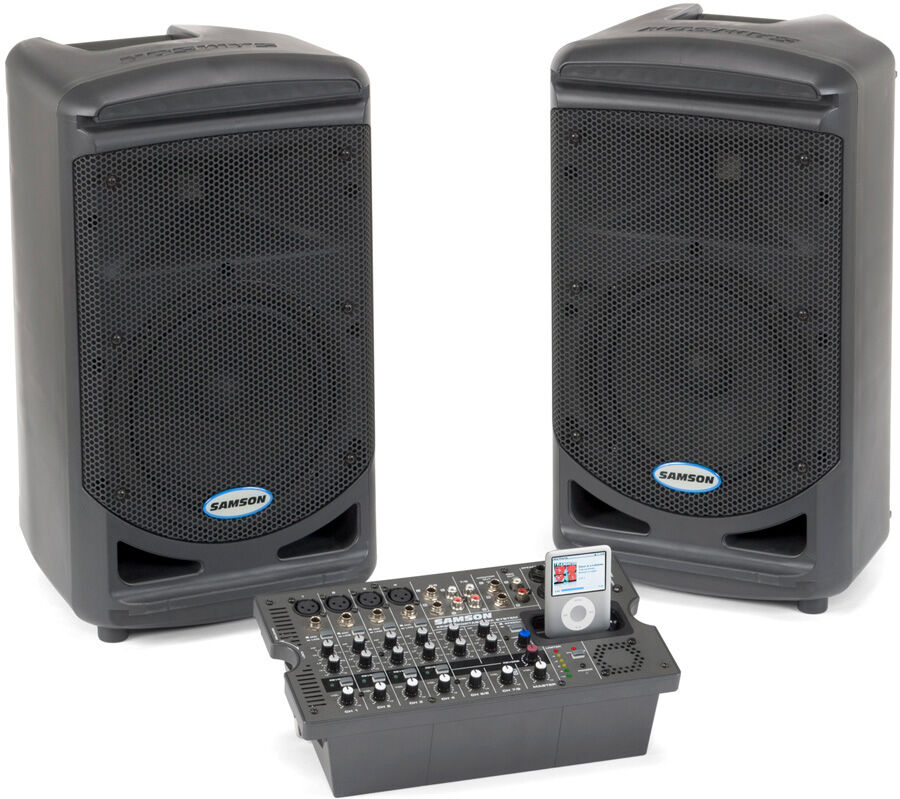 Although PA systems can be bought as complete packages on eBay, these are usually only suitable for use by disc jockeys. Most professional PA systems are actually built up from individual components. All the individual elements that make up a PA system can be purchased on eBay, including amplifiers, speakers, monitors, mixers, and microphones. PA system components are available which are suitable for amplifying everything from a solo artist to a large rock band. Begin by identifying the most suitable PA system equipment to purchase. These can be researched using eBay's product reviews and buying guides facility. Information and advice about PA systems can be browsed and searched until the best PA components have been identified. Having discovered which elements of the PA system are required, eBay can then be explored to find sellers with the relevant items listed. These listings will reveal which is the best deal and also, if properly examined, which is the best vendor.
Buying New or Used PA System Components
The decision whether to buy new or used PA equipment will largely be determined by the budget. Used PA equipment can be perfectly serviceable and represent a considerable saving over new equipment. However, it is important to determine how much useful life the equipment has left. Although most PA equipment is designed to withstand a reasonable amount of harsh treatment, nothing is indestructible. Particular care is needed in order to correctly determine the condition of amps, monitors, and speakers as these are so easily damaged.
Purchasing New PA System Equipment
It is very easy to mishandle and misuse PA equipment, causing problems which may not be immediately apparent. For this reason, it is preferable to buy new equipment whenever possible. New products are likely to be more reliable; an important consideration for equipment that will be used in front of a live audience. When considering new PA equipment, it is always worth checking the length and nature of the warranty. If this is not stated within the listing itself, it can be clarified using the Contact Seller option. The listing should also give the vendor's returns policy. This can be an important consideration for some of the larger pieces of equipment associated with a PA system. It is also worth remembering that, for extra peace of mind, most electrical items on eBay can be purchased with an additional extended warranty.
Purchasing Used PA System Equipment
Although caution needs to be exercised when buying used PA equipment, this does not mean it should be disregarded altogether. There are plenty of good quality devices on the second-hand market, often selling for a fraction of the price when new. If suitable PA system equipment is for sale locally, it will be mean it can be personally examined at the time of purchase. To identify PA system hardware which is on offer nearby, expand the More Refinements section on the left of the page. Within this, select the Item Location option and then check the Within box. Once the current postcode location and preferred maximum distance have been entered, only the PA equipment within the specified area will be displayed. It is worth compiling a checklist suitable for the PA system equipment that is to be tested. Below is an example of a checklist for a PA speaker, which should hopefully help to identify any shortcomings in the equipment on offer. When it is impossible to check the equipment in person, it can be worth asking the vendor to follow the checklist and report back the results.
| Check-list | Description |
| --- | --- |
| Overall Condition | Check the body of the speaker for signs of damage or excessive wear, particularly along the edges and at the corners. Check the handles for movement. Check the speaker cones for visible signs of damage. |
| Function | Listen to the speaker when powered up, but silent, at various levels of amplification. If possible, play a familiar piece of music through the speaker at all volumes. Move around to get a better impression of the overall sound quality. If the sound is unduly harsh, muffled, or distorted, it is likely the speaker has reached the end of its serviceable life. Watch the speaker movement for unevenness, which would indicate damage. Apply pressure to all speaker connections and controls while it is in use, and investigate if this has any effect on the sound. |
| Accessories | If the speaker was originally supplied with accessories, such as cables, cable clamps, or speaker covers, ask if these are available |
How to Buy PA System Equipment on eBay
Items can be bought on eBay in the same way as they can at any other retailer. However, on eBay there is also the chance to pick up a bargain with a cleverly timed bid or well-chosen offer. However, it must be remembered that every offer, bid, or purchase on eBay is always a commitment to buy at that price.
Buying PA System Equipment with Buy It Now
When the PA equipment is needed urgently, it is best to use Buy It Now. Equipment offered with this option can bought and paid for without delay. To see the PA equipment available for immediate purchase, simply select the Buy it Now tab.
Making an Offer on PA System Equipment
Some Buy It Now listings also contain the option to make an offer. The vendor can consider the offer for three days, which means offering is all about value and not speed. The vendor may choose to accept the offer, or they may make a counteroffer. This will be less than the asking price, but still more than the first offer. Several counteroffers are permitted, but if the haggling does not result in agreement, then the microphone will not change hands.
Placing a Bid on PA System Equipment
Bidding on eBay auctions is often the best way to get the maximum value for money. To view the PA system equipment that can be bid on, click on the Auctions Only tab. Auctions may run for days, or even weeks, and success is not guaranteed. This means it is only a suitable method for purchasing equipment which is not required straight away. A bidder will usually submit a bid which is the maximum amount they are prepared to pay for the item. Experienced bidders know that, should they win, the amount they will actually pay will often be much less than this. The specific amount will be decided by the amount of the next highest bid. Should a higher bid be placed by another bidder, before the end of the auction, they are informed via email. They may then increase their bid, if there is still time, or move on and bid on another auction.
Getting the Best PA System Deal
When choosing between many similar pieces of PA system equipment, it can be useful to identify the best deal. One of the easiest ways to do this is to sort the selected items with the Price + P&P: lowest first sort option.
Choosing a Vendor
Having found the best value PA equipment, it is also worth spending a moment to find the best vendor. A quick check of different seller's feedback scores will highlight which one will most likely provide the smoothest transaction.
Finding PA Systems on eBay
The simplest way to find PA system equipment on eBay is to use the search bar. To locate an unused PA system amplifier, for example, simply type "PA system amplifier new" into the search field. The PA systems and components can also be browsed individually on the eBay site. Beginning at the eBay homepage, click on the All Categories link and then on Musical Instruments.. Clicking on Pro Audio Equipment will display the various PA system elements under the "Categories" section to the left of the page. Using these various options, it is possible to narrow the search. They can be used to only display the new Skytec active top hat PA speakers that are for sale, for example. Were none of these currently available, it would be possible to save the search for future use. When saving a search, an email notification request can be made, informing the requester should suitable PA items be listed later.
Conclusion
Provided a little care is taken, eBay is a great place to buy PA system equipment. Begin by identifying what product to buy and deciding whether a new or used item is preferred. The timescale and budget for the transaction will usually determine the most appropriate method of purchase. A quick check of the vendor is always a good idea before commencing the buying process. Once the PA system equipment has arrived and been checked, the only remaining task is to leave the vendor some well-deserved positive feedback.