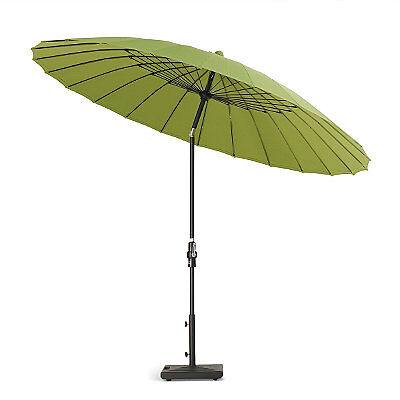 A parasol resembles an umbrella, but is much larger and more hard wearing because it is designed to provide shade from the sun in an outdoor spot, like a garden. The parasol does not stand by itself, so it needs a base to fix it and make it stable. A good base is sturdy and secure. A parasol can be used in many areas, but in the garden it becomes especially useful for shading a garden party. The parasol helps to shield summer food and drinks, and guests, in order to prevent them from becoming hot in the sun. Conversely, with the vagaries of the British weather, a parasol can also protect a determined barbeque group from the rain.
You can find a variety of parasols in DIY shops or high street homeware retailers, but you may not find what you want if you are buying outside of the summer season. If you want to find a parasol and base all year round, then try online auction sites, such as eBay.
Types of Parasols
Parasols can be divided into two broad groups: freestanding and wall-mounted. As the names imply, they differ by the way that they are set up in the garden.
Freestanding Parasol
The freestanding parasol is the most popular choice. It is supported by the base and can be moved to different parts of the garden easily. It is also possible to put the freestanding parasol in the middle of a garden table. Therefore, it offers flexibility. If buying a freestanding parasol, opt for one that is stain, rot, and fade resistant and can be cleaned easily.
Also consider how the freestanding parasol stands. It can be either a centre or side post, also known as a cantilever type. Centre post parasols are sturdier than their cantilever counterparts and can be used in windy settings.
Wall-Mounted Parasol
Wall-mounted parasols do not have a base attached. Instead, they are fitted to an exterior wall and thus cannot be moved around the garden like freestanding parasols. However, if the parasol has a long arm, its position can be bent to alter the area that is shaded. These parasols are best suited to a patio or decking area.
Types of Parasol Bases
Parasol bases are available in different materials and weights. The weight of the parasol base varies a great deal and the type that is used depends on how heavy the parasol itself is. Parasol bases can be lightweight or as heavy as 100 kg. If the parasol will be used in a windy setting, then opt for a heavy base that holds it in place securely to avoid injury to people or damage to the parasol. Some parasol bases increase their weight by using materials, such as concrete and granite. A lightweight option is made of stainless steel. The base could also come in a form of a lawn spike that is stuck into the ground. An alternative is a base made of plastic and filled with water to give it extra weight.
Parasol Materials
In general, a parasol consists of a supportive structure and a cover attached to it. The supportive structure is usually a sturdy pole. The cover is a canopy that is shower and sun resistant, and made of a material that can maintain its colour for many years.
Supportive Structure Materials for Parasols
The supportive structure part of the parasol can be made of an array of materials. Wood is durable and resilient and many people choose this because it blends into the garden effortlessly, offering natural elegance. Another timber that can be used in the structure is teak, known for its hardness and durability. Teak has a warm honey colour and maintains its appearance well over time if teak oil is applied once a year. For a more exotic parasol, opt for bamboo.
Metals can also be used for the supportive structure. Aluminium is lightweight and therefore easy to carry. This is a good option if the parasol will be moved frequently. Steel produces a very durable parasol that can resist wind as well.
Canopy Materials for Parasols
Good quality canopy materials keep it in a good condition for many years and resist all kinds of weather. Some of the best materials are also stain resistant and wick moisture. If the parasol should offer UV protection, then consider the colour as well. Lighter fabrics tend to let more UV rays through than darker fabrics. However, even lighter fabrics can offer the equivalent of a factor 50 sun cream.
A popular material for the parasol canopy is the Olefin fabric, a synthetic material. Olefin dries quickly and is resistant to chemicals, sunlight, and stains, offering great durability. Acrylic canopies offer thermal insulation and have long lasting colours. Acrylic is usually weatherproof and resists rot, grease, algae, mildew, and other negative environmental factors. For more joyful parasols, acrylics with prints are also available. Polyester can be used for parasol canopies and it comes in many forms, such as PVC. Polyester resists pressure and water, and is lightweight. PVC is easy to clean, long lasting, waterproof, protects against UV rays, and does not distort colours.
Features of Parasols
Besides deciding on the material for the base, structure, and canopy, consider the features that the parasol should have. Some parasols are tiltable, so their position can be changed easily. In many cases, the parasol's height can be changed with simple mechanisms, but this should be investigated before buying to ensure that it is easy to use. The mechanism could include a pulley and rope or levers and cranks.
Other features to look out for are drainage systems for rainwater, pockets on top of the canopy, and gliders underneath to preserve the patio floor. When considering the size of the parasol and base, measure the space that it should occupy in the garden to ensure that the diameter and height of the parasol can fit the space.
Buying a Parasol and Base on eBay
To start your search for parasols on eBay, go to the main page and type the key terms into the search box. If you have no specific preference, you could use a general term such as "garden parasol and base", and then browse through the initial results for inspiration. For a more specific search, you could add a colour if you know exactly what kind of style your garden requires, for example, "green garden parasol and base". The base material could also be a starting point, so searching for "metal garden parasol" will yield relevant results.
Once you have found a parasol and base that you wish to buy, read the item listing carefully to make sure that you know which components are on sale. Note that parasol and bases can be sold together or separately. Make sure that you are bidding for the right item and that it has all of the parts that you require. Check the photos in the item listing for signs of wear, especially if the parasol and base are used. If anything remains unclear, feel free to contact the seller by using the "Ask a question" feature. There may also be accessories that would be useful to purchase, such as a parasol cover, heater, and lights.
If you are buying a parasol with a sturdy base, you may find that the base is very heavy and therefore expensive to deliver. Consider looking for a seller who lives nearby and offers a local collection to save on postage and packaging costs.
Conclusion
A parasol, much like an umbrella, offers protection from the rain, but it is commonly used in order to keep away the sun's rays. A parasol and base is a useful addition to the garden, where it can shield a table and help to protect the food and guests. Both freestanding and wall-mounted parasols are available. The type that is selected depends on the area that needs to be shaded. A wall-mounted parasol is good for a fixed area like decking or a patio. A freestanding parasol is best suited to a table that is moved around the garden. The parasol base should be sufficiently heavy and sturdy to keep the parasol in place and secure, especially in strong winds. The base can be made of metal, granite, or concrete. Lightweight options include stainless steel, while some bases can be filled with water.
The canopy of the parasol can be made of polyester, acrylic, or other synthetic materials and treated so that it provides protection from the sun and rain, and resist stains. The canopy can be decorated in many styles and colours. The supportive structure of the parasol can be made of hardwood, teak, bamboo, aluminium, or stainless steel. They are all durable materials, so the choice largely depends on the design of the garden. Always choose a structure that is easy to operate, as there are a few different mechanisms available. eBay sellers offer a range of parasols and bases to suit any outdoor space.