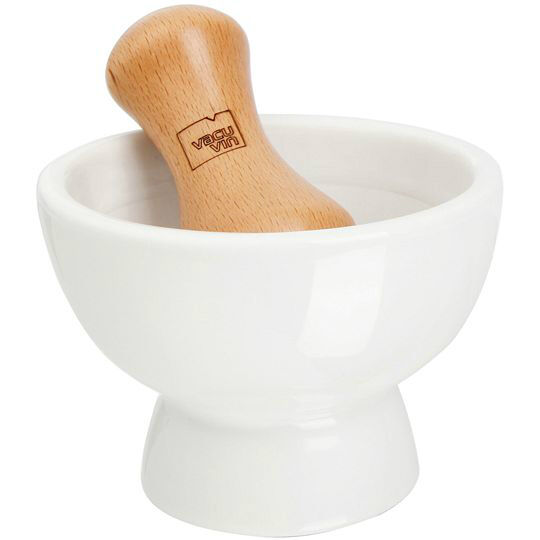 The name of the pestle is derived from the Latin root word pistillum (pīnsō), meaning to pound or crush and is defined as a small but heavy tool that is vaguely club-shaped and is used for pounding or crushing ingredients – usually in conjunction with a small bowl known as a mortar. For that reason the two items are usually sold together as a pestle and mortar set. The history of the pestle is a long one, and examples of elaborately carved pestles from several periods in history are held in collections around the world. Found in Papua New Guinea, a delicate bird-shaped pestle dating back between four and eight thousand years is one of the oldest, and is firm evidence of just how long humans have been using this simple but effective tool to help with the preparation of their food. Pestles are not only used for preparing the flavouring ingredients of recipes. For centuries they formed an important part of an apothecary's toolkit. They are still used by the modern day counterpart, the pharmacist, to grind and combine the ingredients in a medicine.
About Pestles
The earliest examples of a pestle may have been nothing more than a rounded stone used in a shallow indentation in a flat surface, such as another larger stone. Early humans would have used such a tool to grind grains into flour, or to make hard roots softer and more palatable. Those versions were much larger than we use today with the pestle being a heavy object of as much as two feet in length; such large pestles would have been held in both hands by the user. Today, pestles are still used for the purpose of pounding or grinding ingredients, especially whole roast spices that are ground to a powder and used to flavour a wide range of dishes from many international cuisines. Pestles are not normally seen offered for sale as a single item, but are partnered with a mortar, or bowl, made of the same material. An ingredient is placed in the mortar and the pestle is then used for the grinding and pounding process to reduce the substance to a powder or a paste ready for use. Some traditional recipes, however, call for the use of mixed materials in their preparation; the rich, green Italian sauce known as pesto (linked with the name of the pestle through the Italian word pestare) was traditionally made with a wooden pestle in a marble mortar. A grinding rather than a pounding action is considered to be the correct way to make pesto.
Types of Pestle
The shape of pestles does not vary greatly, however, they are created in a variety of different materials and sizes. The most commonly available types are described below.
Traditional Pestles
The traditional materials from which a pestle and mortar is made are wood for the pestle and a durable stone for the mortar. It is important that the stone used for the mortar is not soft enough to be worn away by the action of the pestle. If a stone that is too soft is used, the dust from the stone itself can become a part of the ingredients – not a good idea at all! These simple but somewhat crude implements would have been among the first kitchen tools used by humans. They were created for a practical purpose by utilising natural objects that were found almost everywhere in the landscape. When humans developed the ability to craft more sophisticated designs from raw materials the pestle was developed further, and symmetrical designs were sometimes carved into the wood. The nature of this useful tool is simple yet efficient, and it has remained a functional and effective tool throughout history.
Pestles for Particular Uses
The traditional materials for making pestles include stone, such as granite and marble, each of which is effective in different ways. The rough texture of granite makes it perfect for grinding dry goods, such as spices and grains; the more slippery marble pestle is particularly effective for sauces and pastes made from ingredients that contain liquid. Herbs such as basil, or small quantities of fish and meat, can be ground into a paste using a smooth-ended pestle, whereas grains, pulses and whole spices are most effectively prepared using a pestle with a rougher surface that facilitates more effective grinding.
Modern Styles
Ceramic and glass pestles are now more widely available and look clean, sleek, and modern in a contemporary kitchen, while still retaining a functionality and purpose. The smoother texture and more water-resistant surface make these pestles perfect for sauces made from ingredients that contain liquid, or to which liquids are added. They are also, not surprisingly, easy to clean, making them potentially a more hygienic option. Modern techniques have led to a surprisingly wide range of pestles and mortars being available to the discerning purchaser and there are some extremely attractive models that would add elegance to any kitchen without compromising their usefulness and functionality. Two different materials are sometimes combined to create a pestle. These consist of a wooden top to grip with the fingers and a stone business end that actually does the work of grinding the contents of the mortar.
Olive Wood Pestles
Olive wood pestles, with their matching mortars, provide an attractive and rustic look in a more traditional style of kitchen. Some cooks prefer the feel of these wooden objects to the colder stone versions. They are, of course, lighter than their stone counterparts, and more pressure is needed to hold the mortar still while the pestle is being used. The olive wood pestle and mortar combination is best suited to use with dry ingredients, as pastes will to some degree be absorbed into the grain of the wood. Wood does, of course, have anti-bacterial qualities, so it is unlikely that an olive wood pestle and mortar that is carefully cleaned after each use will cause any health problems. Some cooks do prefer to use a wooden pestle and mortar because they regard the absorption of flavour into the wood as being an advantage.
Find Pestles on eBay
To source a pestle on eBay the easiest place to start is the search box on the home page of the site. Typing the word pestle into the box and clicking the search button will bring up a results page containing dozens of different pestles that are offered for auction or as Buy it Now items. In this case, the listings will be for a pestle and mortar combination. As an alternative route, select the home and garden tab on the homepage and follow the link for Kitchen, then Food Preparation and Tools. This will result in a category list that includes pestles and mortars, and the search can be further refined through the use of this list. As pestles (and mortars) are available in a number of styles and materials, it is worth doing some initial investigations into what is on offer; this information can be used to identify the type of pestle that will be of most use narrowing down the search. Knowing which pestle is the best to user for spices or for wet ingredients can be helpful to a potential purchaser. When the desired item has been found on eBay, bidders should be aware of all costs relating to the purchase of an item such as a pestle; for example, the delivery charges can vary greatly and will be directly affected by the overall weight of the item. If a pestle and mortar made of stone is purchased then the carriage charge could be quite hefty.
Conclusion
Whatever the desired style of pestle, prospective buyers will find a comprehensive range of these items on eBay, from traditional wooden examples to the more contemporary, sleek glass implements that look very good standing on the kitchen worktop. As is the case with most kitchen equipment, the humble pestle and mortar is often linked with famous names in the world of celebrity chefs; Jamie Oliver is just one example. The name Le Creuset and Joseph Joseph will also be seen, as the companies manufacture a wide range of stylish pestles and their matching mortars.