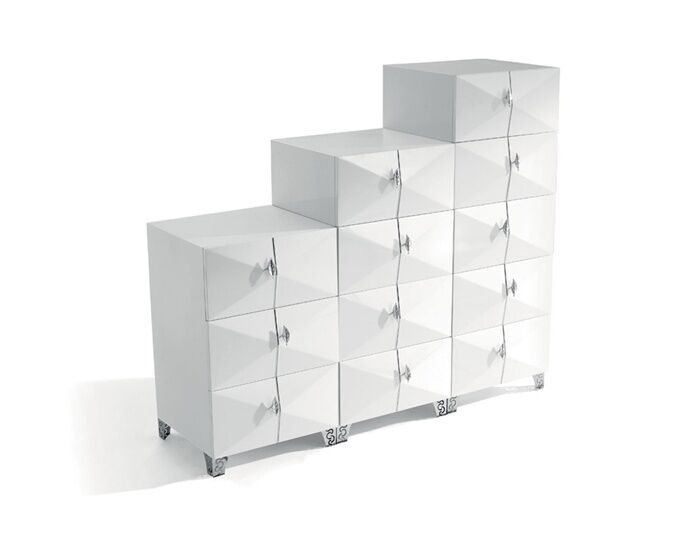 Cool and contemporary, sideboards made with plastic are a popular alternative to those made from wood or other materials. Researching product descriptions and sellers will make sure that only the best plastic sideboard is found.
About Plastic Sideboards
Sideboards are an integral part of many homes. Typically used for storing cutlery and glassware, for displaying ornaments and for serving drinks and food from, they are available in many styles. The use of plastic in sideboards dates back many years, with thermosetting plastics such as melamine typically used. Plastics form strong and long lasting frameworks due to the strength of their polymer chains. They are resistant to temperature changes and decomposition, properties valued in furniture manufacture.
Choosing a Plastic Sideboard
Which plastic sideboard is chosen will depend upon a number of factors. These include type, style, and colour, and size.
Type
Plastic sideboards frequently utilise melamine laminates. These are made by covering paper with melamine resin and fusing it with the paper under heat and pressure. The melamine is laminated onto layers of paper to make the surface more resistant to wear and tear, easier to clean and maintain, and to give the sideboard any patterned appearance. This is then fused to particle board or MDF. There are two basic types of plastic laminate: high pressure laminates (HPL) or high pressure decorative laminates (HPDL) and low pressure laminates (LPL) or continuous pressure laminates (CPL). High pressure laminates are fused to the particle board or MDF under higher pressures and lower temperatures than low pressure laminates. They also use adhesives. This results in a product that is slightly more resistant to heat and chemicals, but is also more expensive as it costs more to manufacture. For certain work surfaces that receive heavy duty use, high pressure laminates are more desirable, but for domestic furniture, particularly for areas such as the living room, low pressure laminates are also fine to use. When looking for a plastic sideboard, check the materials it is made from. Product descriptions generally state if melamine is used and may also state if the product is a high pressure or low pressure laminate. Decorative plastic laminates used in furniture and sold internationally should conform to EU standard EN438.
Style and Colour
While some plastic sideboards are designed to imitate natural materials such as wood, stone, and marble, others are designed to showcase the beauty and versatility of plastic itself, with all its bright colours, surface textures and malleability. Contemporary plastic sideboards are frequently sleek and streamlined, complementing minimalist decor and clean, uncluttered lines. They are often available in simple colours such as black and white, but are also available in bright high gloss colours and finishes such as red, blue, purple, and green. They have a smooth and shiny appearance which is also easy to clean. Contemporary plastic sideboards often also feature glass panels and shelves. Doors and drawers are usually flush and many incorporate push to open technology, while others feature simple handles made of stainless steel or other metals. Contemporary plastic sideboards may also come with remote controlled LED lights in a variety of colours. These provide illumination and interest, and softer colours are designed to aid and promote relaxation. Retro or vintage plastic sideboards generally have a more simple and utilitarian design reminiscent of Formica's heyday in the 1950s. While they may not have innovative technologies such as push to open doors or remote controlled LED lights, they work very well in retro or kitsch styled rooms and can make for a more unique and quirky item of furniture for the modern home. Retro or vintage plastic sideboards may also be available in more unusual colours and patterns.
Size
Plastic sideboards are available in a wide range of widths, heights, and shapes. Depending on the size, they work well in both large and small spaces. The location of the sideboard should be decided upon and measured before any purchases are made to make sure that the item chosen will fit comfortably and not look out of place. Consider both the height and width. Depending on the function of the sideboard, a higher or lower piece may be required. Many contemporary plastic sideboards are stylish low lying designs, and these might be used for TVs or audio equipment. Higher sideboards might be used for serving drinks from. Others might be used to display flower arrangements, photo frames, or similar items. The door and drawer layout will also affect choice. Draws might be used to store CDs or DVDs while cupboards might be used for glassware or bottles. There should be enough space to store everything comfortably. Sideboards may also have recesses for DVD players. The height of the room might also be an influence. When it comes to width, the space needs to be carefully measured, taking into account doors, radiators, and other fixtures. Long sideboards can look stunning in larger rooms and can comfortably fit against entire walls of many smaller rooms, providing a dedicated space for storage and TV equipment. Shorter, and perhaps higher designs, can be useful as attractive hall cabinets to store clutter out of the way. Always shop around the find the best deals and check the product description and seller information carefully. This will give details on delivery options and what happens if something is damaged during delivery.
Find a Plastic Sideboard on eBay
Plastic sideboards can be found on eBay. Begin at the tabs to the left side of the eBay home page. Scroll down to Home & Garden and select the Home & Garden link that appears to the right. Scroll over Furniture & Living and select the Furniture link. From the Categories, select Sideboards, Buffets & Trolleys. Under Type, select Sideboards and under Material, select Plastic. Scroll down to Room and select Dining Room. This navigation will bring up a large number of listings for plastic sideboards. The listings can be sorted by selecting further criteria such as Main Colour, Height and Width. Plastic sideboards can also be searched for using the search facility at the top of eBay pages. Try typing in terms such as "black plastic sideboard" or "retro melamine sideboard".
Conclusion
Plastic sideboards have evolved since their beginnings in the 20th century and there are now a number of sleek and modern designs available. Contemporary plastic sideboards utilise 21st century technologies in various forms, from remote controlled LED light illumination to push to open door and draw mechanisms. The result is an attractive item of furniture that can be used to store and display items or that might be used for TVs or other audio visual equipment. Plastics such as melamine have several properties that make them suitable for use in sideboards. They are made up of repeating structures which give them a strong and durable framework which is temperature and decay resistant. They are easy to work with and the resulting laminates are available in many sizes, colours and designs. Browsing listings will give an indication as to the styles and types available. Check the product description and seller information, which should provide information on delivery, assembly, warranty and care of the item. Plastic sideboards are a great addition to the contemporary home and can be used in any room of the house, from their traditional place in the dining room to the hallway or bedroom.