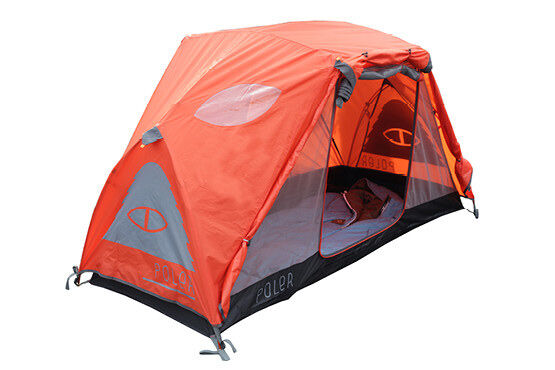 Introduction - What is a pop up tent?
A pop up tent is exactly what is suggests, a tent that 'pops up'. It is a basic, easy to assemble tent that is fun, quick and easy to erect. It also provides some protection against the elements. It is traditionally used in the summer at festivals, sporting events or at places like the beach or park to protect against the sun. Pop up tents are a great temporary shelter solution. Despite the appearance, there is a surprising amount of space in a pop up tent.
Because of the design features, it is ideal for those occasions when a quick and easy tent is required. With great sites like eBay, a pop up tent specific to individual needs is easy to purchase.
Erecting a Pop Up Tent
A Pop up tent has an internal pole system. Once the tent is taken out of the zip up bag, this internal pole system is designed to 'pop up' itself. This design feature means there is no need to insert poles like a traditional tent. Most pop up tents do not require guy ropes or pegs, however they are often provided with the tent. It is advisable to put guy ropes and pegs in place in more adverse weather conditions. This will increase the stability of the pop up tent.
Guide to Buying a Pop Up Tent
As with any tent, it is advisable to do some research before purchasing a pop up tent. The easiest way to approach this is to consider the requirements for the use of the tent. This can be done by addressing the following questions:
What is the tent being used for?
What terrain will the tent be used in?
What weather conditions will the tent be used in?
How many people does the tent need to house?
How much space is required?
Once these answers have been identified, it will sign post you towards the most suitable purchase for your purposes.
Advantages of a Pop Up Tent
There are many advantages to purchasing a pop up tent instead of a more traditional tent. These include:
They are light – often weighing less than 2 kilograms.
They are easy to erect and do exactly what their name suggests i.e. pop up. Limited time is required to pitch a pop up tent. Because of this, they are a great tent for first time campers. It also makes them great tents for that last minute get away or one night stay. It also means that people of any age, particularly kids will be able to use them.
They are small. This means they won't take up much room in a car or backpack.
Less mess. Due to the easy nature of assembling a pop up tent, there are not as many parts to contend with. There is less chance of getting muddled.
Easy to re-pack. Re-packing the tent usually involves folding the tent into a coil shape and fitting it back into the bag. The coil shape of the folded tent generally means the tent will fit into small, circular bags like discs rather than a large cylinder shaped bag (as with traditional tents).
Easy to repair. If damaged a pop up tent is easy to fix quickly.
Waterproof. Most pop up tents are waterproof and provide basic protection from all weather conditions. Double skin pop up tents will provide more protection and are considered to be excellent all season tents.
UV protection. Most tents will come with UV protection. This is advisable for all types of outdoor activities.
Types of Pop Up Tents
There are a few different styles of pop up tents available on the market. Most are 'single skin' which means they only have one layer. There are premium tents available that are still 'pop up' but have more than one skin. These designs are more suited to extended camping trips. There are also designs that accommodate for different amounts of people. Pop up tents are available to accommodate 1, 2, 3, 4, 5, 6 – even up to 7 people. The most common being a 2-person tent.
Designs
Pop up tents are available in the following designs:
Tunnel
Dome
Multipurpose tents (not suitable for sleeping)
Geometric
Royal day room (not suitable for sleeping)
Tepee tent
Shade pop-up beach shelter (not suitable for sleeping). Comes with UV protection
Shade shelter. Technically still a pop up tent this shelter does not come with a floor (not suitable for sleeping).
Play tents. Suitable for indoor and outdoor fun for children.
For Children
There are pop up tents specifically for children. Children love playing in a house environment and a small purpose built pop up tent for playing is a great way to enjoy sunny weather (outside) or rainy days (inside). Children pops up tents come in a variety of bright colours and patterns. Features often include:
Main roll up door.
Side entrance with back ties.
Compact storage – like all pop up tents, they are easy to assemble and pack away.
Accessories - these include
Tunnels to connect pop up tents together of offer a unique entrance to the tent i.e. pick-a-boo tunnels, zigzag tunnels.
Pop up goals for the avid sports fan
Matching furniture for the tent
Different sized pop up tents to create a 'tent city' i.e. a combination set.
Accessories
Because pop up tents are often used at festivals or large camp sites, they are available in a variety of different colours and patterns. This will make it easy for you to spot in a sea of tents. It also means there is a tent to suit any personality.
Other accessories to consider when purchasing a pop up tent are:
Small repair kit. This will be useful for extended trips into the wilderness where a 'quick fix' is the only solution.
Rubber mallet. Not essential for a pop up tent but will assist in putting in guy ropes and pegs in all types of terrain.
How to Buy a Pop Up Tent
There is a good selection of pop up tents available on eBay, with a wide range of both new and used pop up tents. They are available for immediate purchase and shipping or via bidding. The eBay search function enables the buyer to look for a specific model, colour or size from the comfort of their own home. Most products will offer a description and photograph – if more information is required remember this is available from the seller.
It is important when purchasing a tent to check all of the components are there at the time of sale. This should be done when it arrives in the post. Ultimately this will ensure no issues arise when out in the great outdoors. Also, the more practice, the quicker and easier it will become to erect and pack away the tent.
Packing the Tent Away
Even though a pop up tent is easy to use, it is definitely advisable to practice putting the tent away. The nature of the tent requires a specific folding technique to get the tent back into its bag. With practice come the easiest folding pathways which will collapse the tent into its original state.
There are websites which offer a step by step guide to folding popup tents, alternatively ask the seller or sales assistant to advise you on the best technique.
Cleaning a Pop Up Tent
Any tent exposed to the outdoors will require cleaning at some point in its career. The most effective way of cleaning a popup tent is with:
With these items, following these simple steps:
Using the damp cloth and soapy water, wash the tent down.
Ensure to focus on the areas that require the most attention i.e. mud stains etc.
Once this is complete, rinse the pop up tent with a hose and leave to dry.
Ensure the tent is completely dry before packing away.
Often harder to remove stains such as tree sap will become a problem. To eradicate these stains, follow the below instructions:
Allow the sap to dry completely.
Take an ice cube and hold it on the underside of the fabric to the tree sap i.e. underneath the stain.
With a blunt object scrap off the sap whilst still holding the ice cube on the inside of the fabric.
The ice cube should make the sap brittle and easier to remove.
Tip
To prevent the tent from becoming mouldy or dirty in storage, always air the tent after use. This can be done in your garden on a dry and sunny day or in your house. The tent must be completely dry before being put into storage.
Conclusion
Pop up tents are an affordable and easy to use tenting solution. Easy to assemble with great design features, the pop up tent is an essential piece of camping equipment. With multi-purpose functions it can easily service all members of the family on day trips and the longer camping holidays – as well as keep them safe (UV protection). With the wide selection of sizes, colours, weather proofing and the quick set up time (literally seconds) the pop up tent really is for anyone.