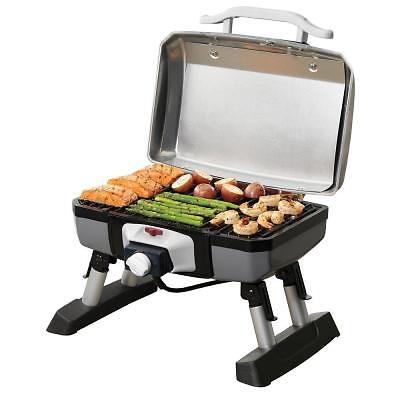 Although humans have cooked over flames since the discovery of fire, it was not until the 1940s that grilling experienced a radical evolution. For centuries, cooking on a barbecue required cooks on large vessels which did not move. Right after World War II, portable barbecues began appearing in public parks and campsites. Manufacturers spent the next four decades tinkering with portable barbecue designs to maximise space, while further reducing the size of the movable barbecues. Recent portable barbecue innovations include the addition of wheels for easier transport and detachable gas sources, which allow users to move their portable grilling units to neighbouring backyards or picnic areas. Portable barbecues are more popular now than they ever have been.
Master grill cooks and aspiring chefs buy portable grills from a number of brick and mortar retailers which include sporting good and outdoor gear shops. They also find near mint condition portable barbecues at reduced prices on the leading online auction site, eBay. First, consumers should learn about the benefits of cooking on portable barbecues, about the types of portable grilling units, what to look for in portable barbecues, and five of the best portable barbecues on the market.
The Benefits of a Portable Barbecue
Portable barbecues offer advantages that standard size barbecues cannot provide. Novice grill cooks should consider purchasing portable barbecues as their first piece of grilling equipment because of the following three primary benefits.
Easy to Move
The greatest benefit to owning portable barbecues is the ease of moving them around the backyard or transporting them to a public cookout. Traditional barbecues are too large to move and many types of standard grills are installed in the patios or backyard areas of homeowners' properties. Portable barbecues weigh less than 10 kilogrammes and measure no more than 75 centimetres long by 42 centimetres wide. Some manufacturers produce portables which fold into carrying cases, allowing users to transport the barbecues to houses next door for neighbourhood cookouts. Most portable barbecues possess wheels which allow users to move the units away from danger spots. In addition, the wheels support some of the weight of the barbecues.
Perfect for Small Gatherings
What is the point of buying fuel for standard size barbecues when users cook for only four people? Most backyard gatherings only require a small size grill. Portable barbecues do not waste energy on small groups and they take less time to clean. Some manufacturers construct portables for one person. The one-person portables are stored in backpacks for hikers on long wilderness treks. An increasingly popular way to enjoy socialising with friends after barbecues, is with Shisha Pens.
Inexpensive
Some standard barbecue models run into the thousands of dollars. Portable barbecues are much less expensive than standard grilling units. Consumers who do not plan to grill much or are working on their grilling skills save money by purchasing portable barbecues.
Types of Portable Barbecues
Manufacturers produce three types of portable barbecues; two of which rely on gas for fuel. The type of portable barbecues chosen by consumers depends on how much room they have for storage and the level of portability required. Charcoal portable barbecues typically are restricted for transport in a vehicle, while traditional gas portable grills travel inside of a backpack.
Gas Powered Infrared Portable Barbecue
Gas powered infrared grills gained popularity because their capability to reduce grill cooking times by more than half. Gas flows into the grill and users electronically ignite the gas by pushing a button. The durable burners are constructed with ceramic tiles which possess numerous microscopic holes that penetrate through the top of the tiles. This type of grill sometimes surpasses 750 degrees celsius, which allows cooks to sear meats and retain rare centres. However, infrared portable barbecues do a poor job of slow cooking meats and vegetables, as well as not doing a good job holding food at safe temperatures. Most infrared gas portable barbecues are made with rugged stainless steel which absorbs the pounding portable barbecues take in SUV storage compartments.
Traditional Gas Portable Barbecue
The best feature of traditional gas portable barbecues are the number of different sizes and styles. This type of portable barbecue typically attaches to a 454-gramme throw away canister, or it converts to work with a full size propane tank. Manufacturers design traditional gas portable barbecues with burners that have the letter H turned sideways. Flames shoot out of the myriad holes drilled into each leg. Grease drops into a lava rock, which then sends smoke up into the food to add smoky flavours to meats. Grill masters enjoy using this type of portable barbecue for its easy-to-use heat and cooking speed controls.
Charcoal Portable Barbecue
Portable charcoal barbecues work exactly in the same manner as their standard-sized counterparts. Grillers place the charcoal at the bottom of the barbecue, drizzle charcoal fluid over the coals, and then light the heat source. The only difference between a portable and standard barbecue is the depth of the charcoal holding area and the breadth of the grill. This means portable grills cannot produce the same amount of food as larger stationary barbecues.
What to Look for in a Portable Barbecue
Consumers should purchase portable barbecues more for practical reasons than the emotional reasons, which include trying to match what the neighbours own. How often do grill masters plan to use their portable barbecues? What size of portable grill matches the number of people to be fed? What is the barbecue's primary purpose? These, along with the following factors determine what type of portable barbecue consumers should buy.
Fuel
Gas barbecues require either liquid propane or natural gas. Natural gas is easier to refuel if there is a nearby supply hookup. Propane tanks need to be refilled, which is sometimes a cumbersome task. Charcoal requires more attention to protecting the fuel source from moisture and natural decay. Natural gas is the best source of fuel for portable barbecues.
Construction
Portable barbecues must be tough enough to handle the pounding they take in the back seats of cars and SUVs. Stainless steel portable barbecues prevent scratches and dents, as well as offer corrosion resistance. However, stainless steel does fade over time and turn yellow. Painted steels rusts whenever the paint begins to chip or peel away. Cast-aluminium provides incomparable toughness and it does not rust. The most solid portable construction utilises stainless steel burners and handles, but the body is made from cast-aluminium to handle high temperatures.
Grates
The type of grates which comes with a portable grill plays the most important role in determining cooking times and food quality. Cast iron barbecue grates provide excellent heat retention, which is a attribute required to sear meats. Uncoated cast iron grates must be oil coated to prevent rust, so grill masters should consider cast iron grates coated with porcelain to ensure non-sticking properties. Heavy-duty stainless steel grates provide high durability and heat retention. Moreover, stainless steel is the easiest metal to clean.
Assembly
Because of their relatively small sizes, portable barbecues typically come already assembled. However, some manufacturers reduce prices on assembled portable barbecues. Assembly does not require an engineering degree, but it does take time to read the manual and adjust the components once they are assembled.
Extras
Portable barbecues should contain easy-to-read temperature gauges. Fold-up tables provide an excellent spot for counter space to organise ingredients and cooking utensils. Some portables include condiment hooks or pan holders. Make sure to buy a portable barbecue from a manufacturer which offers a limited lifetime warranty.
Five of the Best Portable Barbecues
The best portable barbecues provide the type of portability which allows grill masters to cook at the beach or in the backyard. They come with a wide variety of options which range from deep charcoal holding bases to well-treated grills. Novice chefs and experienced grill cooks enjoy the convenience and durability of the following five portable barbecues.
Portable Barbecue

Description

Cook-Air Wood Fired

Reaches 538 degrees Celsius

Internal fan accelerates combustion

Adds smoky flavour to foods

Weber Q-220

80 centimetres long

18 centimetre lid holds whole chicken

Nearly full-sized porcelain enameled cast iron cooking grate

Fuego Element

8,000 BTU stainless steel burner

Folds into briefcase size for easy transport

Excellent power output

Solaire Anywhere Infrared

14,000 BTU

Stainless steel construction

390 square centimetre grilling area

Son of Hibachi

Large cast iron pan

Adjustable cooking grates

Heat-resistant carrying bag
One of the common characteristics shared by the best portable barbecues is the easy storage. These portable barbecues fit under most SUV seats for transport to picnic areas or camping sites. Some users slip the small portable barbecues inside of a backpack for day cycling trips.
How to Buy a Portable Barbecue on eBay
As mentioned earlier, you can find near mint condition portable barbecues on eBay at discounted prices. This happens because sellers either buy the wrong type of portable barbecue or they change their mind and instead opt for a large, immobile grill. To find portable barbecue sellers, type keywords into eBay's search engine and then navigate through the search result pages until you find a seller which matches your buying criteria. Type specific keywords to eliminate sellers who do not meet your shopping needs. For instance, type "Weber portable barbecues" or "Hibachi grills" to reduce the amount of time you spend shopping for a portable barbecue.
Consider buying your portable barbecue from one of eBay's "Top-Rated Sellers". These sellers have established reputations for selling high-quality products and running fair auctions. You can also review customer feedback which appears on seller product pages. Look for sellers who have earned consistent positive feedback over the past year and have received some of that feedback from selling cooking equipment. Seller product pages also include information about accepted payment methods, delivery terms, and return guidelines.
Conclusion
Portable barbecues have radically changed the way accomplished cooks and novice chefs grill meats and vegetables. Since their inception back in the 1940s, portable barbecues have allowed users to easily move the grilling units around a backyard. Strong, fluid wheels absorb some of a portable barbecue's weight, as well as provide easy movement over rugged backyard terrain. The portability of the smaller grilling units makes it easy to transport portable barbecues to neighbouring backyards, picnic areas, and public campsites. Some portable manufacturers produce units which fold into lightweight, yet rugged carrying cases.
Mobility may be the primary benefit of owning a portable grill, but consumers receive two other benefits. As families have reduced in size, so has the need to grill on large, stationary grills. Traditional grills have made way for portable barbecues which are made to feed smaller groups. Some portable grills feed just one person. The smaller, portable barbecues also provide a pocketbook benefit. Portables cost much less than their traditional counterparts and because of the price benefits, first time buyers should consider purchasing portable barbecues until they develop the type of grilling skills which attract the attention of their family and friends.