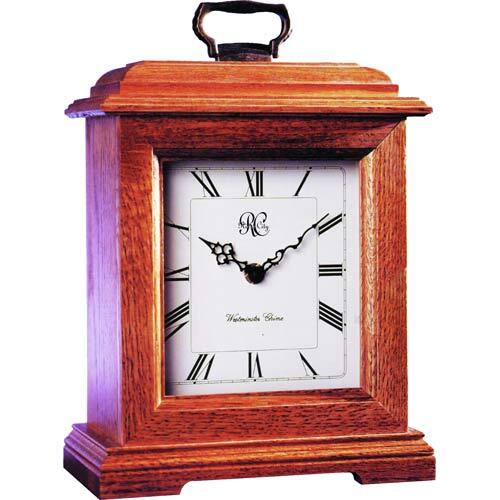 Antique carriage clocks are a prominent part of time-keeping history. With their recognisable rectangular brass cases and carrying handles, they were a popular clock suitable for travel and used by many in the past. These clocks continue to be sought after by collectors and enthusiasts today. Carriage clocks vary in age and style, and by the turn of the 20th century these clocks took on widely different designs. Considering which twentieth century designs are antique, the variety of carriage clocks on the market, the features to look out for, and methods of maintenance can help a buyer can become better prepared to invest in the ideal carriage clock to meet their particular tastes and needs.
History of Carriage Clocks
The first carriage clock is believed to have been a gift to Emperor Napoleon during the early 19th century. Created by clockmaker Abraham-Louis Breguet, the carriage clock's small and rectangular case gave it a practical functionality. The inclusion of a handle allowed it not only to serve as a small mantel clock, but to also be taken from the home as a travel clock. Many were fitted with cases made of leather that had a removable panel, offering both protection and easy reading during transportation.
Referred to by some as the 'golden age of carriage clocks,' the period from 1860 to 1900 saw large-scale production of the design. The first carriage clocks came in one-piece cases, but during the increase in production they were built from multi-piece cases, as they were cheaper to manufacture. Many of the antique pieces found on the market are of French origin and were made during this period, though the carriage clock stayed in common production up until 1930 when the quartz clock was introduced.
Discover Post-1900 Antique Carriage Clocks
Antique carriage clocks can vary from 5 to 30 cm in height, but they are most commonly around 15 cm high. Predominantly encased in a brass and glass housing, early 20th century designs are enjoyed for their metallic shine and bevelled viewing glass. Though carriage clocks are a sub-classification of the mantel clock, they too come in a variety of styles that offer departures from brass construction into sliver-plated or even gilded designs.
It is important to note that antiques are generally considered items that were crafted 100 years ago and longer; therefore, only clocks made in the earlier period of the 1900s may be considered antique. Those in crafted in the later days of the era are typically considered to be vintage clocks. Some collectors consider the 1930s as a measuring point for an item to be classified as antique.
Parts of Post-1900 Antique Carriage Clocks
The components that make up 20th century antique carriage clocks are similar to many previous designs. The list below outlines some of the main components of post-1900 antique carriage clocks.
| Part | Description |
| --- | --- |
| Power source | Allows the clock to run and is generally wound by a key |
| Oscillator | Vibrates at a steady frequency and is connected to the escapement |
| Escapement | 'Pushes' the oscillator to make up for frequency lost by friction and gives out a measured pulse |
| Counter Chain | A series of gears that converts the pulse from the controller into minutes and seconds on the indicator |
| Indicator | The readable part of the clock, commonly represented by two 'hands' and the numbers one through twelve. |
| Chime | Additional mechanism that creates noise upon certain positions of the hands, usually on the hour |
| Key | Used to periodically wind the power source |
| Housing | The case surrounding the clock's mechanisms and indicator |
| Handle | Found on top of the housing for easy transportation |
Types of Post-1900 Antique Carriage Clocks
Post-1900 antique carriage clocks, though specific in history, can be described using a vast number of criteria. Carriage clocks known as 'Obis' clocks had a flat top to their housing, while other designs such as 'Corniche' clocks had more ornate roofs. Carriage clocks designed during the Art Deco movement around 1925 would carry with them the designs associated with that period, such as minimal, geometric composition and adherence to symmetry. The materials used in their construction, such as silver-plated or gilded frames, can often further define these clocks. Many post-1900 carriage clocks are those that span the Edwardian period of history. It is important for a buyer to note that not all carriage clocks are considered antique. A carriage clock following a French design does not necessitate that it was created in the Golden Age, nor are all Art Deco carriage clocks defined as antiques.
Factors to Consider When Buying a Post-1900 Antique Carriage Clock
There are several factors to consider before purchasing a post-1900 antique carriage clock including:
Age – Antique carriage clocks are generally considered clocks that are 100 year and older, and will generally fall under the Edwardian period of history. Carriage clocks under 100 years old are typically considered vintage clocks.
Maker's Mark – Antique carriage clocks are often marked by their manufacturer giving the pieces valuable authenticity. Maker's marks can help users in identifying the age and value of the clock.
Condition – A buyer should check to see if the brass, wood, glass or handle is damaged on an antique carriage clock
Does it Work – An important factor to consider is whether or not the timing mechanisms are in good working condition. Some older carriage clocks have moved around often and may no longer tell time accurately.
Components – Even though they are likely to be sturdier than their nineteenth century predecessors, a buyer should be aware that it is possible for the internal pieces to have been upgraded with more modern parts.
Winding – Most antique carriage clocks need to be hand wound with a key once every week. Ensure that the key is included with the clock.
Typical Features of Post-1900 Antique Carriage Clocks
1. Housing
Generally rectangular, the housing of a carriage clock is its defining characteristic. It is often made from brass and has a handle on the top, but the housing can also be found in silver-plate, bronze, gold or even ceramic designs. The housing may also have bevelled glass panels on each side, the surrounding metal structure often in ornate designs. The further designs stray from the nineteenth century, the less common these ornamental designs become and are often considered more valuable.
2. Face
Every antique carriage clock has a carefully crafted face that will vary slightly in size. They are often constructed from enamel or ceramics with ornate metal hands. Some carriage clocks will also have a lunar dial on the face that measures a lunar month, though this is less common.
3. Hands
An antique carriage clock, like any clock, has hands as a distinguishing element of design. They can are generally made from metals such as steel or brass, and come in various shapes and designs that reflect the style of the housing, from simple lines to more complex and ornate.
4. Chimes
Carriage clocks can have an hourly or even quarter-hourly chime, known as the Grande Sonnerie (grand strike). Chimes can vary in their amplitude and frequency, and can also come with a silencing option. The most common sound for a clock chime is known as the Westminster.
5. Key Winding
Most antique carriage clocks, even into the 1900s, will require hand winding with the use of a key. Most have what is known as an 'eight-day movement,' requiring winding once a week. Some may have longer movements such as fourteen days.
6. Platform Escapement
Providing the carriage clock's gears with a measured pulse for accurate time, this feature is an improvement on many other mantel clocks, as the common pendulum mantel clocks could not be easily moved without damage to the timing.
Post-1900 Antique Carriage Clock Manufacturers
The following list outlines some post-1900 antique carriage clock makers:
Botely and Lewis
Richard and Co.
A.H. Rodanet
Kienzle
Henri Jacot
Drocourt
Margaine
Pinchon
Paul Garnier
Japy
Finding Post-1900 Antique Carriage Clocks on eBay
Once you determine the type of post-1900 antique carriage clock that you want to purchase, visit the Antiques portal on eBay, select `Clocks´ and start searching item listings. The Categories list on the left-hand side of the eBay page helps to narrow the search.
Searching forPost-1900Antique Carriage Clockson eBay
Search eBay listing titles for specific words when shopping for post-1900 antique carriage clocks. For example, to find an antique gilded carriage clock, type 'Antique Gilded Carriage Clock' into the search box, and then click the Advanced button to customise the results. Also visit eBay's Search Tipspage for more advice on searching for antique clocks with keywords. If you can't find the exact antique carriage clock you want, try shopping eBay Stores.
Conclusion
Small and practical, the carriage clock is often an attractive mantle clock for a room or collection. Due to the large amount of information that buyers may find about carriage clocks, it can be a good idea to take into consideration the different factors that separate an antique carriage clock from other clocks in the 1900s, the variety of options on the market, and the specific features of the carriage clock. Once you have collected this information, you can buy a post-1900 antique carriage clock safely and securely on eBay.