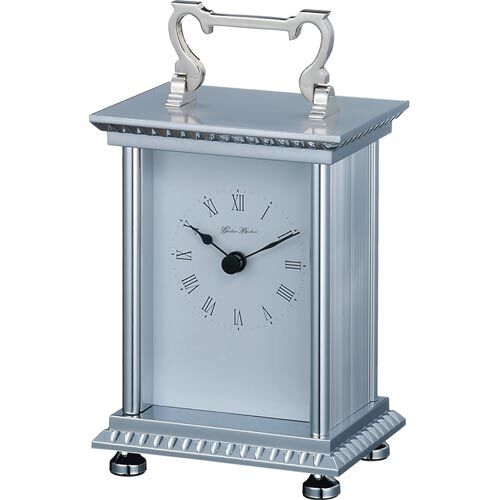 Finding the right post-1900 carriage clock can be an exciting adventure. Carriage clocks can add historical charm to any home, and are a beautiful accent piece when displayed for all to enjoy. A deeper understanding of what characteristics make these clocks so unique, what factors impact their value, and how to care for these highly collectable timepieces can help purchasers in making informed decisions to find the ideal clock to match their taste and styles
History of Carriage Clocks
The very first timepieces produced in ancient times were sundials and hourglasses. These helped tracked the movement of the sun and passage of time in very rudimentary ways. Some of the first mechanical clocks were invented in England in the 1300s, helping to spark a new industry all across Europe. Originally, these clocks were owned only by those who could afford them. Early clocks were often delicate, with fragile moving parts that would be damaged easily. The carriage clock was invented in 1802, featuring a balance and spring time mechanism that allowed this small clock to be transported without the high risk of damage. With the industrial revolution, the need for the ability to track time became important for all classes. The advent of machinery that allowed for mass-production and standardised parts led to greater affordability and accessibility of carriage clocks. Soon, there were designs and styles available of carriage clocks to suit any tastes and budget. Although now mass produced, the design and materials still reflected high standards of quality and workmanship.
Discover Post-1900 Carriage Clocks
Carriage clocks were small, usually rectangular in shape, and had a handle on the top that could be used to carry the clock from place to place. These clocks featured escapements that worked with springs and balances, as opposed to pendulums, making them less fragile and less delicate to move. As a result, many old carriage clocks can be found today that are still in great working condition. Some carriage clocks were gilded, engraved or featured grooved angles that added unique characteristics and style. These designs also tend to also be higher in demand from a collector's perspective. Few carriage clocks may also feature calendar functions that depict the phases of the moon. Carriage clocks required winding every eight days. Some simply told the time, while other were striking clocks that would sound on the hour, half hour or even quarter hour. Post-1900 carriage clocks tended to be more dainty and refined, and they were often inspired by Queen Anne, Arts and Crafts, and Art Nouveu designs.
Parts of Post-1900 Carriage Clocks
Post-1900 carriage clocks contain a number of complex parts that allowed for improved time keeping accuracy. Learning the names and functions of these parts serves to make any buyer come to understand how to care and understand their new purchase.These parts include:
| Part | Description |
| --- | --- |
| Case | This protective casing seals the many complex parts of the clock inside and forms the body of the clock. This case can be decorative or plain, depending on the clock. |
| Dial | The face of the clock where the numbers are. |
| Escapement | The escapement or movements of the clock is the mechanism inside that actually drives the timekeeping element of the clock. In a carriage clock this power comes from a main spring that is wound up before use. |
| Hands | The hands of the clock that indicate the correct time on the dial. |
| Gongs, Bells, etc | The source of noise that signals the changing of the hour. |
| Main Spring | This ribbon of steel can be used to both wind and power the clock. On certain models it can last for a full eight days before it needs to be rewound, although it is specific to each clock. |
| Handle | On any carriage clock the handle is an important way to not only transport the device but also to add an addition level of elegance to the piece. |
| Winding button | Knob on a clock used to wind the timing mechanism. |
| Winding stem | The small shaft in the movement that is attached to the winding button. |
Factors to Consider When Buying Post-1900 Carriage Clocks
When looking for the perfect clock there are factors that a potential buyer should consider.
1. Operation
The value of a post-1900 carriage clock largely depends on its ability to function. The clock's mechanics must be in good working order and the clock must be able to track time. The striking mechanisms and trains of repeater clocks must also be in functioning condition.
2. Originality
Post-1900 carriage clocks that are original are more valuable. Restored clocks must have the appropriate and original working parts that are true to the clock's original design; however, escapements that have been replaced can affect the value of the clock.
3. Design
Designs features of post-1900 carriage clocks that are rare, including enamel panels and engraving, are often considered more valuable from a collector's perspective. These items are usually more difficult to find and more expensive to purchase.
4. Accessories
Clocks that come with original winding keys and/or travel cases are generally considered more valuable. Original travel cases in good condition can be highly collectable.
5. Budget
Setting budget limitations prior to purchasing a post-1900 carriage clock will help narrow down choices and make the process of searching for clocks easier. Clocks that are in higher demand and more difficult to find tend to be more costly.
Typical Features of Post-1900 Carriage Clocks
Certain features of antique clocks separate them from their more modern counterparts in very important ways. These are important to consider before purchasing a post-1900 carriage clock.
Hand crafted reliability - The craftsmanship shown in these handmade clocks is evident. These clocks have already lasted a hundred years and with proper care can be expected to last many more.
Can often be considered works of art - Some carriage clocks look like miniature works of art and can add a sense of splendour to any setting. These wonderful clocks easily fit into any room in the house.
Completely eco-friendly - Save on electricity and avoid the frustration of resetting clocks after power outages with these clocks, which are powered through springs and winding.
Transport Friendly - The carriage clock was meant to be moved and as such it can easily fit in any room around the house. Its durability means it can often retain accuracy in more bumpy environments in which other clocks might suffer.
How to Care for Post-1900 Carriage Clocks
As the first portable clock, the carriage clock is remarkably sturdy and easy to care for. Polish a carriage clock often to keep it looking its best. When possible, it is best left in a low humidity environment to prevent the metal from being corroded too easily. Be sure to keep a new carriage clock properly wound at all times, this helps avoid stress and damage on its fragile main spring and other delicate parts. Be sure to seek regular maintenance from a professional every five years to prevent serious mechanical damage that may be hard to spot. Do not attempt to oil or clean the mechanisms inside without professional help. Treat carriage clocks with respect and a soft touch and it will last for generations to come.
Popular Post-1900 Carriage Clock Manufacturers
The carriage clock was first produced in France, but as its popularity grew in the 20th century American and British manufacturers began creating their own. The worth of a clock can often be determined by the notoriety of its maker.
Some of the better known British producers are listed below:
Vulliamy
Dent
McCabe
Frodshame
Famous French examples of carriage clock producers included:
Breguet
Drocourt
Garnier
Jacot
Famous American manufacturers of carriage clocks included:
E.N. Welch
Howard Miller
Elias Ingraham
The Gilbert Company
Finding Post-1900 Carriage on eBay
Once you determine the type of post-1900 carriage clock you want to purchase, visit the Antiques portal on eBay, click on `Antique Clocks´, then click on `Carriage Clocks´ and start searching item listings. The Categories list on the left-hand side of the eBay page helps to narrow the search.
Searching for Post-1900 Carriage Clockson eBay
Search eBay listing titles for specific words when shopping for post-1900 carriage clocks. For example, to find a French carriage clock, type 'French Carriage Clock 'into the search box, and then click the Advanced button to customise the results. Also visit eBay's Search Tips page for more advice on searching for antique clocks with keywords. If you can't find the exact carriage clock you want, try shopping eBay Stores.
Conclusion
The carriage clock is a welcome addition to any home and can fit into almost any style imaginable. Through this guide, buyers have been informed about the vast history of these stately clocks while also understanding the many styles they created. Further information on maintenance techniques, as well as the proper parts and care, should help a new buyer feel more confident with their purchase. Once you have collected this information, you can buy a post-1900 carriage clocksafely and securely on eBay.