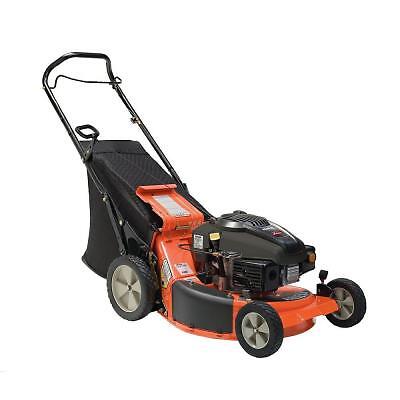 Push mowers are the most popular type of lawnmower available, and are a valuable part of maintaining an attractive lawn. Push mowers are created in a wide range of styles, and buyers have several options available to them while shopping. Choose between fuel-powered and electric mowers, and refine options by diesel or petrol, and corded or battery-powered. It is also worth considering the type of grass disposal used on a mower. Choose between bags, side discharge, and mulching mowers.
eBay has a high number of listings for both new and used push mowers, and products are sold by private and commercial sellers. Buyers can browse the full range of items available by using keywords and category options on the site. It is possible to refine listings by the condition of a mower, its manufacturer, and other options. Learn about navigating the eBay website and finding reliable eBay users to purchase the best push mowers available.
Choosing Push Lawnmowers
There are two ways to find listings for lawnmowers on eBay: enter keywords into the search field, and click on links to categories. An easy way to begin a search is to type "lawnmower" into the search field on the homepage. A high number of listings will appear, including those for lawnmower parts and accessories. To shop for push mowers only, look for the category options on the page, and choose the link for push mowers. From there, buyers are presented with a new list of categories, including ones for brand, unit condition, power source, and seller location, among others. The first step in choosing a push mower is deciding on the power source.
Power Source
Lawnmowers can be run on fuel or electricity. There are benefits and drawbacks to each, so learn about each power source to make an informed buying decision.
Petrol and Diesel
Traditional lawnmowers use a combustion engine, and are powered by either petrol or diesel. These mowers tend to be less expensive than electric ones, though the price of petrol can make them more costly to operate in the long run. Fuel-powered mowers can also be rather noisy, and produce air pollution.
Electric
Some modern lawnmowers are designed to run on electricity. These electric mowers are often easier to start, and are also much quieter that fuel-powered units. Electric mowers come in two types: corded and battery-powered.
Corded electric lawnmowers receive their power through a long cable that can be plugged into a standard power outlet. These products are useful, as they do not require their power source to be recharged or refuelled. However, they are inoperable during power outages. The other drawback to corded models is the possibility of hitting the cord with the mower. It is often necessary for operators to stop and adjust the cord to keep it out of the way of the mowing path.
Battery-powered electric mowers are an option for buyers who would like to avoid the trouble of a cable connection. These units have a detachable, rechargeable battery. Some batteries may not hold a sufficient charge for doing large jobs, so read product reviews of mowers to find ones with a healthy battery life.
Condition
Another category option that can be useful to shoppers is the mower's condition. Most mowers fall into one of two categories: new and used. Used mowers can save buyers money, and many quality products are available in used condition. It is also possible to shop for mowers that are no longer functional, but can be used for parts.
If a used mower is chosen, be sure to verify that it's in working condition. Read item descriptions closely, and ask questions of the seller. Determine how old the mower is, the type of repairs it has received, and whether the blades have been recently sharpened. If there are any doubts about a used mower's performance, ask why it is being sold.
Brand
It is also possible to use category options to browse by manufacturer. Click on the name of any brand to see related listings. This is a useful option for buyers who have a manufacturer they trust and would like to stick with. Popular manufacturers include Flymo, Honda, Mountfield, Qualcast, Hayter, and Draper.
Grass Cuttings
Buyers should consider the method of disposal for grass cuttings. The three primary types include side discharge, bagging, and mulching. The following chart offers a brief description of each.
Bagging Mowers
Bags on lawnmowers prevent grass cuttings from piling up on a lawn. These units are ideal for composting, though the bags may need to be emptied multiple times, depending on the size of the lawn.
Side Discharge
Lawnmowers designed with a side discharger spread the grass cuttings out to the side of the mower while in use. Although this can make a yard messier, and may result in grass being tracked into a home, it also provides a rough fertiliser for the lawn.
Mulching
Buyers looking to fertilise their grass with a more efficient option than side dischargers should consider a mulching mower. These products are capable of chopping grass cuttings into fine particles that rest down in the base of the lawn.
Some products on the market are designed to handle bagging, mulching and side discharges. A setting on the mower allows users to switch between these three options, depending on their needs.
Self-Propelled Mowers
Some push mowers have a self-propelled option that can reduce the amount of work the user must put into mowing. These units often have a speed setting, and can be adjusted to a comfortable pace. Choose this option for a more relaxed mowing experience that can also reduce strain on the user's back. To find these mowers on eBay, type "self propelled" into the search field from the category page for push mowers.
Other Considerations
In addition to the actual functioning of a mower, there are a few things that can be important to consider while shopping on eBay. Shop within a specific price range, and examine the seller's shipping options and return policies to find items that suit the buyer's needs and expectations.
Price Value
It is possible to enter a price range for a lawnmower on eBay. This option is included in the category section of search results. Set a minimum or maximum pound range, or both, to see items that match a budget.
Shipping Options
Before committing to a purchase on eBay, take a moment to find the seller's shipping methods in the item listing. In some cases, a mower may only be available for local pickup. It is also worth noting shipping charges and the estimated delivery date of the product.
Return Policies
Examine a seller's return policy, especially on used items. Determine if returns are accepted by the seller, and see if return shipping charges are covered in the policy or not. Be clear on the criteria for a return and whether the warranty can be voided by any particular actions, including standard use.
How to Buy Used Lawnmowers on eBay
Once you've located the type of lawnmower you'd like to purchase on eBay, take a moment to examine specific items. Click on the name or primary image of an item to see its full listing. Read the seller's item description, and inspect all available photos to determine a unit's condition. Determine which payment methods are accepted by the seller, and be prepared to complete the transaction as soon as you commit to buy.
Inspect seller profiles before committing to a purchase to ensure a positive buying experience, Look for the seller's positive feedback rating and number of completed transactions. It is also possible to view comments left by previous buyers, and view the original item listing associated with the comment. Examine the average ratings a seller has received based on shipping speeds, accuracy of item descriptions, shipping costs, and communication. Once you have received your mower, return to eBay to leave feedback about your experience. Your ratings and comments help sellers improve their performance, and they also help to inform future buyers.
Conclusion
Push mowers are the most popular type of lawnmowers on the market, and are ideal for mowing an average-sized lawn. A high number of push mowers can be purchased on eBay, and buyers can shop for items based on power source, condition, and other options. Fuel-powered mowers are generally inexpensive, though they are noisy and create pollution. Electric models are much quieter, though owners must either recharge a battery or navigate around a power cord. Decide between side discharge, bagging, and mulching mowers, and consider self-propelled products.
A high number of lawnmowers are listed for sale on eBay. Learn to navigate the website and locate specific listings to find the best products available. It is possible to search for items using keywords and category options, and a combination of the two methods is often the best approach. Review seller profiles and item listings to ensure a positive transaction, and shop around to find the best prices. The high number of push mowers on eBay provides buyers with many opportunities to obtain a quality item that suits their needs.