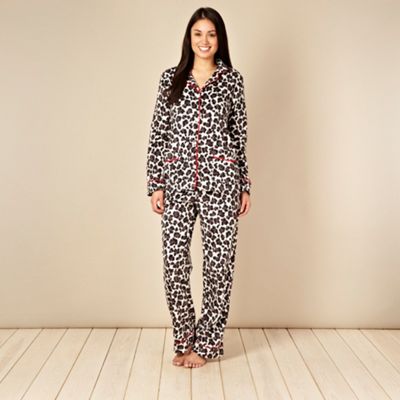 Pyjama shirts are comfortable and cosy, and particularly in cooler weather also help the wearers keep warm. Some manufacturers offer pyjama shirts in sets paired with matching pyjama pants, which is ideal for buyers looking to stay as toasty as possible, or the shoppers who do not already have a pair of pyjama pants. Pyjama shirts themselves come in several different options, which run the whole gamut of sleeve styles and fits. For potential buyers wanting the most additional insulation possible, flannels, cashmeres, and merino wool blends are options, while shoppers just wanting the coverage of a pyjama shirt may find cheaper options like cotton.
Most brick and mortar stores do not carry much in the way of pyjama shirts, unfortunately, making the best option for buyers to head online. Many retail websites carry an improved selection of pyjamas shirts. Some auction listing websites, like eBay, in addition to offering improved selection, also help shoppers save money vs. spending additional money at traditional retail shoppes.
Types of Pyjama Shirts
Pyjama shirts come in a swath of types and styles, and getting to know the pros and cons of each helps buyers during their search. Below is a list of the most common varieties and their respective attributes.
Poplin Pyjama Shirt
Poplin is a type of cotton fabric, but one which is woven so that it displays crosswise ribs, not unlike corduroy. Poplin is very strong and long lasting, and it keeps wearers more warm than other cotton fabrics, because it is generally thickly woven. It is still lightweight, however, while also being particularly sturdy. Poplin is generally found used in button-up pyjama shirts rather than pullover varieties.
Jersey Pyjama Shirt
Jersey is a super soft, but often quite thin type of cotton fabric. Jersey is often used as a lining for sweatshirts or comforters, and to make super soft T-shirts, but it is also found in many types of pyjama shirts; most specifically, the oversized T-shirt variety.
Flannel Pyjama Shirt
Flannel is a wool and cotton blend which marries the qualities of these two fibres into one soft, well-insulating fabric. Often used as a lining in winter clothing, flannel is also frequently used in winter pyjamas. Flannel is tough, as well as soft, and lasts wearers several years with minimal care. Flannel pyjama shirts are generally found in button-up, rather than pullover varieties.
Satin Pyjama Shirt
Satin pyjama shirts are luxuriously soft with a glossy lustre or sheen, which makes them a fashionable option for a pyjama shirt. Satin pyjama shirts are often manufactured to feel one or two sizes too large, giving them a loose, flowing feel. They are manufactured in both pullover and button-up varieties. Satin pyjama shirts are prohibitively expensive, however, especially those with speciality satin such as duchess satin.
Fleece Pyjama Shirt
Fleece pyjama shirts are another option for those looking to stay super warm and cosy while sleeping. Microfleece is a popular option for pyjamas because it carries much of the same insulating properties while being much thinner than traditional fleece. Some shoppers may be able to find polar fleece pyjama shirts, which have a super high insulation rating. Each of these more specialised types of fleece is likely to cost more than traditional fleece garments.
Thermal Pyjama Shirt
Thermal pyjama shirts, sometimes simply called a "thermal" are long-sleeved pyjama shirts made of a cotton and polyester blend. Because of that blend, they offer more insulation than simply cotton alone. Thermal pyjama shirts are usually fitted, rather than loose, with scoop or v-neck collars and 3/4 sleeves. Thermal pyjamas are generally quite affordable and are found in both plain colours and prints.
Button-Up Pyjama Shirt
The button-up pyjama shirt is the iconic image of a pyjama shirt, and like any other button-up shirts, features a simple collar and button-front closure. They also come in both short and long-sleeved varieties. These shirts are usually made of soft, plush, thick fabrics such as flannel to increase comfort, but individuals in the market for a pyjama shirt should look at this option with the understanding that the buttons may press uncomfortably during sleep. Button-up pyjama shirts tend to be more expensive than other varieties, because they are usually made of more expensive materials.
Oversized T-Shirt
The oversized T-shirt is a popular pyjama shirt, and it is generally either a cotton or cotton-blend T-shirt bought several sizes too large, or specially manufactured to be extra long in the hem. Some brands and manufacturers sell oversized T-shirts specifically as sleepwear. Oversized T-shirts, depending on the materials with which they are made, tend to be an affordable pyjama shirt option.
Sizing a Pyjama Shirt
For optimum comfort during sleeping, the ideal pyjama shirt should be loose and airy. Those with long sleeves should have the sleeve terminate after the wrist, and it should preferably have large, loose cuffs. Any collar should be soft, not stiff and adjust easily. In general, pyjama shirts follow traditional shirt sizes from extra small to extra large.
Pyjama Shirt Fabrics
Pyjama shirts are manufactured in a range of fabrics. To get a brief overview of each common fabric type and its relative benefits, shoppers should refer to the chart below.
| Fabric Type | Warm | Low Cost | Long Lasting | Soft |
| --- | --- | --- | --- | --- |
| Jersey Cotton | | X | | X |
| Ribbed Jersey | | X | | |
| Poplin | | X | X | |
| Flannel | X | | X | X |
| Fleece | X | | X | X |
| Satin | | | X | X |
Potential buyers should be aware that jersey and flannel pajama shirts tend to pill quickly over time. Fleece and poplin also pill, but substantially less than either jersey or flannel. Ribbed jersey tops do not pill, and they can be very long lasting, but are not nearly as soft or warm as other options. Satin is an ideal pyjama shirt fabric for those who tend to overheat at night, as the fabric tends to remain cool feeling.
Alternatives to Pyjama Shirts
If shoppers cannot find their ideal pyjama shirt, there are luckily several alternatives already widely available in the sleepwear category. These options include different types of lingerie, robes, sleeping gowns, and dresses.
Lingerie
Several types of lingerie serve as an alternative to a pyjama shirt. These include chemises, slips, and negligees, and are often made from silk, satin, lace, or synthetic materials. Lingerie pyjamas are unlikely to work to keep wearers warm, but it is an ideal alternative for hot summer nights. Different types of lingerie are often offered in matching sets.
Sleeping Gowns and Dresses
Sleeping gowns and dresses feature hemlines which typically fall well below those of a pyjama shirts. Some types of sleeping gowns include muumuus and peignoirs. Sleeping gowns and dresses, like pyjama shirts, are manufactured in a wide range of materials from the sheer and gauzy to heavy fleeces and flannels.
Robes
Some enjoy sleeping in robes or dressing gowns, which are loose, comfortable, and easily accommodate other clothes underneath when necessary. The majority of robes feature a belted-front closure, though some may also have buttons. Most such robes are made of silk or satin, but other thicker, jersey and cotton alternatives are also available.
How to Buy a Pyjama Shirt on eBay
Buying a pyjama shirt on eBay is easy and efficient, especially when compared to the long time it takes in traditional retail stores. Begin by going to the eBay homepage where you should locate the search bar. This search bar is also available on most of eBay's internal pages. Click on the search bar and type in those terms which describe your ideal pyjama shirt. Remember to keep this search fairly general in order to give you the largest number of possible listings. Some examples of this might be "flannel pyjama shirt" or "sleeveless pyjama shirt". Then press enter.
Your search should immediately be rewarded with a roster of the listings which match the terms in your search. To improve the shopping process for its users, eBay then allows shoppers to refine their search using several options. Individuals can choose to see pyjama shirts of only specific brands, sizes, or colours, or even opt to see the cheapest options first.
Conclusion
Pyjama shirts are an essential wardrobe item, especially for colder months. They come in more than enough varieties of shapes, colours, and fabrics to please even the most picky shoppers. Those wanting the best pick in terms of comfort should look for flannel or cashmere varieties, but should keep in mind that they can be quite expensive compared to more traditional options such as cotton or acrylic. Pyjama shirts are also often sold by manufacturers in matched sets which include bottoms, so those who prefer the coordinated look should definitely consider getting a set rather than a solo shirt.
In most cases, brick and mortar stores have a fairly limited selection of pyjama shirts, and particularly pyjama shirts offered outside of a set. For those wanting more options, it is advisable to skip the traditional retail shopping step entirely and head online instead. Websites such as eBay offer massive selections of pyjama shirts in every style.