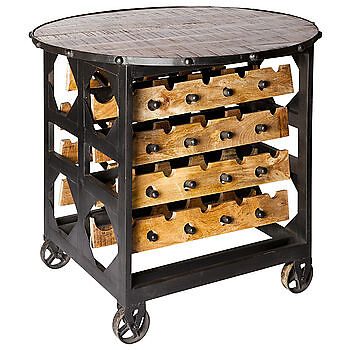 Storage racks are found in a variety of locations, including garages, kitchens, bathrooms, bedrooms, and utility rooms. They are used to hang, organise, and store a range of items. Racks are typically wall-mounted shelves, rails or hooks, or free-standing cases, stands, and shelves. By providing attractive and convenient locations for displaying, organising and storing personal belongings and other items, racks enhance the decor and functionality of a room.
About Racks
Tools, CDs, DVDs, towels, kitchen utensils, coats, and other items can all be stored and arranged on a rack. Common features of racks are rails and hooks, which are used to hang items. When a rail is used, hangers may be needed to hold items such as a jacket or shirt. Racks are free standing or mounted. When mounted, racks are fixed to a wall or other flat surface, such as a door, with screws or nails. Racks may also feature built-in shelves for storing and displaying items. Shelves and other storage components may be covered with cabinet or glass doors in order to conceal items and provide a more streamlined appearance. Certain racks are also mobile with wheels, allowing for easy transportation from one room to another.
Choosing a Rack
Storage space is the primary consideration when purchasing a rack. The number of rails and hooks, as well as the size of the rack itself will influence storage ability, and the items that can be effectively hanged, stored, supported, or displayed by the rack. The location where the rack will be placed in a property must also be considered. Wall-mounted racks should have sufficient room on a wall or door in order for the space to not appear cluttered. Similarly, free-standing racks should have enough floor space without compromising mobility. The style of a rack should also complement the decor of the room or space where it will be placed or mounted. Other considerations when buying a rack include the price, material, and style of the unit.
Rack Styles
The table below outlines the common styles used in rack designs.
| Style | Descriprion |
| --- | --- |
| Traditional | Traditional racks feature formal designs that evoke a classic look. Design elements may be antique or rustic, and may include historic or heritage features from specific periods or cultures. |
| Contemporary | Contemporary racks have modern design elements, including clean and understated lines. While generally minimalist and futuristic, certain contemporary racks have experimental and creative designs. |
Types of Racks
Racks are designed to store and organise specific items. The following section provides an overview of the various types of racks, including entertainment, wardroom, kitchen, and bathroom racks.
Entertainment Racks
Racks are used in lounges and other rooms to store and organise a variety of items, including newspapers and various types of media.
| Type | Description |
| --- | --- |
| Media | Multimedia towers or media racks and stands are used to organise and store media, such as DVDs, CDs, and audio cassettes. They are also known as DVD stands, CD racks, and audio racks. |
| Magazine | Magazine racks are used to store printed material, including magazines, books, and newspapers. They are also known as newspaper racks. |
Wardrobe Racks
Wardrobe racks are used to organise and store clothing and other personal belongings. Racks with shelves may be enhanced with baskets or drawers to help conceal items and facilitate organisation.
| Wardrobe Rack | Description |
| --- | --- |
| Coat | A coat rack features hooks and prongs that are used to hang outerwear, including jackets, coats, purses, scarves, and hats. Free-standing coat racks are also known as coat stands. Certain coat racks are mounted to a wall or other surface, such as a door. They may also include built-in storage, such as a storage bench, umbrella stand, cabinets, or shelving. |
| Clothing | Clothing racks or rails are free-standing pieces used to hang jackets, shirts, trousers, and other articles of clothing. Featuring a frame made from wood, metal, or plastic, a rail is typically found along the top of the rack. Articles of clothing are then placed on hangers, which are hung on the rail. |
| Trouser | Trouser racks have one or more rails used to hang trousers. Horizontal rails are generally arranged vertically one above the other. |
| Tie | This type of rack is used to hang and organise ties. Tie racks typically feature one of more rails or hooks where ties are placed. |
| Shoe | A shoe rack is used for footwear, such as shoes, slippers, and boots. They are also known as shoe stands and are generally found in a doorway, entryway, or hallway. Certain shoe racks have a built-in bench, coat rack, or stand. |
Kitchen and Bathroom Racks
Racks are used in kitchens and bathrooms to hang towels, pots, pans, dishes, and other items. They are used for organising space in order to keep rooms neat and tidy.
| Kitchen and Bathroom Racks | Description |
| --- | --- |
| Pan or Pot | Pan and pot racks are used to store and support pots, pans, and other items. These racks are mounted to a wall or door, or are free standing. Pot and pan racks may also be hung from a ceiling. They are designed with one or more shelves, hooks, and other mechanisms to secure pots and pans. Other names for this type of rack include ceiling rack, hanging rack, pan shelf, and pan stand. |
| Plate | A plate rack is used to store, organize, and display dishes. They are free-standing or wall-mounted units with shelves or groves that secure plates. Plate racks may also feature hooks and shelves for other items, such as pots, pans, towels, oven gloves, and mugs. |
| Glass | This type of rack is used to hang cups and glasses, including wine glasses. They are typically mounted on a wall or under a panel or shelf. Glass racks may also be free standing. |
| Wine | This type of rack is used to organise, display and store wine bottles. Wine racks are designed in a variety of styles that showcase bottles in innovative and stylish ways. They can be free-standing or wall-mounted, and they are made from a variety of materials (for example, glass, wood, stainless steel, metal, and iron). |
| Spice | Kitchen racks store and organise a variety of kitchen items, including spices and herbs. Spice racks are small units with shelves used to place spice and herb bottles. They are generally mounted on a wall or cabinet door. |
| Towel | Towel racks are mounted to walls, doors, and other surfaces in kitchens and bathrooms. They are used to hang towels and other items, including robes and oven gloves. Towel racks are designed with a rail or hooks. |
| Sink | Dish or kitchen sink racks are used to support plates, utensils, and other items after washing. They are typically placed within a sink and feature a perforated bottom to allow water to easily drain from wet items. |
Common Materials for Racks
Various materials are used to create racks. Metal and wood are shaped and manipulated to create innovative designs and decorative features. Certain racks also combine different materials, such as fabric with wood or metal with plastic. The type of material used is often influenced by the style of the rack.
| Material | Description |
| --- | --- |
| Wood | Wooden racks provide a rustic and classic feel. They typically have traditional design elements, including antique and heritage decorative features. Wood racks are also available with simple lines and more contemporary or modern designs. Popular wood types include beech, pine, mahogany, redwood, oak, and cedar. |
| Metal | Metal racks offer a contemporary appearance, although metal is also used in antique and traditional designs. Common metals and metal alloys include steel, stainless steel, chrome, and iron. Metal is often finished to provide an enhanced look, such as a matte or satin nickel finish for an antique, or brushed metal finishes or a polished surface for a more sophisticated look. |
| Fabric | Fabric is a common material used for contemporary racks. Fabric racks are typically used for clothing and accessories, such as shoes. |
| Plastic | Plastic is used in contemporary racks. It is often found on kitchen and entertainment racks, including spice racks, newspaper racks, and DVD racks. |
| Glass | Glass is used for shelving or doors on various styles of racks, including wine and multimedia racks. It enhances racks with a modern and glossy appearance. |
Conclusion
With shelves, hooks, and rails in various configurations and styles, racks are used to organise items in any number of places. From kitchens and bathrooms to utility rooms and garages, racks are convenient for storing and arranging personal belongings, tools, utensils, accessories, and media. The size and style of a rack will often determine the amount of storage capability of the unit. Thorough research will help buyers determine the rack that will meet individual storage needs and complement their property's décor. By looking at different racks, buyers can compare storage capacity, price, and style to select a rack that is best suited for the intended space and user or users.