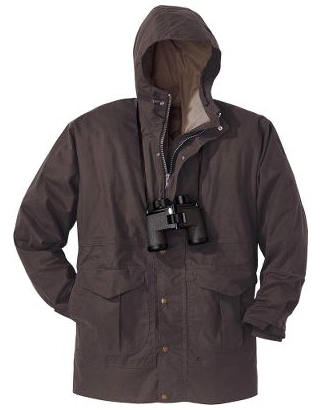 Almost everyone has had to jog for cover from a sudden downpour at some point in their lives. But even those who have not experienced similar situations can likely see the sense in owning at least one good raincoat. Raincoats do far more than keep their wearer warm and dry, they protect one's clothing from the unpleasant effects of an unplanned cold wash, which in some cases can include such things as bleeding dye, or in the case of leather, warping or hardening. Most raincoats also have multiple deep pockets, perfect for keeping handheld electronics safely out of the rain, and they have hoods to protect one's hair.
But many retail stores carry relatively few raincoats, that is, if they carry any at all. Rather than risk disappointing selections at brick and mortar stores, a buyer on the prowl for the perfect raincoat should consider shopping online instead. And while many websites are sure to offer an improved selection, the person who wants the largest array of options and the increased likelihood of finding the perfect raincoat at a bargain price should consider beginning the search at eBay.
Types of Raincoats
Raincoats are manufactured in an assortment of stylish varieties so that they can fit seamlessly into any lady's established wardrobe. The shopper should always buy a raincoat with her current style in mind.
Mackintosh Raincoats
The Mackintosh style of raincoat is so popular that to say "Mackintosh" is nearly synonymous in the public mind with saying "raincoat". Designed by Charles MacIntosh in the early 1800s, a traditional Mackintosh coat blends rubber and cloth nearly seamlessly, allowing the fabric to shed water rather than retain it, while still preserving the timeless look of a cloth coat. The drawback, of course, is that Mackintosh coats do not breathe well.
The Mackintosh Style
The Mackintosh style raincoat is perhaps the most simple. There are no lapels, no belt to tie, no epaulets, and it generally features a front-and-centre, button-up closure. A Mackintosh is an overcoat that is meant to be worn over several layers.Generally manufactured and sold at three-quarter lengths, this style of raincoat is ideal for the consumer who favours unembellished, classic styles or who does not want to distract from the outfit underneath. Because of its clean lines, this style of raincoat is also ideal for the buyer who wishes to have a patterned raincoat. Houndstooth, chambray, tweed, herringbone, and pinstriping are all timeless pattern ideas fit for any season.
Trench Raincoats
Trench coats of every variety have their roots in the pragmatic heavy woollen coats made popular in the trenches of WWI, but many different coat manufacturers over the years have tailored the trench style cut to everything from cardigans to raincoats. Trench raincoats are often manufactured with synthetic fibres or synthetic fibre blends to help preserve the feeling of a cloth coat while also warding off the rain.
The Trench Style
Trench raincoats, like the Mackintosh, do not typically feature a hood, but instead have wide lapels, a large collar, and a double-line front button closure usually coupled with a belted middle. The large collar on trench raincoats is designed to be flipped up to protect one's neck from the rain. A properly fitted trench raincoat will not need to be belted, but cinching around the waist can help achieve a more feminine look. It should feel fairly snug when worn, with the hemline falling just above the wearer's knee or at the mid-thigh.
Zip-up Slicker
The zip-up slicker is a more casual alternative to trench or Mackintosh style raincoats, and often it is a cheaper alternative. They can also be rather more ideal for the individual anticipating a longer time spent walking through the rain. Slickers are available in two varieties which differ mostly in cost and material, rather than appearance: hardshell and rain shell. Rain shells are cheaper and somewhat lighter, and when new are just as water resistant as hardshells, but are not as breathable as their hardshell counterpart, and they lose their water resistance quicker over time.
The Slicker Style
Often easily confused with a windbreaker, these are synthetic fibre hooded zip-up jackets which often terminate at the hips or just below the hips. Slickers pair poorly with blazers and suit jackets, but can be worn smartly over casual outfits or button-ups. The general rule of thumb is that one should size slickers as they do blazers, and look for one which is fitted in the shoulders and waist, but slightly long in the arm; with sleeves that go past the wrist.
Compressible Raincoats
Some manufacturers offer compressible raincoats which are designed to fit perfectly in a small bag or pouch, to be taken out only when needed. These compressible raincoats vary widely in price and style, but offer a valuable option to the buyer who may shy away from having a dedicated raincoat.
Compressible Raincoat Style
To make sure that these raincoats are optimally packable, they are generally manufactured of synthetic fabrics, which can sometimes impart a plasticy gloss to the coat. Whenever possible, the buyer should completely unfold such raincoats to determine if the look is acceptable. These raincoats typically feature button-front closures, and they may be found in both single-line and double-breasted varieties. Since they are meant to be an overcoat, they should feel quite loose unless worn with several layers.
Disposable Raincoats
Disposable raincoats are often sold compressed into small packages like compressible raincoats, with the single difference being that their manufacture rarely uses any fabric at all, instead cheap extruded sheet plastic is used. It is never a poor decision to always have one on hand, tucked into a shoulder bag for emergency use.
Disposable Raincoat Style
There is not much style to wearing an emergency covering of seamed-together plastic, but it keeps one dry in a pinch, which is all it needs to do. Disposable raincoats are also quite affordable and are often sold in convenience stores as a reliable alternative to simply waiting out unforeseen rainfall. Corporate and hotel lobbies sometimes keep a ready supply at information and check-in desks for guest use.
Helpful Tips
To make sure a raincoat offers as much protection as possible, the potential buyer should adhere to these simple guidelines while shopping. They will help the buyer separate the chaff from the wheat, so to speak, and hone in on quality items.
Fibre Content
Synthetic materials used in raincoats often do a far better job at warding out moisture than natural ones, so one should look for raincoats made of polyesters and Gore-Tex. For the one who does not like the look or feel of synthetics, natural alternatives include wool and waxed cotton.
Keeping Warm
Most raincoats are not meant to keep the wearer warm as well as dry; if it looks like rain outside, she should always consider bundling up in addition to throwing on a raincoat. Alternatively, the wearer should consider buying a wool-blend raincoat. Wool and wool blends have incredible insulating properties, which keeps the wearer warm without the need for throwing on a cardigan or sweater.
Shop Prepared
Anyone shopping for raincoats should layer up as is typical when trying on raincoats. This helps the shopper avoid purchasing raincoats which would cause the bulky look when wearing a blazer or sweater underneath it, but look fine otherwise. A raincoat should be an all-season purchase and bought with layering for work or winter in mind.
Buying a Raincoat on eBay
To buy a raincoat on eBay, go to the eBay homepage. Once there, locate the search bar. If you are already at eBay, the search bar can be located on every internal page in addition to the homepage. After clicking it, type in the words which collectively describe your perfect raincoat. This could be something like "red trench raincoat" or "hooded tan raincoat". Additional modifiers may include things like the size you are looking for or specific brands.
In each case, however, once you have the full roster of the listings which match your query, you can further organise them based on a variety of options. This can be particularly useful if you have several pages of items to look through. These options include the colour of the raincoat or its size, total cost inclusive of shipping, proximity to your location (which can greatly reduce shipping times), and the time and date at which the listing began or ends.
Conclusion
Raincoats are manufactured in many styles and fabrics, each with their own benefits and drawbacks. When looking for the perfect raincoat, always try to find one with a fit that complements your everyday style while still being functional. The buyer who desires a more classic look may be interested in a double-breasted style, while someone else may prefer a zipper-front closure. Some raincoats come fitted with hoods, but some also come without, making them ideal options for the shopper who regularly wears hats.
Rather than waste valuable time shopping for raincoats at brick and mortar retail stores, many of which have limited raincoat selections, and sometimes none at all, consider shopping online. Online purveyors are able to offer improved selections while also allowing the individual to shop from the comfort of home. The shopper interested not just in convenience but also saving money should consider beginning at eBay, an auction listing website which typically allows the buyer to purchase goods at steep discounts compared to regular retail prices.