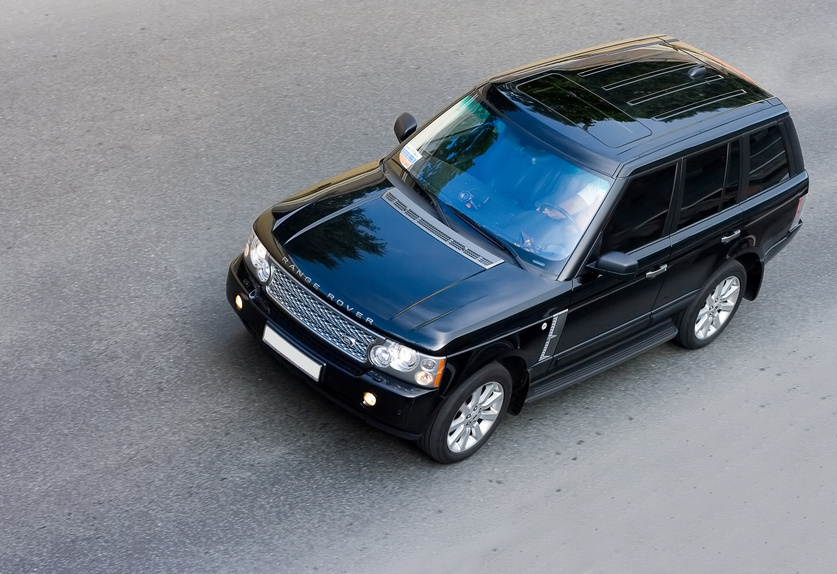 A range rover is a well known automobile that appeals to a wide variety of buyers. Range Rovers are not only highly sought after by collectors and off road enthusiasts, but also by shoppers seeking a luxury SUV as well. Range Rovers have a long history, with manufacturing beginning in 1970 by their parent company Land Rover. The basic shape of the SUV has remained the same, although the technology, options, look, and feel of the vehicle have all changed dramatically over time. Range Rovers are powerful trucks that are suited for light-duty work and off roading, since they typically feature large engines and four wheel drive.
The stock engine on a current model of a Range Rover is a V8, 5.0 litre engine. Depending on other features, this engine can produce between 350 and 510 horsepower. This is one example of why buyers must clearly understand their intended use for a Range Rover. How a buyer intends to use the Range Rover dramatically affects the options they should be considering for the vehicle and subsequently, the price. Range Rovers are luxury SUVs that are well suited to both driving around with the family and being able to operate in extreme terrain.
Range Rover Features and Options
There are many different features and options available on range rovers. This makes narrowly identifying the purpose of the Range Rover critical for the buyer. The buyer who needs a truck for light duty work in an extreme environment should consider more durable and powerful features. Conversely, a buyer who seeks more of a luxury item may desire more high end items, such as leather interior and consumer technology products. Below is a chart of commonly encountered options and features associated with Range Rovers.
| Feature | Best Suited |
| --- | --- |
| Leather Interior | Luxury Buyer |
| 510 Horsepower Engine | Light-Duty Buyer |
| High-End Electronics | Luxury Buyer |
| Off-Road Equipment | Light-Duty Buyer |
Range Rovers have such a diverse array of models, features, and options, it is possible to have the same base model vehicle outfitted for entirely different purposes. Those buyers who hope to have a hybrid model that performs well off-road but also offers luxury items should be ready to compromise in many areas. Performance and luxury items often do not compliment each other, although in some instances it may be possible. Range Rovers are also well renowned for their off-road capabilities. The result is that many different off-road specific items are available so buyers may want to pick option packages that include off road equipment for their specific environment, such as swamps, jungles, or mountain areas.
Interior
There are two basic choices when it comes to the interior of a Range Rover. First is cloth which is less expensive and may be more durable. Often times, cloth can be a plastic-like covering which can repel liquids and stains. Leather is the more luxurious item and may be more comfortable than cloth. Leather is an added expense and can be damaged and stained much more easily. Leather makes much more sense for luxury purposes than for work purposes. Interior colour can also be significant as darker colours retain greater heat.
Engine
While all the engines are the same eight cylinder size in the present day models of Range Rovers, additional performance components and earlier models of Range Rovers can greatly affect the ultimate horsepower of the engine. Generally, the more cylinders in the engine and the greater the fuel injection, the more powerful the engine. Previous versions of Range Rovers had six cylinder engines.
Other components that might affect performance which can be added on as after market modifications might include exhaust, computer chips, turbos, and greater airflow to the engine. Engines also need to be maintained so the oil should be changed in addition to any other recommended maintenance practices from the manufacturer which could also affect the warranty.
High End Electronics
All Range Rovers come with basic electronics. However, especially prevalent in newer luxury models of Range Rovers, high end electronics are becoming commonplace. Navigation units, high-end sound systems, mp3 player and smartphone compatibility, satellite television, and rear view cameras are quickly becoming the norm. Obviously, some of the high end electronics have more of a safety purpose, while others have a rider comfort and luxury purpose. Again, it becomes critical for the buyer to narrowly identify what they intend to use the Range Rover for, as this can help dictate which electronic options they may want to add in the future.
Off-Road Equipment
As a four-wheel drive vehicle with a large international audience, Range Rovers are a great choice for off road work purposes. As such, many different off-road options are available to the public. Obviously, durable and rugged tyres are essential. While offroading, drivers may encounter rocks, marshes, trees, and other hazards that normal tyres are not equipped to deal with. Tow ropes and winches also make a lot of sense for more extreme offroading. Tow ropes and winches can help stuck vehicles that are too remote to call for outside assistance.
Two way radios are also a great idea due to the fact that cellular service is not always available in remote locations. This ensures that all the vehicles in the party can maintain communication throughout the drive. Extra fuel reserves can also be critical as fuel can be difficult to find in remote locations. GPS is also an incredibly important tool for navigating the bush or the backcountry. Alternative exhausts may also be used to allow the vehicle to travel through water, and skid plates may be used to protect the undercarriage of the Range Rover.
Driving Off Road
Driving off road is much different than typical road conditions. Many extreme hazards can be encountered such as rocks, trees, water crossings, mud, and other obstacles. Depending on the conditions, a different transmission gear should be used. Soft ground or wading through water second gear is the most effective. Conversely, in snow or ice, the highest practicable gear for the conditions is the most efficient. There are also a variety of other tips and tricks for off roading.
Range Rovers parents company, Land Rover, offers a variety of off road driving courses that can be instrumental for new drivers. For example, it always makes sense to cross the river on foot prior to driving through it and obviously, fast moving, deep streams should be avoided. Very steep hills also present a navigation challenge. The vehicle should never be turned when ascending or descending a steep hill or it risks being rolled. These are just some the tips for off road driving but a professional instructor or course should always be used in order to get the best possible guidance.
How to Buy a Range Rover on eBay
Range Rovers are easy to find on eBay in addition to a variety of parts, components, and other aftermarket modifications. One thing to consider when purchasing a Range Rover on eBay is the size of the SUV in mind. Shipping is likely going to be cost-prohibitive, so buyers should ensure that they are able to come into possession of the vehicle without significant added costs. That being said, the best way to begin a search on eBay is with a general keyword search. This type of search can be accomplished by entering basic search terms into the search box found on every page of eBay's website. Alternatively, shoppers can navigate through eBay's categories to arrive at the broad results.
Once the results are displayed, the shopper can filter them in a variety of useful ways. The results can be filtered by buying format, or by time left at auction, which is relevant if the shopper is looking to make a quick decision. The results can also be sorted by relevant information, which might include model, year, features, and mileage. Finally, the results can be organised according to price, which has great appeal to budget conscious shoppers. Buying a Range Rover is easy, safe, and reliable when shoppers use eBay.
Conclusion
Range Rovers have a long history of being one of the leading SUVs available for both work and luxury purposes. Whether a shopper needs a reliable vehicle for getting the family around when there is inclement weather, or a rugged work vehicle for navigating extreme terrain, Range Rovers are a great choice. They have been refined since their inception in 1970 when their parent company, Land Rover, first launched them. There are a variety of features that are available on Range Rovers which can drastically affect what type of activities the vehicle is best suited for. Range Rovers also have a great resale value amongst collectors around the globe.
Range Rovers can be made luxurious if a buyer elects to include high-end electronics and amenities like leather interior and woodworking. Buyers should be aware that this can significantly increase the price of the vehicle. On the other hand, Range Rovers can be outfitted to handle extreme terrain with rugged tyres, navigation tools, tow ropes, and winches. These can be even more narrowly outfitted for specific environments such as swamps, marshes, mountains, and sand. Range Rovers are a highly desirable SUV that are well-suited to a variety of different purposes.