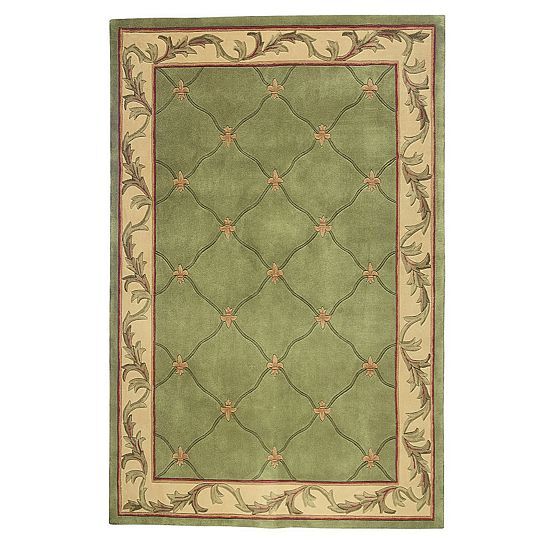 Whether decorating a single room or an entire home, the details can complete the design or leave the area looking unfinished. Accents, such as lamps, area rugs, and decorative pillows, are also a great way to add a pop of colour in a space, and can easily be changed out from time to time to give the space a new look. Because the furnishings are typically the most expensive items in a room, buyers typically opt for neutral colours and finishes so that they can change the space up without having to spend a fortune on new furniture.
Area rugs are a great way to spice up any space in the home, from bathrooms and kitchens to living rooms and bedrooms. Depending on the size, shape, colour, and pattern on the rug, they can provide a neutral foundation upon which to build, or can be the most talked about accent in a room.
Brief History of the Area Rug
Area rugs have been in existence since prehistoric times, when cavemen threw animal skins at the entrances of their caves to warn predators away. Around 3,000 B.C., tribal cultures began to weave fibres together to fashion rugs, which during this time period were typically made of animal hair, since this is what the nomads had on hand.
Early rugs were used to provide insulation, absorb sound, and to decorate living spaces. By the seventh century, carpet making was a well-established art throughout Asia and much of the Middle East. The Crusades brought the art of carpet weaving to Europe, where appreciation for the art spread quickly.
Throughout the years, certain cultures (e.g. the Persians) became well known for their high quality, attractive rugs. Rugs from these areas are still highly prized today, and are sought by buyers who want a rug to serve as the focal point of a room, or one that can be passed down to future generations as an heirloom.
Area Rug Fibre Content
Rugs today are made from a variety of different fibres, both natural and synthetic. Some rugs are manufactured with a blend of two or more different fibres to take advantage of the benefits of each. The choice of which type of rug to purchase depends on where the rug will be placed, the amount of traffic expected, and whether the buyer wants a rug that will last for generations or just for the next few years.
Wool
Most of today's finer rugs are made from wool, some of which is hand-dyed. Wool is a strong, thick, natural fibre that makes a warm and aesthetically pleasing rug that also provides sound absorption where needed. Wool rugs stand up to the rigours of high-traffic while maintaining a luxurious look and feel. They tend to shed when new because of the way they are woven; this is perfectly normal, so buyers should not worry should they see fuzzy pieces of their wool rug in the vacuum cleaner. Individuals allergic to wool should opt for a rug made from an alternative natural fibre or a synthetic fibre to avoid allergy symptoms.
Cotton
Cotton is another natural fibre popular with rug manufacturers. While cotton rugs are soft, durable, and strong enough to be used in high-traffic areas, they do not last as long as wool rugs. Therefore, those wishing to pass down an heirloom rug should choose wool over cotton. Cotton comes in a wide range of colours ranging from neutrals to vibrant hues, so buyers will find cotton rugs in just about any colour.
Silk
Silk rugs are typically beautiful and feature a high lustre; however, they are only suitable for use in low-traffic areas because they wear easily. Some rug weavers incorporate silk into wool rug designs to add some shiny accents. Such rugs are better suited to high-traffic areas, though the silk accents may wear with heavy use.
Additional Natural Fibres
There are a variety of additional natural fibres used to make area rugs, including sisal, jute, and sea grass. These materials are usually naturally coloured, which means they offer a variety of neutral shades. Sea grass and jute rugs should not be placed under heavy furnishings because it might damage the rugs. Sisal rugs are coarsely textured, but can withstand very heavy use.
Synthetic Fibres
The most commonly used synthetic fibre in the rug industry is nylon. Nylon performs incredibly well in high-traffic areas, is not damaged when heavy furniture is placed on it, and is often treated to resist stains, making it a great option for practically any application. Because nylon is synthetic, it can be dyed practically any colour.
Polyester and polypropylene, also known as olefin, are also commonly used in the rug industry. Polyester rugs resist fading, are easy to clean, and provide a more luxurious feel than some of the other synthetic fibres. It is easy to clean and stands up to heavy use, making it ideal for any room in the home. Olefin rugs are easy to clean, mildew resistant, and are suitable for outdoor use. In addition, they are colourfast, which is why they are becoming such a popular choice.
It is important to keep in mind that rugs made from synthetic fibres are usually machine-made; machine-made rugs are usually not as valuable or sought-after as those made by hand. Nevertheless, they are a stylish option for anyone looking to add flair to a room, and are available at prices to suit all budgets.
Determining the Correct Size for a Rectangular Rug
Rectangular rugs come in a variety of sizes, from smaller sizes typically used in kitchens and bathrooms, to rugs large enough to cover an entire room. There are also narrow, rectangular rugs known as runners, which are usually used in hallways and on stairs. Before shopping for a specific colour or pattern, you should take a few moments to determine the best size rug for your needs.
There are several standard sizes of rectangular rugs, as well as custom sizes for those who want to have the perfect rug created for them. Determining which of the standard sizes best suits a specific purpose requires a bit of research. When placing an area rug in a room, there are several commonly used criteria to determine how big the rug should be. Though one may choose to stray from these standards, it is still a good starting point for determining rug size.
Rectangular Rugs for Dining Rooms
For dining rooms, area rugs should be large enough to accommodate the dining table as well as all of the chairs when they are pulled out to accommodate diners. The best way to measure this is to pull out a chair on each of the four sides and measure the distance from chair to chair. It is wise to have a little extra rug beyond the chairs, so the measurements recorded should be used as a minimum size.
Rectangular Rugs for Bedrooms
In bedrooms, the appropriate rug size depends on where the rug will be placed. If a larger area rug is desired, it should be large enough to fit under most of the bed's length and should extend beyond the bed's width on both sides. Larger beds will, of course, need larger rugs to provide the proper proportions. Those who do not wish to purchase a large, expensive rug can place smaller, scatter rugs or even runners on either side of the bed.
Rectangular Rugs for Living Rooms
When measuring for a living area rug, buyers should allow enough room to accommodate an entire seating group, including coffee and end tables where applicable. If more than one seating group exists in a room, buyers have the option of using a smaller rug for each seating area, or using a single, larger rug that fills the entire room.
Rectangular Rugs for Additional Rooms
Additional areas of the home, such as kitchens and bathrooms, typically require smaller, rectangular, area rugs unless the rooms are abnormally large. Some bathrooms and kitchens also look good with runner style rugs if they have a long, narrow design.
Buying Rectangular Rugs on eBay
To see the rugs currently available on eBay, type "rectangular rugs" into the search bar on the site's homepage. Once the search results are displayed, you can narrow down the number of listings by size, colour, or material, which makes it easy to find the perfect rug. Some listings may offer a specific pattern in a variety of sizes, so it's best not to include the size you're looking for in the search box as it could remove pertinent listings.
Before making a final decision, prospective buyers should confirm the that size of the rug featured in the listing will suit their purposes. Buyers should also double-check the care requirements of the rug to ensure they are prepared to care for it properly. It's also a good idea for buyers to check out the seller's return policy in the event they are not happy with the rug after it has been put in place.
Conclusion
The addition of an area rug can transform a room's design from mediocre to fantastic. It is also a quick, easy way to add personality to a space. Although there are suggested guidelines for sizes, there is no right or wrong way to incorporate a rug into a space; it is purely a matter of personal preference.
Since handmade, natural fibre rugs can be quite costly, it's a good idea for prospective buyers to consider their purchase carefully and ensure that they can live with the rug's colour and design, because it will cost far more to replace a handmade rug than to replace a machine-made rug. Such rugs should be considered an investment, and if properly cared for, these rugs will remain heirlooms to be passed down from generation to generation.