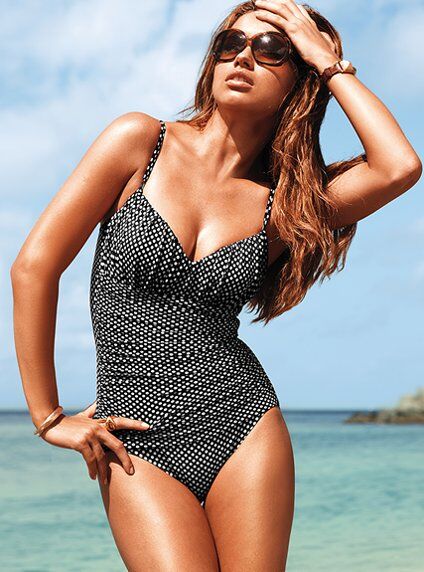 Whether buying a retro bathing costume for personal use or as part of a costume, there are many fine details relating to the type of costume and its associated era that shoppers should familiarise themselves with to make absolutely sure they get the best item for their money. While the most common retro bathing costumes have their roots in the 1940s and 1950s, some individuals may be more interested in even older varieties. Distinguishing the finer differences may take more work than judging by appearances, as the most authentic costumes will each have differences in water retention, fibre content, and seam construction.
Shoppers can make the safe bet that only novelty or boutique shops will carry retro bathing costumes, and selections at such retailers are likely to be quite limited in scope. Rather than risk disappointment, shoppers should consider looking for such items online. Retailers such as eBay offer far greater selections.
Retro Bathing Costumes By Era
Retro and vintage bathing costumes can easily be identified by their era of manufacture because of the sometimes widely differing cuts and styles. There are many different types of retro bathing costumes. Buyers should look to make themselves familiar with these different types to most accurately hone in on the type of retro bathing costume they desire.
Victorian Bathing Costumes
Victorian-era bathing costumes are considered perhaps the most modest of retro or vintage style bathing costumes, as they often covered the wearers from the neck to the ankles. These costumes were often either long tunics or dresses paired with long bloomers. Commonly made of cotton or other relatively absorbent materials, they often retained a significant amount of water, making them a very poor choice for swimming. These bathing costumes should not be recommended for inexperienced swimmers, and particularly not if they are to be worn outside of shallow water.
1920s Bathing Costumes
In the 1920s, bathing costumes continued with the dress-like style of eras past, but the hemline of these bathing costumes finally ventured above the knee, and sleeveless options became available as well. Unfortunately, many of these styles still used cotton or similar fabrics in their construction, meaning they retained a great deal of water and made for a poor choice for swimming. However, embellishments such as ribbons, buttons, ruffles, and capelets became popular during this time.
1930s Bathing Costumes
Those bathing costumes made in the 1930s began the divergence which would eventually lead to more modern styles of bathing costumes. While dress-like bathing costume styles were still available, the more traditional, close-fitting unitard silhouette became available, as did two-piece bathing costumes which displayed the midriff. These two-pieces were a far cry from the bikini style, and instead featured a high waist and either knee-length shorts or skirts.
1940s and 1950s Bathing Costumes
The two-piece bathing costume was not particularly popular until the 1940s, which saw a dramatic divergence from the more modest cuts of ages past. Both the single and two-piece styles lost their skirts, instead using the bikini-style bottom. The styles of the 1940s and 1950s were greatly influenced by the fact that corset makers of the time were finding less and less business in their traditional market, and instead set about breaking into the bathing costume industry.
This meant that bathing costumes adopted the overall shape of traditional corsets, and even required boning and true bra pads. All of these elements helped to shape a figure to attain ideals of the time, making them excellent options for those who would prefer shaping swimwear. Because these styles were so figure-flattering to women compared to earlier varieties, the 40s and 50s both saw relatively little change in bathing suit styles. Another advancement of these styles was the use of less-absorbent, synthetic fabrics and materials.
Retro Bathing Costumes By Style
If individuals would rather acquire a bathing costume in a specific style than one belonging to a certain era, there are only a few significant differentiations between the types of retro bathing costumes. The different styles, as well as their pros and cons, are listed below.
Dress Style Retro Bathing Costumes
Dress style retro bathing costumes reflect the style of the oldest bathing costumes. The age of the style can more or less be accurately reflected by the hem length and the length of any bloomers or pantaloons meant to be worn beneath the bathing dress. Dress style retro bathing costumes should not be recommended for poor swimmers, especially if the water is deep, as these bathing costumes are often made of very absorbent fabrics and can quickly become very heavy in water.
Two-Piece Retro Bathing Costumes
Two-piece retro bathing costumes are almost always high waisted. But many of these varieties feature panels which compress the stomach and shape the rear, emphasising the curve from the waist to the hip. Some may feature ruffles or small miniskirts, which are intended to flatter a wearer with wider hips. Two-piece costumes often feature tops and bottoms in contrasting colours, prints, or patterns as often as perfectly matched sets.
Retro Bathing Costume Patterns
Retro bathing costumes are often easily identified by their patterns, most of which were simple and employed classic colours. Stripes, polka dots, and nautical patterns predominated, though floral prints were also popular in later styles, as was houndstooth, herringbone, and chevron prints. Those with wider figures may want to avoid horizontal stripes, and instead opt for small prints, such as polka dots or nautical patterns, which can have a slimming effect on the wearers.
Retro Bathing Costume Embellishments
Retro bathing costumes were often manufactured with various embellishments to accentuate the figure or complement each wearers' own fashion. Many also offset the colour or patterns of the costume. These embellishments included things such as capelets, ruching, skirts, ribbons, buttons, and sometimes even matching accessories.
Sizing a Retro Bathing Costume
Retro bathing costumes, for the most part, are sized like traditional bathing costumes. For appropriate sizing, buyers should refer to the chart below.
| Bathing Costume Size | XS | S | M | L | XL |
| --- | --- | --- | --- | --- | --- |
| Bust | 81 cm | 86 cm | 91 cm | 96 cm | 104 cm |
| Waist | 61 cm | 66 cm | 71 cm | 78 cm | 86 cm |
| Hips | 86 cm | 91 cm | 96 cm | 104 cm | 111 cm |
| UK Size | 4 | 6-8 | 10-12 | 14-16 | 18 |
To correctly size for a retro bathing costume, all that is required is a measuring tape. Potential buyers should place one end of the measuring tape either at the front and centre of the widest part of the bust, narrowest part of the waist, or widest part of the hips. Then draw the measuring tape around the circumference of the body, making sure it is flat against the back and not twisted. Record the number of centimetres it takes to reach the end of the tape.
If individuals exceed the bust, waist, or hip measurements common to their size, they should consider purchasing the next size up. This will ensure the correct fit, especially if the bathing costume happens to shrink in the wash.
How to Buy a Retro Bathing Costume on eBay
Buying a retro bathing costume on eBay is simple and swift for virtually anyone. First, go to the eBay homepage. Locate the eBay search bar and click on it. This search bar is also available on every internal eBay page. Once you have clicked on the search bar, type in those words which describe your ideal retro bathing costume. Keeping your search brief and general will guarantee the best results. Some examples include, "polka dot retro bathing costume" or "two-piece retro bathing costume". Pressing enter will reward you with a list of those items which match your search query.
These items will be arranged in a list which can number over several page. To organise it so that the most optimal options are viewed first, eBay allows its users to sort the listings based on several different qualities. Shoppers can choose to view items of only a specific size or colour, or opt to view those items which cost the least first.
Conclusion
Many enjoy retro bathing costumes because of their more modest cuts and unique designs. Others enjoy recreating the figure-flattering and glamourous styles of decades past. Cuts include high-waisted bottoms, monokinis, one-shoulder styles, halter necks, and strapless styles. Vintage style and retro bathing costumes come in nearly as many styles as more modern suits, including one and two-piece outfits. Retro bathing suits are not only identified by their unique cuts, but their distinctive, eye-catching patterns and prints. Bold stripes, frills, polka dots, floral, and nautical prints are all common to retro bathing costumes.
Those looking to purchase a retro bathing costume, especially out of season, may have better luck looking online than in traditional retail stores. Shopping online is likely to yield more selection and options in terms of varieties of retro bathing costumes. Those looking to save money as well as time may wish to consider going to a website such as eBay.