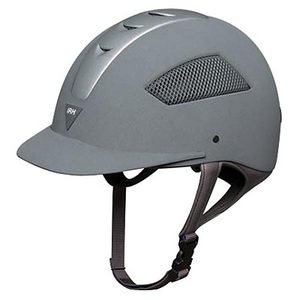 Horse riding may come across like an easy sport on TV, but it is actually one of the most difficult and arguably the most dangerous. People are quick to forget that a horse is a strong and powerful animal even when trained. Riders need to take their safety seriously in order to avoid injury, and never ride a horse without having the correct protective gear on.
The most severe type of injury that can come from horse riding is a head injury. But wearing a proper helmet can help prevent such harm, or at the very least, minimise the damage done. In some instances it can even be the difference between life and death. This guide will look at the riding helmet offerings on eBay and how to go about finding the right one for you.
The Importance of Using a Riding Helmet
Buying the correct helmet may seem like a daunting task. However, it shouldn't be, if shoppers remember the key factors to consider. No matter what helmet a shopper opts for, it should be certified by the American Society for Testing and Materials (ASTM) and the Safety Equipment Institute (SEI). These organisations are here to protect customers and ensure that only high quality products reach sale.
A riding helmet should fully cover the head and fit securely. A loose helmet can cause both discomfort and vision issues. Riders should also make sure that both the front and rear of the skull are protected adequately. If you feel uncomfortable with a helmet for any particular reason, don't buy it and look at other options.
Helmet Sizing
A helmet isn't a 100% guarantee of preventing head injuries, and wearing the wrong helmet may actually increase the odds of suffering one. This makes finding a helmet that fits correctly doubly important. Before looking at potential models, you'll need to know your head measurements in order to figure out of what size is suitable.
Place a tape measure on the skull and measure around the cranium.
Measure from above the ear and slightly above the eyebrows.
Note down the measurement in centimetres or inches.
Take these measurements and match them up to the corresponding number on the following table, this will indicate what size to use.
| | | | | | |
| --- | --- | --- | --- | --- | --- |
| Head Size (Inches) | 20" | 20 ½" | 21" | 22" | 22 ½" |
| Head Size (Centimetre) | 51cm | 52cm | 53.5cm | 56cm | 57cm |
| Helmet Size | 6 ½ | 6 ½ | 6 ¾ | 7 | 7 |
Remember that loose fitting helmets can lead to all sorts of issues, and during an accident can actually increase impact on the skulls pressure points. Always work to your exact head measurements and don't compromise.
Helmet Types
There are a huge variety of riding helmets currently on the market and finding the right one can be tough. Riders need to understand what helmet suits them; in order to do this, take a close look at what types are available.
| | |
| --- | --- |
| Vented | Built to keep the head cool even in high temperature environments. A modern twist on the non-vented option. Vented helmets are considered the standard form in the 21st century. |
| Unvented | Classic in look and the most long-standing form of helmet available. Favoured by veteran riders, as it offers all-round safety and skull protection. |
| Velvet | The premier helmet available, as it looks the part as well as providing top safety features. However, its price tag will put most people off owning one. |
| Skull | Skull helmets are mandatory for cross-country equestrian, as the peaks have added face protection in the case of a fall. The fixed peak is not for everyone, as it can sometimes feel heavy and effect visibility during excessive use. |
| Polo | Light helmets (such as Polo) are intended for use in sports. They offer the least amount of protection of all helmets available, but they are safety regulated. |
Features such as peaks and venting are important things to consider. No matter the type of style you choose, always keep information regarding safety in the back of your mind.
Manufacturers
Helmet manufacturing is a niche area and companies are known for being quite hit and miss with their products. Where helmets for recreational use don't have to be submitted to the ASTM or SEI for approval, it can be a minefield to navigate through. This way of producing products has also garnered great controversy. The following are a selection of brands that produce predominantly ASTM and SEI approved helmets.
Australian Holdings
Charles Owens and Co.
Del Mar Helmet Co.
Devon Aire
Equine Science Marketing
International Helmets
Lexington Safety Products.
Troxel
To see if a helmet has passed ASTM and/or SEI approval, there should be a small label on the inside of the helmet. For older helmets there will be some form of stamp print. All the above brands provide such in the majority of their models. Explore their ranges and see if any of them have a helmet that suits. If so, head to eBay to find the model you're after at the most competitive price.
Buying Used
After investing a small fortune in either a horse itself or horse riding lessons, the last thing anyone wants to do is spend money on horse riding accessories. However, with the advent of sites such as eBay this needn't be the case.
Buying used is a genuine possibility and presents the chance to make great savings. Buying a used helmet isn't a fool proof process and shoppers should use a cautious eye at all times. One way to make sure that you're getting a quality helmet is to talk to the seller. Ask the following questions about the product; always remember that a knowledgeable shopper is a smart shopper.
Is the helmet still under the manufacturer's warranty?
Is it SEI approved?
Is it ASTM approved?
How old is the helmet?
How often has it been used?
Has it been in an accident or suffered any form of forceful impact?
Has it suffered any cosmetic damage?
Does it come with original chinstraps?
A rule of thumb should be to never ever buy a helmet that has been involved in an accident. If you do so by mistake, disregard it or return it for a refund as soon as possible. Using a damaged helmet is a serious safety hazard and can do more harm than good should an accident occur.
How to Purchase a Riding Helmet on eBay
There is no doubt that horse riding is a popular activity both on social and professional levels. Even though it is an inherently enjoyable activity there are risks involved, especially in terms of head injuries. Preventing injury should always be a top priority and shoppers should not spare any cost when it comes to finding the right helmet. eBay is a tremendous resource for equestrian supplies, and the auction format is something riders can make real use of.
To start browsing what riding helmets are available go to eBay's homepage and select the sporting goods option.
From there, click on equestrian, rider clothes and accessories then riding hats. This will display all live riding helmet related auctions and allow shoppers to browse freely.
If shoppers have a specific brand of helmet in mind they can use the keyword search tool found at the top of the page.
Sometimes shoppers will get joy out of using the advanced search options, as it will allow them to get more detailed results.
eBay Shops
Horse riding and equestrian are niche activities, meaning that items such as helmets are not available from typical high street sport shops. In the past the only way to get a hold of them was by direct order from a specialist retailer. The advent of Internet shopping changed this, and has made such products available to anyone and everyone.
A method of selling that these specialist stores are adopting is the eBay shops format. These miniatures stores are target market driven; meaning those with an invested interest in the field will be able to locate great bargains and special offers. To see what eBay shops are open for business, select the eBay shops link at the bottom of the homepage.
Completing a Transaction
When a shopper has found a riding helmet of interest they will need to do one of the following.
Place a Bid
Make a Best Offer
Buy it Now
Once an auction has concluded the winning bidder will need to complete the checkout process.
Doing this via PayPal will mean that the buyer protection programme covers the transaction.
Conclusion
Horseback riding is a great way for both adults and children to stay active and focus their energy. But for all the fun that the activity provides, there are legitimate safety issues and riders must protect themselves properly. A helmet is more than just a regulation for competition participation; it should be an item that is used by riders, no matter where they choose to ride.
In this day and age finding the right helmet couldn't be simpler. eBay has reduced the process to a simple search and click system. Simply put, finding a perfect fitting helmet is never out of reach no matter the budget you're working with.