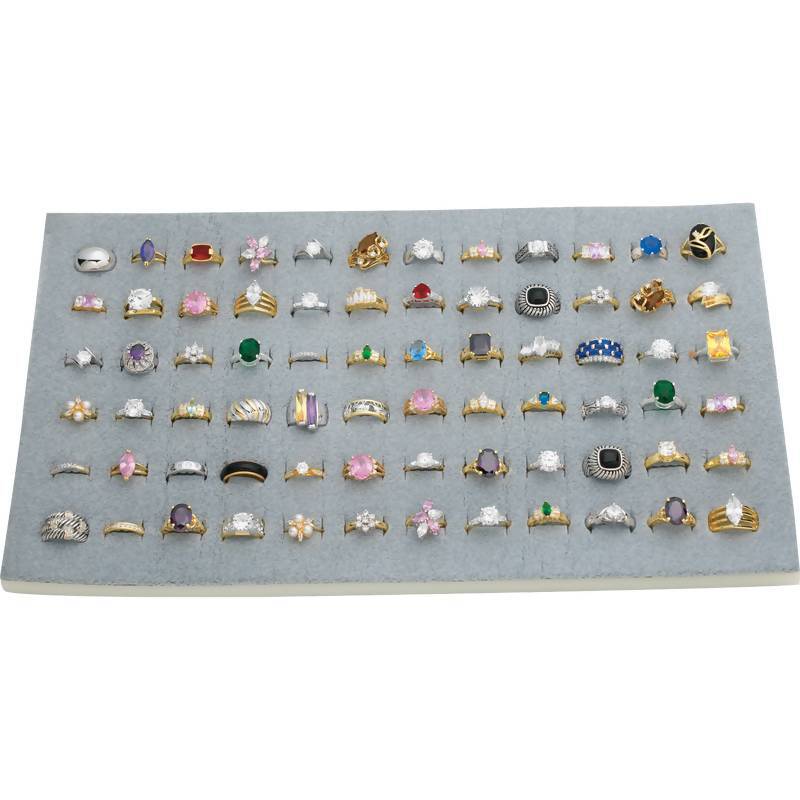 Ring displays in jewellery shops, or for that matter in the home, are rather like beds in paintings. They are often essential but often blithely ignored by viewers, whose attention is rightly fixed by whatever is on the bed or in the display. Ring displays are the type of object that people find they need in a variety of contexts, and sometimes it is useful to think about all of these contexts at once in order to focus on the necessary issues and deal with them. Some approaches are universal, such as boxes with lids for easy storage. Others, such as jewellery trees, are much more subjective, and particular ideas might appeal to different people in very different ways.
There are two main aspects to conventional ring display accessories, which are storage and exhibition. The first is practical for those with many rings and who would convenient storage options, and the second is for those with particularly interesting rings that they want to display to enhance the décor of a room. There are also two main contexts in which they might be used, namely domestic and commercial. The following tips take account of all of the aforementioned aspects and inform the reader types of ring boxes and their features in order to helps buyers make a smart purchase decision.
Ring Display Types
Both men and women wear rings, and both may want the means to store and display rings that are not currently being worn. There might be an assumption that women tend to possess a broader repertoire of jewellery to wear in a variety of contexts, but this is not reflected in the design of ring displays for the most part. There are various types of displays that this section goes over to ensure readers know what is available to them and be able to decide what best suits their needs.
Ring Display Boxes
The most familiar ground to start on is with boxes. It might be argued that boxes are not a way of displaying a ring as such, but that might not be how it seems when someone is in the middle of proposing marriage. Then, they become a kind of theatrical prop, loaded with a significance all of their own.
Single
The single ring display box is an essential part of the marriage proposal fairy-tale scenario. That much is clear, but there are other circumstances for which somebody would want to buy a ring display box. One is to mount an old ring, perhaps an heirloom, either because its original box has gone missing or else to mark a special occasion. One other circumstance is similar but the inverse: Some people seek out boxes because of their antiquity in order to display them in their own right. A more mischievous suggestion is that the box is to be used to make a presentation of something other than a ring.
Multiple
There is less sentimentality about display boxes designed for multiple rings. Usually, their function is to facilitate the storage of multiple rings, and there is a certain degree of crossover between boxes and trays in this regard. What makes a display box different from a basic jewellery box is that it is normally lined with a structure that allows rings to be stored with their features displayed. With the exception of plain bands, rings either have single or clustered jewels or else a signet device of some kind to exhibit. The box is designed to optimise this kind of display.
Ring Display Trays
Some multiple ring display boxes have detachable lids so that they can double as box and tray as the occasion arises. Ring display trays are more commonly made without lids or else as modules that can stack. Since they and their contents are constantly exposed to sight and touch, more attention is fixed on the materials used to make and upholster the base.
Combinations of wood, leather, and velvet make an attractive ensemble with the most prized and luxurious kinds being lined with silk velvet. Such exotic combinations are rarely listed although smaller trays that go with fine rings by such famous names as Tiffany can sometimes be found, and they are made to resemble clover leaves, scallop shells, and natural phenomena of that kind. For a pleasant finish at a more economical price, leatherette, a form of artificial leather, is a popular material for tray exteriors. It can be complemented with wool, velvet, or a synthetic variant.
Jewellery Trees
Speaking of natural phenomena, a popular way to display rings is to use a jewellery tree. To begin with, they can make a nice curiosity by themselves when displayed in appropriate locations. They are also useful when the wearer wants to park them temporarily while undertaking tasks, such as bathing or attending to the inner parts of some machinery. These display trees can usually accommodate jewellery other than rings and can vary in size from small and simple expressions to florid and elaborate styles.
Other Display Shapes
There are other forms besides trees that lend themselves to ring display furnishing of this kind. The simplest, most classically elegant are in the form of cones, and they can be made from a variety of clear and opaque materials, from acrylic to glass to porcelain. The same materials are ideal for perhaps the most obvious form of ring display, a model of a human hand.
Another approach can particularly suit people who travel regularly with rings and other jewellery. It is hard to pin down search terms, but the idea is for a stack of circular trays to fan out to form a display. More elaborate and more permanent three dimensional forms can also be found, but they take a bit of browsing to find because they are less common than the rectangular styles. Some of them are also difficult to put a name to, like the semicircular step design that looks a bit like the entrance to a grand Georgian town house.
Counter Displays for Rings
Some of the jewellery tree ideas come from display equipment intended for use by retailers. Some of the boxes with transparent lids that are available, for instance, clearly have the retail counter in mind. The main type of shop display material that might be appropriated for domestic use, though, is the stylised human form found in mannequins. The hand-shaped trees described above are one form of this, but the skin tones typically used in mannequins has an appeal all of its own.
Secure Ring Displays
Although the safe storage of valuable items is the opposite of display, and also outside the scope of this article, common sense about locating a ring display about the house, out of the sight of anyone who might happen to be peering in through a window, is easy to share.
Buying a Ring Display on eBay
Ring displays are among the easier things to track down on eBay. A simple search on exactly that term, "ring display" immediately produces a listing of relevant products, and from there, you can use filters to get closer to the exact match of what you are looking for. The various filters include the condition, the material, and the price. Therefore, if you have an idea of what you want specifically in terms of any of the filters, then you can use that to your advantage. For example, you could filter for a specific type of material, such as "leather boxes".
Furthermore, from the initial ring display search, you can also use the search bar to type in further terms to help you home in. Depending upon where you start, for example, a search for "ring display box" can result in some attractive listings. Once you have settled on one or a couple of products, be sure to carefully read the description to make sure the item is exactly what you want. You also want to look at the seller and look at their feedback to determine whether they are trustworthy or not. Following these simple steps ensures that you easily find what you need and make a confident purchase on eBay.
Conclusion
For some people, keeping their rings and other jewellery organised is a bit like other people's record collections. A ring display offers itself as the ideal solution to that kind of muddle. The principal decision to make is whether the display is for occasional viewing and safe storage for the rest of time or whether something more decorative and interactive is the idea. For the former function, a box is most likely the way to go, possibly with a detachable lid that can be set to one side on any occasion that demands it. For decorative uses, then the formality of boxes and trays is likely to be less attractive than something like a glass cone for a simple display or a jewellery tree for a more diverse collection. Whichever option you choose for your rings, the chances are that eBay's vendors have got something listed that can fit the bill perfectly. Using the search window and the powerful filtering tools should deliver the ideal result in no time.