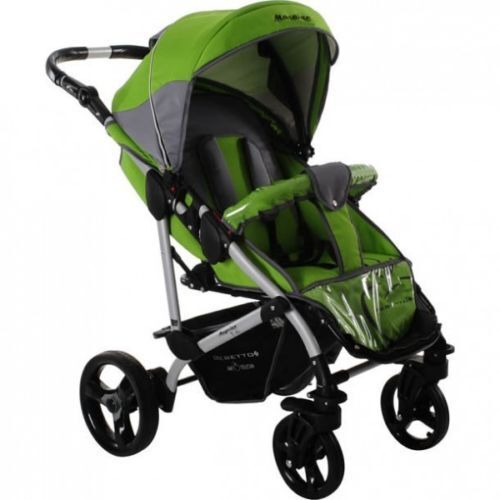 A pram, also referred to as a "baby carriage" by some retailers, resembles a large bassinet on wheels. It has a high, curved handle on one end, with which the user pushes it. On the opposite end is an adjustable canopy to shield the infant. When pushing a pram, the parent or caretaker looks down at the infant, who lies in the carrycot, or the bed of the carriage. Traditional prams are most popular for use with very small babies who must lie flat in the carriage. However, some prams can be converted to strollers to accommodate older children, who sit up as they ride. First popularised during the Victorian era within the British court, prams remain a charming, elegant way for a baby to travel in style.
When comparing prams, it is wise to take a trip to a brick and mortar retailer and see first-hand what each make and model offers. Doing so allows parents to compare pram sizes, test out the brakes, try out the height of the handlebars, and feel the padding of the carrycot. Additionally, taking the pram on a test-drive through a store's aisles is a good way to get a realistic picture of how compatible it is for the consumer; thus, a smart buying decision can be more easily made based on first-hand experience. Once accomplished, consumers can take their findings and search merchants and online retailers, such as eBay, to buy the pram they want at the best price.
Safety Features to Consider When Buying a Pram
Ensuring the safety of the baby is of utmost importance when choosing a pram. Therefore, parents must consider several factors when shopping and comparing prams, including the size and weight of the carriage, the types of wheels, the buckling system, handlebar heights, canopy lengths, and carrycot padding and comfort.
Size and Weight
Because prams are most often used for a short amount of time when the occupants are very young, adherence to the specific size and weight requirements should be followed. As soon as the baby reaches the maximum weight and/or size allowance for the carriage, the pram is no longer safe for use. Instead, it should be replaced with a larger stroller, or should be converted into a pushchair, if the model is designed to do so. Typically, infants ride in a traditional pram until they are about six months old. Buyers can check out the carriage's handbook for more specific height and weight restrictions, because these numbers vary slightly by make and model.
Types of Wheels
The spokes and rims of a pram are usually made from strong materials, such as steel or alloy. Both materials are extremely durable and last a long time. Although steel is more prone to rust, it is less expensive than alloy, making it a popular choice amongst consumers. The wheels of a pram can be air-filled or plastic. Those that are pneumatic are best for all terrain use; however, these can lose air over time or possibly puncture. Pneumatic wheels are also heavy. In contrast, hard, plastic wheels are lightweight and durable. However, plastic wheels do not fare well on rugged terrain because they are hard to push; most prams are designed for more stable walkways.
Prams boast two different types of wheels: swivel or fixed. Swivel wheels rotate and allow for easy turning without much effort. These are best for flat, even surfaces and crowded spaces where tight turns are necessary. Fixed wheels require the pram pusher to physically bear down on the handlebar in order to make turns. They are more appropriate for rough surfaces.
Determining where, when, and how the pram is most often used dictates which wheels are the most suitable.
Brakes
The brakes on a pram must be easy to use. A safe braking system locks two or more wheels at the same time when activated. Usually, the person pushing the pram activates the brakes by stepping on a lever found near the rear wheels. Many prams come with wrist tethers, too. One end of the tether is attached to the rear axle of the pram and the other loops around the parent's wrist. Properly using a tether is important in case the pram should quickly roll away from the adult, who might not have time to apply the brakes.
Buckling
Because a pram is used with an infant who lies down in the carrycot, some models do not come equipped with any type of buckling system. The rationale behind this is that the baby does not move much, so a buckling system is not necessary. However, some pram models do boast three-point harness systems for added safety. The three point harness system secures the infant at the legs, with the belts going between and around each leg and securing across the tummy.
Handles
It is important to choose a pram with handles that are the proper height for the parent who does the majority of the pushing. Handles that are too low or too high may cause back, shoulder, or neck discomfort. In fact, many prams come with adjustable handles, which certainly solves this potential problem. Look for models with handles that are easily raised or lowered. Additionally, some prams boast reversible handles, which allows the parent to change the direction the carriage faces. In prams like this, there is usually only one set of wheels that swivel, which may cause steering difficulties. Be sure to try out such models before purchasing.
Canopy Size
Prams usually have large canopies that provide privacy and protection from the sun. The hoods can be folded back partway, all of the way, or can be pulled all the way out, depending on the desires of the parent and the needs of the child. Because the canopy only covers just under half of the carrycot, some users may want to consider purchasing a sun canopy to provide their child with more protection against sun, wind, or rain. Also available as parasols, these attach to the existing hood, usually with elastic bands or clamps, and offer additional coverage for the infant. It is worth noting that babies' skin is extremely susceptible to sunburns, so parents must exercise caution when using a pram outdoors. Parents can best protect the child from such things by always using the canopy and parking the pram in the shade.
Padding and Comfort
Often, prams come with some luxuries to keep small travellers comfortable. For example, some prams offer plush, cushioned carrycots. Others include headrests to prevent the infant's head from moving too much while the pram is in motion. Some carrycots are adjustable; these allow the baby to sit up more, once they are old enough. Other models have attached material on the carrycot, called an apron, that comes up and over the baby's bottom half for added protection from environmental elements. Furthermore, many parents use blankets around the infant's body to ensure utmost padding and comfort. When doing this, however, it is important to make sure the blankets never cover baby's face or interfere with breathing.
Buying Prams on eBay
Check out eBay for a large selection of prams. There are a plethora of choices available from sellers all over the world on eBay. Using eBay to purchase prams saves both time and money.
Searching for Prams on eBay
One of the simplest ways to begin a search on eBay is to type exactly what you want into the search box on eBay's home page. For example, entering the phrase "prams" returns many more options, including pram travel systems and those that convert into pushchairs . After doing this, you are presented with other categories from which to choose, such as the brand or model, price range, seller location, and item condition (whether new or used). For a more refined search, use the Advanced Search feature.
Buy Prams on eBay with Confidence
Buyers benefit when shopping online with eBay. Setting up an account is easy and provides users with limitless shopping possibilities all under one, safe and secure username. Additionally, the eBay partnership with PayPal allows all users to protect their personal financial information and save time when completing transactions.
Conclusion
Because a pram is such a significant part of an infant's everyday life, it is important to choose one that is safe. Checking out several pram models is a good way to make an educated decision about which one best meets the consumer's needs. To do so, it is a good idea to visit a retailer and try out the the different pram sizes, wheels, brakes, buckles, handles, canopies, and padding. This ensures the buyer is well-informed before a purchase is made.
When ready to purchase a pram, check out eBay's vast selection of all kinds of brands and models. Also enjoy looking for other pram accessories, such as sun canopies and aprons. Buying from one of the many sellers on eBay affords shoppers with a convenient and enjoyable experience, and allows buyers to shop from the comfort of their homes at any time of day or night, and feel comfortable that their financial information is secure.