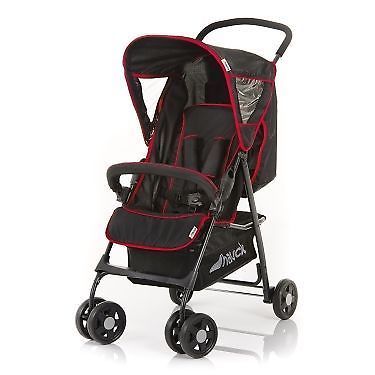 When buying a pushchair, safety should be a main priority, along with comfort and practicality. The age of the child, the number of children the pushchair needs to carry, how and where the pushchair is to be used, and the buyer's budget all affect what type of pushchair is ideal. Safe pushchairs can be purchased from department stores, specialty baby stores, and some large supermarkets. Many buyers choose to head online to find a safe pushchair at a competitive price. eBay has a wide selection of safe pushchairs for sale from sellers located all over the United Kingdom, Europe, and beyond.
Because there are so many types of pushchairs to choose from, having an understanding of what is available helps buyers make an informed purchase decision. Consumers should consider the safety aspects of the pushchair, the types of pushchairs available, and the various accessories. Keeping the aforementioned factors in mind helps buyers find a quality, safe pushchair.
How to Identify a Safe Pushchair
The range of pushchairs available for sale is quite significant, which makes the idea of buying the ideal pushchair a little daunting. The most important consideration when buying a pushchair is safety. All new pushchairs sold in the U.K. must comply with British standards. Consumers who are considering purchasing a used pushchair should be extra vigilant when looking at the safety of a pushchair. When looking for a safe pushchair to purchase, consider the folding mechanisms, the brakes, and the child harness mechanisms.
Folding Mechanisms
For a safe and sturdy pushchair, look for a frame that offers locking mechanisms on each side when the pushchair is in use. This ensures that the frame stays securely in place when laden with a child, bag, and supplies in the various storage compartments. Folding mechanisms should easily and simply lock into place when folding and collapsing the pushchair. For convenience, a pushchair that collapses easily is ideal. For instance, the Britax B-Agile pushchair folds easily and locks into place with one hand.
Brakes
Wheel brakes should always be easy to apply and sturdy. They should ensure the wheels do not move at all when applied. The brake mechanism should lock both rear wheels, as opposed to just one, and also be easy to disengage. It is recommended that the wheel brakes be used every time the pushchair is stopped. Be wary of brake pedals that extend past the frame of the wheel as these can accidentally be engaged or disengaged.
Pushchair Handles
For safety and comfort, pushchair handles should be comfortable to hold onto and positioned at the right height. Many buyers like to purchase a pushchair that offers moveable and adjustable handles. When looking at a pushchair that offers adjustable handles, be sure that the locking mechanisms are strong, sturdy, and easy to operate. The Bugaboo Cameleon pushchair is a popular choice for those who want their pushchair handles to be adjusted to suit the user.
Harness Mechanisms
When it comes to harness mechanisms, a five-point safety harness provides ideal safety and security for the child. Babies who are able to sit up require a harness that goes over the shoulders as well as around the waist and between the legs. A five-point harness stops the child from tipping over the side or over the front of the pushchair and prevents the child from slipping out the bottom of the pushchair. When considering safety, look for a harness that is built into the pushchair, that only an adult can easily clip and unclip, is comfortable for the child to wear, and can be adjusted to fit the child snugly.
Different Types of Safe Pushchairs
Pushchairs come in a wide range of types, designed to accommodate the various ages and number of children. The type of pushchair a consumer requires depends on how long they plan to use the pushchair for, how and where they plan to use it, how much space they have in the car, and their budget.
Travel Systems
Travel systems are designed to take your child from birth and through the toddler years. They include a car seat, pushchair seat, and may also include a carrycot. They allow for forward and rear facing positioning and usually come with a range of accessories and attachments. Travel systems tend to be quite expensive, can be quite bulky in size, and often weigh more than other types of pushchairs.
Three-Wheeler Pushchairs
Three-wheeler pushchairs are divided into all-terrain and urban pushchairs. All-terrain three-wheelers, sometimes called jogging pushchairs, usually feature large wheels with sturdy rubber tyres. Designed to provide a smooth ride over rough terrain, they are ideal for those who want to get out and about with their child. Urban, or city, three-wheel pushchairs usually feature slightly smaller wheels. These pushchairs offer the comfort and easy manoeuvrability of an all-terrain model; however, they are often slightly smaller in size and can be less expensive.
Double Pushchairs
For those who have twins or two young children relatively close in age, a double pushchair is the ideal option. Buyers have the choice of a tandem pushchair, where one child sits in front of the other, or a double pushchair, where both children sit side by side. Tandem pushchairs are narrower and easier to move around but do require one child to miss out on the view. Double pushchairs tend to accommodate larger or heavier children more readily than the tandem version, but they have a very wide wheel base and can be difficult to manoeuvre about.
Strollers
A stroller is designed to be lightweight, compact, and easy to carry around. They tend to be very simple, with fewer features than other types of pushchairs. One of the benefits of a stroller is that it is relatively inexpensive. Designed for babies who can sit up by themselves, strollers do not tend to recline back very far. The Maclaren Triumph stroller is lightweight and easily expands and collapses with one hand. Compact when collapsed, this stroller is ideal for those who are tight on car boot space.
Pushchair Accessories
Pushchairs may be purchased with a selection of accessories, and buyers may choose to purchase additional accessories as well. When it comes to accessories, there is a wide range of options. Pushchair accessories are designed to help make the pushchair more comfortable for both baby and caregiver. Buying accessories separately can get expensive, so buyers may like to look for a pushchair that comes with the accessories required.
| | |
| --- | --- |
| Accessory | Description |
| | A comfortable padded insert that lines the seat of the pushchair; may be soft synthetic fabric, comfortable padded foam, or sheepskin |
| | A clear plastic cover that fits over the top of the pushchair and down over the footrest, protecting the child from getting wet |
| | Thick netting material that fits over the pushchair in the same way a rain cover does; also protects from insects |
| | May be a retractable canopy that expands over the top of the pushchair or a parasol that attaches to the pushchair frame; protects baby from the sun |
| | Large bag with several pockets, designed to carry everything needed to change baby; some pushchairs come with a change bag that fits securely over the handlebars |
| | Similar to a sleeping bag, designed to fit snugly in the pushchair; usually features slits for the harness to be connected; keeps baby warm from head to toe |
Consumers have a wide range of accessories to choose from in addition to what is listed in the table above. Other accessories can include bag clips, play trays, cup holders, and buggy boards.
Find a Safe Pushchair for Sale on eBay
The easiest way to find a pushchair on eBay is to type "safe pushchair" into the search bar on eBay's home page. To further refine this search, you can use the category options available. If you know exactly what type of pushchair you want to buy, you can search using the specific keywords related to the product. Once you have found a safe pushchair to buy, be sure to check out the seller's preferred method of payment, their delivery options, and their return policy.
To get the most out of your eBay buying experience, you can utilise eBay's community resources. Here, you can find an Answer Centre, Discussion Boards, Groups, Videos, and a Safety Centre. Designed to allow you to connect with other members, find information, share advice, and learn all about eBay and what it has to offer, you can find the answers you are looking for in eBay's community section.
Conclusion
Pushchairs come in a range of sizes, types, and price ranges. Some parents live an active lifestyle and find an all-terrain pushchair offers them exactly what they need, while others prefer a pushchair that is lightweight, compact, and easy to expand and collapse. To buy a safe pushchair, be sure to check out all the different types available. When considering the safety features of a pushchair, do not forget to look at the folding mechanisms, the brakes, the handlebars, and the harness mechanisms. Once a decision has been made on the type of pushchair required, buyers can then consider what accessories they want to use with their pushchair.
Furthermore, to find a safe pushchair, buyers can head online to eBay. Here, consumers can search through a long list of pushchairs for sale, both new and used. With simple search methods, secure payment options, and reputable sellers, buying a safe pushchair on eBay can be a simple and cost effective buying experience.