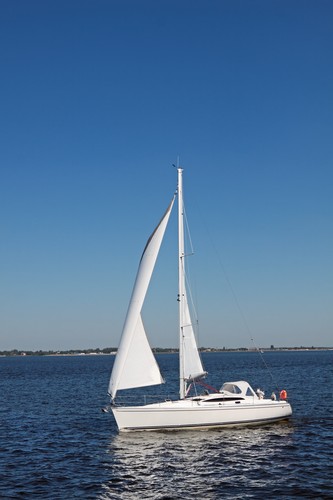 A sailing dinghy is a small open boat propelled partly or entirely by the wind using sails. It usually sits one or two people for a day's sailing and is between two and six metres long, although modern racing designs can easily accommodate a crew of 14 and are much longer. In days of yore, dinghies served as shore boats for large yachts and sailing ships to transport people and goods, but technological advances have pushed the versatile dinghy into the forefront of races and pleasure boating. Whether you sail for recreation, work, or competition, the experience of sailing a dinghy around the UK coastline and waterways is both an adventure and an excellent stress reliever.
With a modicum of information about the types of sailing dinghies and factors to consider when planning to buy one, you are ready to begin shopping, and eBay is the place to start. Why traipse all over looking for the right sailing dinghy when you can conduct your search at your leisure on eBay, with your feet up and a cuppa at your side? As the world's largest online auction site, eBay has something for every sailing enthusiast, with a myriad of skiffs, cruise, racing, and high-performance dinghies.
Types of Sailing Dinghies
There are different types of sailing dinghies, classified according to the type of construction, features, and use. The four most common types are cruising dinghies, high-performance dinghies, catamarans, and skiffs.
Cruising dinghies are for sailing and leisure, with small sails and a less rounded hull. They are more stable than the racing types and are popular with families. High-performance sailing dinghies are fast and powerful, specifically designed for racing around an Olympic racing course known as an Olympic Triangle. This category includes skiffs. Catamarans are racing dinghies with a high mast and two or more hulls, also known as multihull. Not for the faint of heart, catamaran sailors must have a high degree of skill to handle one. An example is the A-Class catamaran, the fastest one-person racing catamaran in the world. Skiffs are the fastest of dinghies and also the most difficult to manoeuvre because of their large sail plans and flat, narrow hulls. They are specially designed for competition, with some holding up to eight crew members. An example is the high-performance skiff 49er, a single-hull manned by two people and the fastest dinghy ever.
| Type of Sailing Dinghy | Features | Examples |
| --- | --- | --- |
| Cruising | For leisure and family sailing; more stability, smaller sails, less rounded hull | Wayfarer, GP 14, Laser Stratos |
| High-performance | Fast, powerful; specifically for racing on an Olympic Triangle, includes skiffs | International Flying Dutchman, Fireball, Jet 14 |
| Catamaran | Multihull, racing, special handling technique | A Class, Tornado, Catapult |
| Sailing Skiff | Fastest dinghy; racing, difficult to manoeuvre, flat narrow hull, impressive sails | 29er, 49er, International 14 |
As you can see, there is a sailing dinghy for every interest and skill level. All of them offer buckets of fun and a memorable experience, regardless of whether you are racing or drifting peacefully on the water.
Factors to Consider when Buying a Sailing Dinghy
Dinghies are excellent training crafts for sailing because of their small size and manoeuvrability. They are more responsive than a sailing yacht, as well as less expensive and less likely to cause seasickness. When looking for a sailing dinghy, consider the following factors, including sailing experience, where and how you intend to use the dinghy, and the dinghy's hull material, fuel and engine type, and general condition.
Your Sailing Experience
Weathered sailors know a thing or two about halyards, rigging, and masts, and this experience comes in handy when shopping for sailing dinghies. If you have never sailed, hop onto a dinghy by renting one or joining a sailing club to get a feel for how everything works together on the water; it takes but a day or two to learn the ropes and helps with the selection process down the line. These toe-dipping sessions are also valuable because you get lots of tips and advice from everyone.
Intended Use
Depending on how and where you plan to use the dinghy, there are a number of options. A slow, stable dinghy is perfect for quiet times on the water with your family, while racing dinghies offer speed and excitement. Some dinghies are strictly for freshwater use only because of the metal content in their hulls and using them in salt water corrodes the dinghy, while the use of wooden dinghies in fresh water causes decay.
Hull Material
Dinghy hulls come in different types of materials, each with its own merits and disadvantages and each best suited for a particular purpose. Wood, the traditional hull material, is buoyant and easily obtainable although it easily rots in freshwater bodies. Synthetic materials are low-maintenance and do not rot easily. The lightweight fibreglass, also known as glass Reinforced Plastic or GRP, holds the hull together and offers a lot of strength for its weight. Inflatable dinghies are made from Hypalon or polyvinyl chloride (PVC), which is lightweight and makes the dingy buoyant. Steel and aluminium are relatively inexpensive and offer great resistance against abrasions, but are heavy with a short lifespan and require high maintenance.
Fuel and Engine Type
Diesel propulsion gives a longer range for the high-density fuel, but is noisy and pollutes the air. Electric propulsion is clean and quiet but takes up a lot of room and is only good for day sailing or sailing within easy reach of an electric charger. Single outboard engines offer easy handling of the dinghy and considerably reduce the dinghy's weight. Single inboard/outboard engines need precise manoeuvring and cost much more than single outboard engines.
Condition
New sailing dinghies offer you state of the art technology and less maintenance time. Used dinghies, with their classic design lines and variety, often give good value for your money if they are in good working condition. Some sailors prefer the satisfaction that comes from restoring an old dinghy to gleaming glory and look past any new hulls; others want the breaking-in experience of first owners. Ultimately, it is what you want and can afford that determines the dinghy you buy, provided it is a perfectly sound sailing dinghy.
What to Look For on a Used Sailing Dinghy
New sails are crisp, with no holes and tears, ideally having been stored rolled up or folded in a dry place. Check the dinghy for parts that have been replaced or repaired; inspect the hull for any damage, flipping it over to look for cracks and scratches. Ropes should not fray, and the pulleys, cleats, and rudder should run freely. If a seller throws in a dinghy cover, then you are in luck, as it offers extra protection for the dinghy.
The eBay Buying Process
Communities and groups on eBay offer a wealth of information for eBay buyers new and old. The preferred payment method, PayPal, ensures security, speed, and safety in all transactions, making it easy for buyers to pay for their items and arrange for shipping with just a few clicks. Some sellers offer free shipping, free postage and packaging, and same-day deliveries for select items, so be sure to check for those to possibly save a few quid.
Top Sellers on eBay
eBay Top-rated Sellers offer a consistently high standard of service with quality products and fast shipping. They follow up on any questions and work hard to satisfy their buyers, for it is buyer satisfaction that results in excellent feedback, which in turn pushes them to the Top Seller position. Only when a seller receives a soaring number of positive feedbacks from buyers can he or she attain Top Seller status. Remember to let your voice be heard by leaving feedback of your buying experience on the seller's page after you receive your item.
How to Buy a Sailing Dinghy on eBay
With eBay's massive global handle, there is a huge variety of sailing dinghies on offer. You might want to limit your 'sailing dinghy' search results to sellers within your location or UK only, as many sailing dinghy sellers insist that you collect the dinghy in person. Many sellers, however, can still ship the dinghy to you, wherever they are based in the world. Just remember that the further the item is from you, the greater the shipping charges.
Local pickups afford you a good chance to go over the dinghy for signs of wear and tear such as those listed above. Do not be too hasty to turn down a dinghy that needs a good coat of paint, but do pass on a hull ribbed with cracks that require a great deal of labour and expense. Think about buying worn parts such as sails, ropes, and pulleys separately on eBay if you prefer to restore the dinghy, or consider buying a road trail for quick transport on the roads.
Conclusion
With their simplicity and lower costs, dinghies offer sea-green sailors the perfect introduction to sailing, while the old salts enjoy the ease with which they can leave all their stress behind and reel in the joy, fun, adventure, and skill-building exercise of gliding over an endless expanse of water. Those who invest in buying a dinghy find its value appreciating over time, with no decrease in the benefits.
When shopping for a quality sailing dinghy, consumers who carefully consider the type of engine, hull material, fuel type, size, and condition get good value for their money. On eBay, the range of sailing dinghies for sale is large enough to guarantee that every sailor finds one to suit his or her requirements and tastes. Ease and speed of shopping along with a secure payment method means that a buyer can acquire a sailing dinghy in less time than it takes to unfurl a sail.