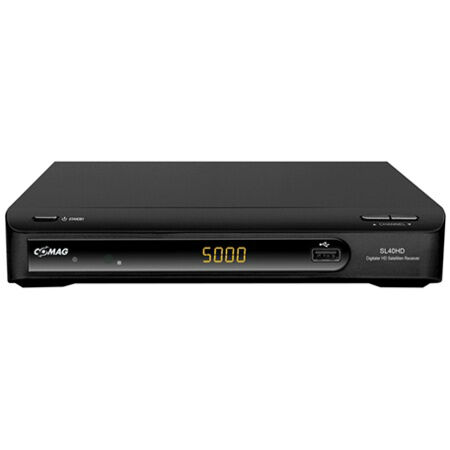 A satellite receiver, also called a satellite box or cable box, enables you to receive a multitude of cable channels with ease. These receivers are typically compact, sleek boxes that may work with a satellite dish to pick up cable channels and transmit them to your television. Some receivers are also recordable, which are called PVR (Personal Video Recorder) boxes, and can be set to record television shows with the aid of a remote.
Satellite receivers work digitally and can also be used for HD televisions to ensure high quality, high definition television watching for the viewer. Some satellite receivers simply ensure that you receive crisp, clear channels without cable television subscriptions. To receive satellite cable channels, you need to subscribe to service from a satellite cable provider in order to get the most out of your satellite receiver.
What to Consider Before Purchasing a Satellite Receiver
There are several factors to consider before buying a satellite receiver. First, you need to know if your TV is HD compatible or not, because that requires a certain type of receiver. Next, it is helpful to know what kind of cable you are using and if it is compatible with the receiver you wish to purchase, as well as what extra features are important to you. If there are several family members that are planning to use the satellite receiver and you need a large amount of space to record shows, select a receiver with a higher GB to store more programmes.
If you want to use the receiver for more than just viewing television, purchase a receiver that offers USB ports so an MP3 player, computer, or USB storage stick can be placed inside to view and listen to other types of supported content.
Common Types of Satellite Receivers
There is one basic type of satellite receiver that works on most televisions, but there are additional features that can be included with some satellite receivers. Choose the satellite receiver that you will get the most out of, and that fits into your budget as well as corresponds to your television and other home theatre equipment.
Most satellite receivers may offer different, unique features and may run from very basic models that are quite simple, to sophisticated and elaborate receivers that have many ports that can be used for other things as well as tons of features to make the TV watching experience very high tech and fun. Recordable PVR boxes are amazing when it comes to never missing a show or special event that you may not be at home for, and some PVR boxes can even record more than one thing at a time so everyone in the family is happy.
Recordable Receivers
Recordable satellite receivers, or Personal Video Recorder boxes, are very handy. They can record and save many hours of television, and a timer can be set to record your favourite show every week. You will never miss another show again with a recordable satellite receiver. These receivers also offer features such as pause, rewind and fast forward, and slow motion even when you are viewing live television.
Other features of recordable satellite receivers are USB compatibility so external devices can be hooked up, as well as channel sorting, parental controls, picture in picture display, and subtitles.
HD Receivers
Satellite receivers that are HD satellite receivers deliver high definition cable television to HD televisions using state of the art digital technology. It offers a higher picture resolution than standard satellite receivers. A standard picture resolution for HD receivers is 1080p. Some of these receivers also offer a Smart Card reader, internal power supply, and digital front display.
Some HD receivers may also offer 3D viewing. There may also be ports to plug in external devices and stream content like that. Some HD receivers can also play music from external devices. They are also recordable with the use of PVR recorders, which record programmes onto an internal hard drive and store them for later viewing.
Common Features of Satellite Receivers
When it comes to satellite receivers, there are some features that may be more desired by buyers, so choose a satellite receiver that offers the features that are important to you and your viewing experience.
Recordable Receivers (PVR)

HD Receivers

Record and store hours of television

Can pause, rewind, and fast forward live TV

USB compatibility

High definition picture quality

Smart Card reader

Games included
There are many standard features that comprise recordable receivers as well as HD receivers, and some are more important than others. Base your buying decision on the cost as well as compatibility and features you enjoy the most.
Brands of Satellite Receivers
There are a few common brands of satellite receivers, HD and otherwise, that consistently receives top electronics ratings and seems to be the best buy for the money. These are the brands the buyer may see most frequently, so it pays to know what distinguishes one brand from the next in order to make an informed purchasing decision.
Technomate
Technomate satellite receivers provide you with a high quality viewing experience. They are available with the capability to programme up to 10,000 channels with the aid of a dish, and also have USB components to play songs from an MP3 player. Technomate offers recordable PVRs that have additional features such as pausing and rewinding live television. Some buyers may offer the warranty that came with the product originally, which can be a huge bonus.
Technomate receivers are generally affordable but the HD receivers can be a little more costly. These can have even more additional features than the standard receivers, such as games, software transfer, and Smart Card readers.
Amstrad
Amstrad satellite receivers are compatible with Sky cable service. They come in standard or HD models and are PVRs, as well. They also offer features such as Ethernet and USB ports, Smart Card slots, and extended memory. Prices may vary based on features and how many GB of memory the receiver has, as well as whether or not the satellite receiver is 3D compatible.
A standard non-HD Sky box made by Amstrad may not have as many features as an HD compatible box, but it is a top-of-the-line cable box that offers you superior picture quality for enhanced television viewing.
Pace
Pace is another popular brand of satellite receivers. Pace satellite receivers are also compatible with Sky cable. They come with a remote control, and offer features such as HD compatibility, PVR recording, software updates, and the ability to have Dolby surround sound as well as other standard features like pausing and fast forwarding live television.
Satellite Receiver Additions
There are many things you may need when you are installing a satellite receiver. Cables such as HDMI cables may or may not be included in the box, which are needed to operate the device. Other items that are not mandatory but may be desired include Smart Cards, USB sticks, MP3 players, additional remote control batteries, an RF modulator, surround sound speakers or a home theatre system, and of course, a satellite dish.
How to Buy a Satellite Receiver on eBay
Buying a satellite receiver on eBay is the most affordable way to purchase one. Search for satellite receivers to bring up all of the options, but it may be easier for you to narrow them down so you can see the receivers that most fit your needs, or search by brand, such as HD satellite receivers, or Amstrad satellite receivers. Check with the buyer about the warranty offered on the receiver, and make sure it is compatible with your television as well as your other home theatre system items. Ask the seller if they are offering any other items that may be useful and can be bundled with your satellite receiver for an all-inclusive, low shipping cost, such as cords or cables, batteries, or Smart Cards.
Purchase a satellite receiver from a merchant that has been classified as a Top-Rated Seller on eBay, and has a lot of positive comments from other buyers. Communicate with the seller if you have questions about the receiver, such as if the receiver comes with its original manual, or if it needs additional items to install it properly.
Conclusion
A satellite receiver can make your television watching experience exciting and memorable. With the aid of a PVR, you never have to worry about missing your favourite shows when you are not at home, and you can pause live television if you need to get up for a second and do not want to miss a moment of the show you are watching. Satellite receivers can help produce crisp, high quality pictures as well as be used for other purposes like playing content from USB sticks such as photos and music.
A satellite receiver can provide endless hours of joy and entertainment for you and your family, and when coupled with a high quality satellite dish and a great cable subscription, you could access literally thousands of channels right at your fingertips. Make TV watching worthwhile with the addition of a satellite receiver in your home, and make it the centre of your home entertainment or home theatre centre and a hub for family time.