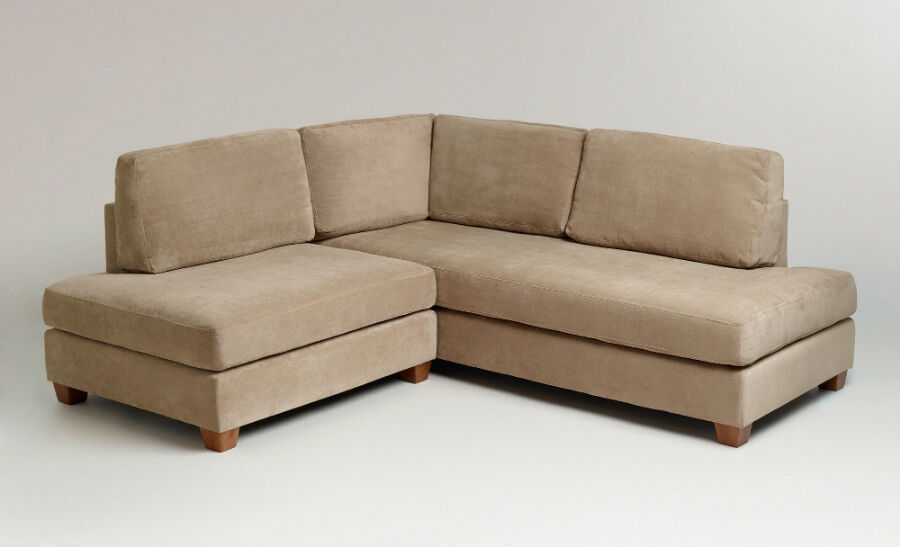 Sectional sofas are a popular type of sofa that feature a wide variety of components that offer a certain amount of luxury and versatility that offer types of sofa do not provide.
They are available to purchase in a number of materials, as well as in numerous combinations of components that can be locked together. Sectional sofas are also purchasable in a number of different sizes to suit various room styles and sizes.
Whilst they are popular, sectional sofas are widely available on auction sites such as eBay that look to provide the same furniture products as specialist furniture retailers at more affordable prices through their bidding system.
The following guide aims to help those who wish to buy an affordable sectional sofa and take them through the assortment of considerations that need to be thought about and the variety of options available to them.
Sectional Sofa Components
With sectional sofas being made up of numerous components, there are a lot of combinations to choose from. By understanding the various components and their functions, the buying of a sectional sofa can be decided by which sections are best suited to the potential buyer. Here is a detailed explanation of the several components that can make up a sectional sofa:
| | |
| --- | --- |
| Individual Seats | Most sectional sofas are made up of a number of individual seats that make up the main base of a sectional sofa. They come in a variety of sizes that suit different sized rooms, as well as being available in a variety of different materials. These individual seats can be attached to the various other components that are available and are generally fixed to a backrest. |
| Corner Units | Corner units are a common staple of the sectional sofa. They are often two individual seats attached to form either a right angle or curved to be able to wrap round the corner of the room. Corner units are often how a sectional sofa is recognised and they are a popular in both living rooms and offices. They provide a modern twist on the traditional sofa style. |
| Arms | The arms of a sectional sofa often feature on one individual seat and then either on the individual seat that is part of, or attached to, the corner unit. Arms on a sectional sofa are often low in comparison to traditional sofas such as the loveseat or the English (Club) sofa. They also often feature a high amount of cushioning to add to the high level of cushioning that most sectional sofas already have. |
| Backrest | Most backrests on sectional sofas follow the curve or angle of the corner units. They tend to be reasonably high and often have removable cushions placed in front to improve comfort. |
| Ottoman | Whilst they can be purchased as separate pieces of furniture and added to a sectional sofa, a lot of sectional sofas come with an ottoman. An ottoman is a cushioned seat that does not have a backrest or arms. They are commonly referred to as footstools as people tend to use them as a footrest as they sit at the same height as the sofa, enabling owners to lie down on them. They are often used alongside sectional sofas to form a sofa bed as they often come on wheels to enable easy transportation and customisation of the sectional sofa. |
| Chaise Lounge | A chaise lounge is similar in design and purpose to an ottoman except for the fact that it is not removable from the sofa, and it is not separated. With chaise lounge being translated to 'long chair', it is understandable as to why they are considered to be similar to an ottoman placed alongside a sofa. Sectional sofas with chaise lounges are commonly found on eBay for reasonable and affordable prices despite the fact that they add such a unique quality and element of comfort to the sofa. |
Advantages of Buying a Sectional Sofa
There are a number of advantages to buying a sectional sofa and these are why they are one of the most popular styles of sofa purchased by furniture buyers. Here are some of the main reasons as to why sectional sofas are more beneficial to those wishing to buy a sofa:
Comfort: Sectional sofas tend to have deep cushions and the individual seats are not very high off the ground. This allows for a very laid back sitting approach as people can extend their legs and rest them on the ground without feeling uncomfortable. The low and cushioned arms of sectional sofas also provide added comfort. Furthermore, and most crucially, the addition of either an ottoman or a chaise lounge means that not only can one rest on sectional sofa with extreme comfort, there is also more room for others to sit or lay on the same sofa.
Range and Combinations: With standard, more traditional sofas, there are usually only one or two ways of sitting on them. However, with the vast range of options and additions to a sectional sofa, there are a lot more ways of sitting and resting available to owners. The option to buy different component combinations of sofa means that sectional sofas can be adapted to a variety of different room shapes and designs. It is this versatility that makes sectional sofas so popular.
Design: Sectional sofas add a modern twist to any room. They have clean lines and the straightness of the angles (very much due to the corner units) means that they are appreciated by those who wish to modernise the room that they are being placed in.
Considerations when Buying a Sectional Sofa
Despite the many advantages of buying a sectional sofa, there are some things that need to be thought about and considered before settling for a purchase. These considerations are just to ensure that a sensible transaction is being made in financial terms, as well as decorative. These considerations include:
Space: For their many advantages, sectional sofas can often take up a lot of space within the room that they are placed in. For this reason, one should first measure up the space available in the room planned for the sofa and compare it to the specifications of the sofa itself. Remember to allow room for an ottoman or a chaise lounge, as well as ensuring that there is room for other items of furniture and for people to be able to move about the room easily.
Layout: As mentioned above, space can be an important issue when planning on purchasing a sectional sofa. Space should be decided by the layout of the sectional sofa, so be aware of the layout options available for the sectional sofa that is being purchased. Take note of the different combinations that are available and purchase a sectional sofa layout that best suits the spatial requirements of the room.
Condition: Sectional sofas are available on the likes of eBay as both brand new or as used. New sectional sofas should have a higher price tag than a used sofa of the same style or brand. When buying a used sectional sofa, keep an eye out for its condition. Leather sofas that are used often feature wear on common seating positions and a common form of damage are scratches from animals such as cats and dogs. Whilst this may not affect the comfort of the sofa, it affects the way they look and this should definitely play a role in the price that should be paid for it.
Buying a Sectional Sofa Online
There are many online furniture retailers that sell sectional sofas, offering a range of styles, brands, as well as prices. By visiting these sites, one can comprehend the most popular styles and combinations of sectional sofa. Furthermore, one can also comprehend an idea of the price that should be paid for the desired style of sectional sofa. These sofa retailers also offer the opportunity to browse the many different combinations available when buying a sectional sofa, so take advantage and see what is suitable for different room styles and designs.
Conclusion
Once a thorough knowledge of sectional sofas has been gained, a sensible deal can be found through eBay.
Be sure to take in all the considerations and options provided throughout this guide, and remember to measure out the room that the sofa is going in to ensure that there is ample space for the sofa.
All in all, sectional sofas provide comfort and a modern twist to any room and if one is well read up on sofas of this ilk, and takes on board all of the factors mentioned in this guide, the buying process can be just as comfortable as the sectional sofa that is to be purchased.