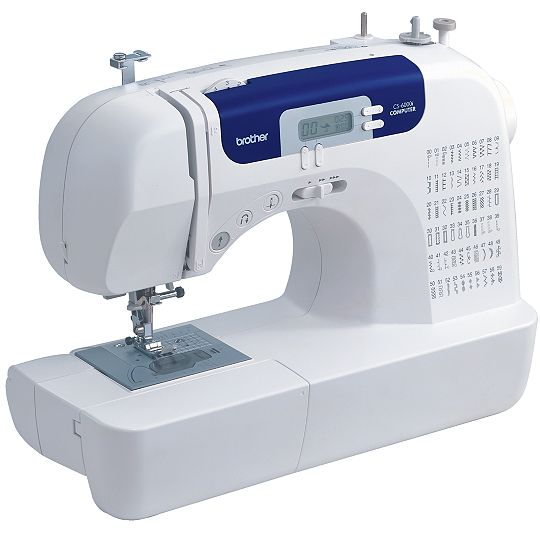 Sewing machines have never really lost their appeal, even though the majority of people purchase their clothing, window dressings, table linens, and other cloth products ready-made. Today, sewing machines are still employed in industrial settings, by professional tailors, dressmakers, and fashion designers, and they enjoy considerable popularity with hobbyists as well. eBay has a significant assortment of sewing machines and sewing machine accessories to choose from, including top name brands such as Singer, Brother, Toyota, and more.
Along with finding a wide selection of sewing machines and accessories, shoppers can also find these products at affordable prices on eBay. Additionally, the website provides detailed information pages on everything, from products to sellers as well as eBay stores and ways to make the shopping experience pleasant and satisfying. To help in choosing the right sewing machine and accessories needed when shopping on eBay, the customer needs to be familiar with the different types of sewing machines available and what to look for when searching on eBay.
Shopping for a Sewing Machine on eBay
There are different ways to shop for sewing machines on eBay, but a quick, easy, and effective way is to use a keyword search. To conduct a keyword search on eBay, simply open the eBay home page and locate the search window where keywords can be entered. With a few precise words, enter a written description of the product sought, such as "Singer sewing machine", into the search bar. When the results page opens, the available product options can be narrowed further by selecting one or more of the filter options provided.
Sewing machines on eBay can fall under different listings, so be patient if at first the one wanted is not at the top of the list. Besides, with so many offerings available, it is possible to find not only the right sewing machine, but also the accessories that go along with it.
All about Sewing Machines
The sewing machine has been around since about 1790, when Englishman Thomas Saint designed the machine. The intention was to speed up clothing manufacturing by eliminating some of the hand sewing by tailors and dressmakers of the period.
Designed for use by one person, the domestic sewing machine is one that is lighter and easy to work with, when compared to the larger and more complicated industrial sewing machines. Modern domestic sewing machines come designed to pull the material through the machine, make multiple types of stitch patterns, craft button holes and even do simple embroidery stitching. The machine may or may not come attached to a sewing cabinet or with a carrying case to protect it when not in use.
It is important to look at the specifications of a sewing machine before buying one. Ensure that the machine can do the job. For making quilts, a heavy-duty machine that can handle the thickness of the material, including the batting between the quilt's two fabric layers is more appropriate. If making clothing, one with interchangeable feet to handle button holes, embroidery, and zippers is recommended.
Overlocker Sewing Machine
Overlockers are special types of sewing machines used for jobs that a standard sewing machine is not designed to perform. By design, overlockers trim or cut the edge of a piece of fabric and stitch it in such a way as to encase the edge in thread. These seams are tough and reduce the possibility of the material edges fraying. This is useful for seaming drapes, tablecloths, and the edges of shirts and blouses that are not hemmed. Overlockers come in two-, three-, four-, and five-thread versions and are available on eBay. The higher the number of threads, the more durable the seam is and the more decorative edging options available. Overlockers are used along with standard sewing machines to expand the types of projects that can be completed; they are not a replacement to a standard sewing machine.
Accessories for a Sewing Machine
While sewing machines come as fairly self-contained units, there are a number of accessories that need to be purchased and kept on hand to complete the projects a sewing machine is intended to perform. As a paintbrush cannot paint a room without paint, a sewing machine cannot make clothing, bedding, and such without thread, needles, and other accessories.
Sewing Thread
Sewing thread comes in various sizes and an extremely wide range of colours and types from plastic, to cotton, nylon, and more. The type, size, and colour of the thread needed is project-specific. If making clothing from a pattern, the type and size of thread should be provided on the packaging. Thread comes rolled onto a spool, which is machine specific; meaning that if it is for a standard sewing machine, then this means a standard thread spool. If the thread is for an overlocker sewing machine, then it is typically on a larger, cone-shaped spool. The size of the thread used dictates the size of the needle.
Sewing Machine Needles
Sewing machine needles come in various sizes and styles, and depending on how varied the projects are, one needs several needles in the arsenal. The basic types of sewing machine needles are universal, jersey/ballpoint, stretch, jeans/denim, Microtex/sharp, leather, and self-threading. Each needle is designed for a different type of work; be sure to match the right size and type needle to the thread and material being used for the project. The chart below indicates some of the common needle sizes along with the compatible thread sizes.
| Metric Needle Size | Compatible Thread Size |
| --- | --- |
| | 12 |
| 65 | 12, 15 |
| 70, 75 | 12, 15, 23 |
| 80, 85 | 23, 30 |
| 90, 95 | 23, 30, 46 |
| 110 | 46, 69 |
| 120, 125, 130 | 69, 92 |
| 150, 160, 170 | 138 |
| 180, 190 | 138, 207 |
| 200 | 207, 277 |
| 230 | 207, 277, 346 |
| 280 | 277, 346, 415 |
| 300 | 346, 415 |
| 330, 350, 380 | 415 |
Ensuring that the proper size thread and needle are both installed on the sewing machine makes projects go much easier. Finding the right needles and thread can be done easily with simple keyword searches on eBay. Some brands of needles use colour on the needle to denote the proper size. Check a brand's colour key for matching sizes.
Sewing Machine Bobbins
A bobbin is a spindle that holds thread and is placed beneath the foot of a sewing machine to provide thread for the bottom stitch when sewing. Bobbins can be made of plastic, bone, wood, or metal and are approximately 2 to 3 cm in diameter.
Sewing Patterns
The sewing patterns often used by enthusiasts are made of paper and cover clothing styles from the 1930s forward. Pattern types include formal wear, casual wear, sleepwear, sportswear, costumes, and more for men, women, and children. In addition to clothing, there are patterns for cloth toys, window dressings, table linens, bedding, and even pet clothing, toys and bedding.
Other Sewing Machine Accessories Available on eBay
Many different accessories may be needed to complete projects on a sewing machine, and they are all typically available on eBay. In addition to the accessories mentioned above, straight pins, seam ripper, chalk, dress form, and scissors are all among the accessories that one can use in projects.
Making a Sewing Machine Purchase on eBay
When the decision has been made to purchase a new standard or overlocker sewing machine, start on the eBay home page and conduct your search using keywords in the search bar. As you find items that interest you, click on them to open up the information pages. Take the time to read all descriptions about the product and look closely at the pictures, if provided; compare the description to the photos to better assess the product's condition. You also need to note what the seller's preferred and accepted payment methods are and determine the shipping charges, if any.
Check eBay Stores to Find Deals
Many sellers on eBay have site stores that specialise in certain types of products. Look for a store that specialises in crafts or even sewing, and there may be many items that you need over time, including accessories and fabric. One pleasant benefit of shopping at an eBay store is the ability to bundle products together for shipment; this can save more than expected on shipping costs.
Conclusion
Whether purchasing a sewing machine to indulge a hobby or make your own clothing and home interior fabrics, it is important to consider the type of machine you want to buy. In many cases, a standard sewing machine is just what is needed. An overlocker sewing machine is ideal for projects that call for seaming the fabric's edge instead of hemming it. As one purchases a sewing machine on eBay, take into account the several accessories that can also be purchased from the website. These accessories are typically used with the machine, and they include needles, thread, bobbins, scissors, straight pins, and more.
To obtain great prices on sewing machines and accessories on eBay, one simply has to open up an eBay page and do keyword searches using the search box available on every page. It is important to review the product description in detail, looking at any pictures that are provided on a listing. One should also factor in the payment requirements and applicable shipping charges. By knowing what you want to create with a sewing machine, you can use eBay to quickly narrow the available options and find the sewing machine that ideally suits your needs.