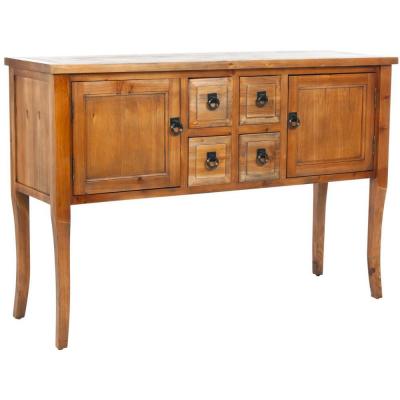 Sideboards are the ideal way to provide both storage and decoration in the home. Having gone through a series of different uses, they can now be utilised in all rooms of the house and offer great spectrum of use for the domestic home. Whether they're being used in their traditional function or adapted to fit the needs of the household, sideboards have a wide array of abilities and it's worth looking into the different types before committing to buy.
About Sideboards
Sideboards became very popular in the early 1800s when they became an indication of wealth. Their association with dining rooms gave them this iconic status, as only the wealthiest of families in the 19th century were privy to dedicated eating areas. Whilst sideboards are still primarily designed for the dining room and have their functions deeply rooted with the culinary sector, they are beginning to become prevalent in all areas of the house. The growth of the sideboard stems from the ability to craft them from cheaper alternatives to the traditional solid hardwood versions, alongside optimised manufacturing processes to further drive down costs. Sideboards have been growing in fashion not only as accompaniments to the dining table, but towards media storage in the lounge, desks in the study and even welcoming surfaces in the hallway. The complex collection of sideboards is exciting but presents a challenge in finding exactly the type or style needed. Knowing the pros and cons of each type, material and function will aid endlessly in selecting the perfect sideboard on eBay.
Choosing A Sideboard
The first question to ascertain an answer to is where the sideboard is going to be located in the home. Original sideboards offer a double cupboard on the left and a single cupboard on the right, normally with drawers but the function of a sideboard today often depends upon the room it sits in.
Type of Sideboard
| Type | Description |
| --- | --- |
| Dining | Dining room sideboards are the most traditional and original of all the sideboards. It was their purpose to be a serving surface and storage unit for all things to do with serving a meal. Dining room sideboards must have the correct storage for cutlery, plates, and glassware whilst having a surface suitable for serving from. Whilst decoration can still be seen on more expensive examples, dining room sideboards are designed with practicality and function in mind. |
| Kitchen | Kitchen sideboards are the second most common variety, being used largely as storage units rather than to serve from. The drawers and cupboards serve an identical purpose, but the surface of kitchen sideboards is dedicated instead to the display of decorative ornaments like crystal glasses and ornate china. |
| Lounge | Sideboards have become a common sight in lounges and living rooms when made with more modern materials. Their storage capacity makes them great television units within which to store consumable media such as CDs and DVDs. |
| Study | Desks have begun to be replaced by sideboards in the study when workers find themselves needing more space for their stationary and paperwork. The surface is given over to workspace for computers and laptops whilst the cupboards and drawers can be lockable to protect valuable goods and documents. |
| Hallway | Entrance halls have begun to see sideboards as welcoming tabletops on which to deposit keys and outdoor accessories. In upstairs hallways, sideboards serve as a replacement for blanket boxes in which to store linens, bedclothes, towels, and bathroom accessories. |
Sideboard Material
| Material | Description |
| --- | --- |
| Solid Hardwood | Traditional dining room sideboards were made from solid hardwoods, as expense wasn't a concern of the wealthy homeowners who made purchase. Hardwoods such as oak, mahogany, and walnut were used to offer a decorative approach besides their function. These are still used today in more expensive examples, but most solid hardwood sideboards are vintage items. Hardwood is more expensive and heavier, but is one of the most durable and aesthetic materials. |
| Solid Softwood | Solid softwood is used when looking for a cheaper option, but without going down the route of veneer or plastic. Softwood is less expensive than hardwood and is easier to shape and work, but offers less protection in the day to day use of a sideboard. Those used for their original purpose might suffer from the chips and knocks that come with daily use as a dining accessory. |
| Veneer | A lot of modern sideboards are crafted predominantly from chipboard and finished in veneer. Veneer consists of thin strips of real wood which gives the impression of a solid wood product. Veneer is far cheaper, but lacks the substantial quality of real wood products. Veneer has the advantage of being easily repairable and enjoys the benefit of modern protective finishes. |
| Laminate | Sideboards used outside of the dining room and kitchen are often made from plastic laminates made to mimic other materials like wood, glass, and marble; often in high-gloss finishes. The sleek design lends itself to the modern household and also benefits from modern protective finishes. |
Doors and Drawers of a Sideboard
The storage capabilities of a sideboard are one, if not the most, important feature. Few people address the function of the doors and drawers, but no matter how large the space it is imperative to have the right access to it to maximise its use.
| Doors and Drawers | Description |
| --- | --- |
| Outward Swinging Doors | Outward swinging doors are the original component used in sideboards, normally on a brass or other metal hinge. These have the ability to open the entire space up to allow larger items to be placed inside and allows the entirety of the contents to be seen. |
| Sliding Doors | Sliding doors are a very sleek and more modern addition, but will only allow the one side of the cupboard to open at any time. Sliding the panel from one side to the other will prevent a double door access. Sliding doors in modern sideboards are often connected to interior lights which activate when the door is opened. A downside to sliding doors is the tendency for the tracks to collect dirt, dust and debris; especially if the sideboard is being used as a culinary accessory. |
| Drawers | The drawers in a sideboard are very important if expensive cutlery or implements are being stored there. The best sideboards have a cloth or baize lining to their drawers to protect the precious metals, whilst some even have attached linen to be wrapped around silver to protect it from tarnish. |
Most doors are of solid material like wood or laminate, whilst some feature glass panels within them to view the contents of the sideboard. Glass doors can be dangerous around children or if the sideboard is placed somewhere likely to be knocked, so consider its location before choosing a material.
Top Surface of the Sideboard
The original surfaces of a sideboard were designed for service of food and so would be produced to withstand such stresses. Carving of meat and pouring of drinks would take place on the surface of the sideboard and it would have to be finished appropriately.
| Surface | Description |
| --- | --- |
| Tiles | Tiles have the advantage of being easy to wipe clean and monitor the cleanliness levels. The grout and grooves of tiles, however, can be difficult to keep clean and can harbour spillages and discarded food. Opting for a tiled surface is decorative, but an eye should be kept on the grooves. |
| Glass | Glass topped sideboards are a luxurious option, as they can scratch very easily especially if food preparation occurs on top. The flat surface allows an easy spray and wipe to maintain hygiene. |
| Laminate | Laminate is the most popular choice for modern sideboards, as it has neither the grooves of tiles nor the vulnerability to scratches that glass has. Luxury would have to be sacrificed to go for laminate as it often has an artificial and plastic look finish, unless opting for a melamine or polyurethane wood lacquer laminate. |
Additional components like a headboard to protect the wall behind the sideboard and heat proof matting sometimes come with a sideboard purchase. Wallpaper can be ruined by spillages and spatters from preparing food whilst the surface can be damaged by exposure to hot plates and pans.
Finding Sideboards on eBay
From the eBay homepage, the left navigation bar will feature the All Categories option. Clicking this will open a directory of categories within which features Home, Furniture & DIY. To find a sideboard, click on Furniture, followed by Sideboards, Buffet Trolleys. Within the final category the filters on the left can be ticked on and off to select Sideboard only and then Material, Condition, Room, Colour, Brand, and more.
Conclusion
Sideboards have become solutions for a lot of problems in the household, spreading from the dining room to almost every other room in the home. They can be purely decorative or a very functional and usable piece of furniture, and many will encompass both beauty and practicality. Ensuring that the sideboard suits the home and its needs is key to enjoying this tried and tested household furnishing.