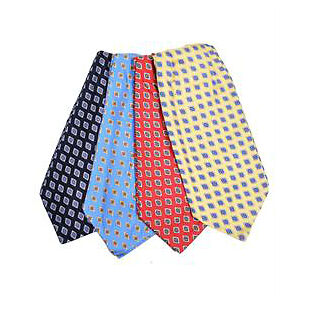 The ascot tie, or simply known as 'ascot' or 'cravat' is a stylish and sophisticated accessory that is now gaining popularity among men who want to look different. Although ascots are made of many materials, the silk ascot is the most luxurious kind any man can wear, and is of the highest quality. Silk ascots can be worn for various occasions, from semi-formal to fully-formal events, and can be tied in a number of ways, like a regular tie, a scarf, or a classic ascot. If you are bored of wearing a tie and bow tie, a silk ascot can help you look original and more classy than other men.
A silk ascot is a very prestigious accessory and can be hard to find. Plus, although ascots were seen as a must-have in almost every man's wardrobe in the previous two centuries, they have been ignored until only recently. To help you buy the perfect silk ascot, you should know what exactly a silk ascot is, how to wear one, as well as how to purchase a silk ascot on eBay.
What is a Silk Ascot
An ascot is a neckband similar to a regular tie but shorter and narrower at the centre and wider at both ends compared to a tie. A silk ascot traditionally comes in grey and usually has simple patterns. Its origin dates back to as early as the 1600s, when its ancestor, the cravat, was first worn in Croatia. The cravat is worn on one's neck and has later evolved into other neck accessories including the ascot, tie, and bow tie.
The ascot got its name from the Royal Ascot horse race, as men often wore dress cravats when attending horse races. However, nowadays, the silk ascot can be worn not only to horse races, but also to other semi-formal, formal, or casual events, including parties, lunches, and weddings.
Traditionally, for daytime events, men used to tie their ascot in a looser fashion giving it a slightly casual and more fashionable look. As a result, the day cravat is used to refer to the more casual ascot while the dress cravat refers to the more traditional formal ascot. A day cravat is made of a thinner silk, which often has brighter, colourful patterns as compared to the thicker and more bland-looking dress cravat. Although the correct term for the garment is an ascot, cravat is still used interchangeably. A day or dress ascot now usually refers to how it is tied, be it in a looser form, or with a tighter knot.
Ascots come is various colours and prints which make them suitable for almost any event. As ascots are not very popular as men's fashion accessories, it is important to find out how to style them with formal and casual outfits to make an informed choice when attending any event.
How to Wear a Silk Ascot
An ascot can be worn for numerous occasions, from casual to formal events. When wearing a pair of jeans to a casual party, you can put on a dress shirt, a coat, and add an ascot for a unique and stylish look. You can also wear an ascot to work since many offices do not require people to wear suits and ties. You can wear the ascot just with your dress shirt for a laid-back, stylish look while still maintaining a professional look. An ascot at work can also give you an extra touch of class that a regular tie cannot.
When wearing a silk ascot, you can choose either matching or contrasting colours to those of your outfit. Ultimately, the choice of colour depends on your preferences and also on the event that you are wearing the ascot for. When attending a more formal event, it is a good choice to wear an ascot in mellowed colours such as grey, white, or cream or you can opt for darker masculine hues such as blue or dark green.
You can wear a silk ascot with a knot similar to the one you make for a tie to achieve a semi-formal look. Alternatively, you can wear the silk ascot loosely like a scarf for a casual look, or tie it with a traditional ascot knot for formal events. Wearing an ascot requires self-confidence as although the interest in ascots is increasing among men, there are still not that many who wear them. However, wearing one is definitely fulfilling as it helps you look original and classy.
How to Buy Silk Ascots
Before you buy a silk ascot, you should decide what you want to wear it for. If it is your first ascot, you might want to get a more versatile one which you can wear to formal events and casual parties alike, maybe even to work if the dress code allows it. There are a few things to consider when looking for a good quality silk ascot.
Compared to ties and bow ties, silk ascots are more difficult to find as they are not very popular, so most retail stores may not have them. To find good-quality ascots, you can shop in men's boutiques, some high-end retail stores, and on eBay. Fashion boutiques may have a large selection of high-quality silk ascots to choose from but of course, with a higher price tag, while the same products may be cheaper when bought on eBay.
Choose the Right Colour
To buy a versatile silk ascot, darker or cooler colours such as grey, blue, or brown are good choices. You should avoid silk ascots with overly bright and ornate patterns as they are harder to pair up with any clothes. If you want to wait your ascot with a light or bright-coloured shirt, you can choose a lighter coloured silk ascot to match it. However, it is also important to consider the kind of event that you want to wear the ascot for. For an informal event, it is fine to wear a bright ascot which is contrasting with the rest of your outfit, but for a formal function, you should buy a more professional-looking ascot, such as grey or dark blue.
Choose a Pattern
A plain silk ascot has a classic look and is versatile as it can easily be paired with other clothes. However, a patterned ascot can make you look more fun and lively. When choosing a patterned silk ascot, be sure to not go over the top and get a very decorated one such as a paisley ascot. An ascot should be worn as an accessory to complement your outfit, and should not be too eye-catching; therefore, always try to choose an ascot with a refined, subtle design.
How to Buy a Silk Ascot on eBay
eBay has a wide variety of silk ascots in various colours and patterns. To find one that you like is very easy as you can start on the eBay home page. All you need to do is type the keyword, which is 'men's silk ascot' into the search bar. When you get a display with all the available ascots, you can look at all of them and take your pick. Since an ascot is also known as a cravat, you can look up 'silk cravat' to widen your search.
After you have picked the silk ascot that you like, you can click on it to view all the details regarding the item, such as its full description, price, delivery fee, condition, and return policy. It is always important to make sure that you are satisfied with all the details before purchasing it, and you should especially take note of the return policy so you can return the product in case it is damaged when you receive it.
It is also worth noting the seller's feedback score. This score illustrates their reputation on eBay. This score comes from customer evaluations and a high score means that the seller has a good reputation. After purchasing and receiving the ascot that you chose, you can also evaluate the seller to help future customers decide on their purchases.
Conclusion
Silk ascots were once stylish accessories worn by sophisticated men for various functions, and now they are making a comeback as modern men want to add more variety into their wardrobes. Also called a cravat at times, the ascot is versatile as it can be worn not only for formal events but also for casual or semi-formal functions.
A silk ascot can easily be paired up with jeans and a dress shirt when attending an informal party, or with a fully formal outfit. If you plan to wear the ascot to many formal events, you should opt for one with a more conservative design so it can be worn with any outfit. Some people may like printed or patterned ascots. However, you should avoid any ascot which is over-decorated as it would be difficult to match to an outfit. To find a high-quality silk ascot, you can shop at high-end stores, boutiques, and on eBay.