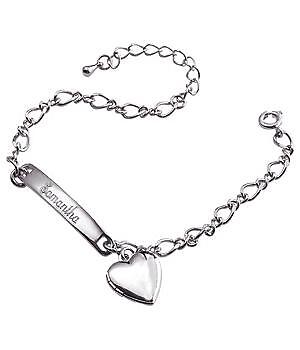 Silver plated bracelets are bracelets made of a different material than silver, but which have an exterior coating of silver. The material underneath the silver coating varies drastically, and this can have an impact on the price. Knowing what material is underneath the silver plating is a good first step to making a smart purchasing decision.
Different types of silver plated bracelets are used for lots of different occasions and to complete a variety of styles. Some common styles in which buyers can find silver plated bracelets include Art Deco, Art Nouveau, retro, vintage, and contemporary. The way that the metal is designed also impacts the style of the bracelet. Some bracelet designs to be aware of are charm bracelets, bangles, chain, and pearl or bead. Chain bracelets come in many different styles, some of which are extremely popular.
Bracelet sizes generally fall between 18 and 21.5 centimetres, and buyers should know the wrist measurement of the wearer to purchase the correct bracelet size.
Once they have purchased a silver plated bracelet, wearers need to know how to properly care for it, to keep it looking its best for as long as possible. Sometimes, green tarnish spots appear and must be removed. When this happens, silver plated bracelets must be carefully cleaned with materials that will not damage the jewellery.
Silver plated bracelets are available in department stores, antique stores, jewellery stores, and online. eBay has a very large selection of silver plated bracelets available in lots of different styles and price ranges.
Underneath the Silver Plating
The core of a silver plated bracelet can be any of a number of different materials. Some common core materials include brass, nickel, and zinc. To determine whether a bracelet is sterling silver or silver plated, buyers can simply examine the jewellery for identifying marks. Sterling silver is always marked "925", while silver plated jewellery should not feature an identifying mark at all.
Silver Plated Bracelet Types
The most common types of bracelets are charm bracelets, bangles, chain, and pearl or bead bracelets. All four of these are available in silver plate. Silver plating is often used on charm bracelets and beads, so silver plated charms are readily available and are very popular. Silver plated charms are often attached to silver plated link bracelets. Bangles are very versatile, and can be worn with many looks. For example, a single, silver-plated bangle worn with a black pantsuit helps create a simple, chic style. Multiple bangles draw attention, as they are bright, flashy, and make a tinkling sound as they clink together.
The chain bracelet is a classic, and comes in many different styles to appeal to every wearer's tastes. Chain types include bead, byzantine, cable, mesh, wheat, Venetian, rope, and snake. Byzantine jewellery uses a lot of natural beads and stones, and has intricate detailing. Cable bracelets slip on and off the wrist, and have detailed etching to enhance the style. Mesh bracelets are thin. They are often used in watches, and have small square links that fit together. Wheat bracelets have a braided appearance, while rope style bracelets are round, and look like a strand of rope. Pearl bracelets add a formal, sophisticated look to any outfit.
Personalised bracelets serve a variety of purposes. Some celebrate an event, or occasion. Others serve as a stylish warning of allergies or other medical conditions. Some are merely decorative.
Personalised bracelets come in many styles. Initials, names, or a one letter charm are especially popular on charm bracelets. Engravings are also popular. Symbols, wording, numbers, and small designs can all be engraved on a silver plated bracelet to personalise it and make it unique to the wearer.
Styles of Silver Plated Bracelets
Some vintage bracelet styles include Art Deco, Art Nouveau, retro, contemporary, and antique. One of the most popular styles, Art Nouveau started out in the late 1800s and continued into the early 1900s. It is a modern style of art, featuring bold colours and flowing designs.
Art Deco began in 1920s France and quickly spread internationally. It is defined by bold geometric shapes and patterns. Art Deco is known for its blend of modern styles with traditional or tribal symbols.
"Retro" refers to the design items of the more recent past, such as the 1950s or 1960s, while "contemporary" refers to current trends in fashion. Some older vintage looks are forever going in and out of style.
Bold statement jewellery is always fashionable. It adds a pop to almost any outfit. But for those who do not wish to make a statement, simple, classic, silver-plated bracelets are a timeless addition to a bracelet collection.
Finding the Correct Silver Plated Bracelet Size
To determine the proper bracelet length, measure the wearer's wrist. Take that measurement and then add 2.5 centimetres. The table below includes standard bracelet sizes for a variety of wrist measurements.
| Wrist Measurement | Bracelet Size |
| --- | --- |
| 16.5 cm | Small |
| 18 cm | Average |
| 19 - 20 cm | Large |
| 21.5 cm or more | Extra Large |
Keep in mind that these measurements are approximations. Sizes vary by manufacturer, and wearers should try on the bracelet before buying, if that is possible.
Cleaning a Silver Plated Bracelet
To clean a silver plated bracelet, wet a cloth or a sponge with warm water and mild dish soap. To remove stubborn or built-up grime, let the jewellery soak for up to 10 minutes in a bowl of hot water. Be sure to wipe the bracelet completely dry with a soft cloth. Apply silver polishing cream with a soft cloth, similar to the cloth used to dry the piece. Do not rub too hard, as silver plating is delicate and easily scratched. Do not use an abrasive material, for the same reason. Never place a silver plated bracelet in a dishwasher, as dishwashing detergent and the machine washing process can damage the jewellery.
Tarnish on a Silver Plated Bracelet
Silver can become tarnished over time, and sometimes develops green spots. Washing soda can be used to safely remove the tarnish without damaging the bracelet. Pour washing soda into an aluminium pot lined with tin foil, and then place the bracelet in with it. Add boiling water to the pot. Let the bracelet sit in the mixture for fifteen minutes, and then remove. Rinse the item and dry it with a soft cloth.
How to Buy a Silver Plated Bracelet on eBay
To find the perfect silver plated bracelet, you should first determine the type you want and the look you are going for. Once you have decided, begin your search by typing "silver plated bracelet" into the search box on the eBay homepage. This returns lots of bracelets of every size and shape. To get a general idea of what is available, just browse through the many options. If you have something specific in mind, enter more specific keywords into the search box, such as the bracelet type, style, size, or fashion period. You can filter the results by size, condition (whether new or used) and by location of the seller.
Once you have found a bracelet you like, be sure to read the detailed item description. The description should include information like the bracelet measurements, core material, and any damage that might not be immediately evident by looking at a photograph. If you have further questions, send the seller a message.
Also, review the seller's information. Check out their other item listings to see if they have other items you may want to buy. Review any feedback the seller has received over the last 12 months. Feedback written by previous buyers can give you a good idea of how well the seller has satisfied former customers.
Conclusion
Silver plated bracelets are an inexpensive alternative to solid silver jewellery. Silver plating provides a quality silver jewellery look, without the higher cost. The easiest way to tell the difference between a sterling silver piece and a silver plated piece is to look for a sterling silver identifying mark. Sterling silver is marked with "925", while silver plated bracelets are not.
The four most common types of bracelets are charm bracelets, bangles, chains, and pearl or bead bracelets. Different styles and designs are used for each type of bracelet. Different styles of jewellery are often available from lots of different time periods. Vintage jewellery is quite common and includes Art Deco, Art Nouveau, and retro bracelets. More contemporary pieces are also available.
It is important to make sure that the bracelet fits the wearer. If a bracelet is too loose, it may fall off; too tight, and it may cause discomfort. Measure the wrist, and ascertain the size of the bracelet before purchasing to make sure it is a comfortable fit.
Silver plated bracelets, like other jewellery, must be cleaned and polished occasionally. Be sure that cleaning and polishing is done properly to avoid damaging the bracelet. Silver plating tarnishes over time, and this must be removed with a gentle cleaner and a soft cloth.
Silver plated bracelets are available in lots of different shops, including fashion stores, jewellery stores, and antique stores. They are also available online. eBay has a large selection of different silver plated bracelets available.