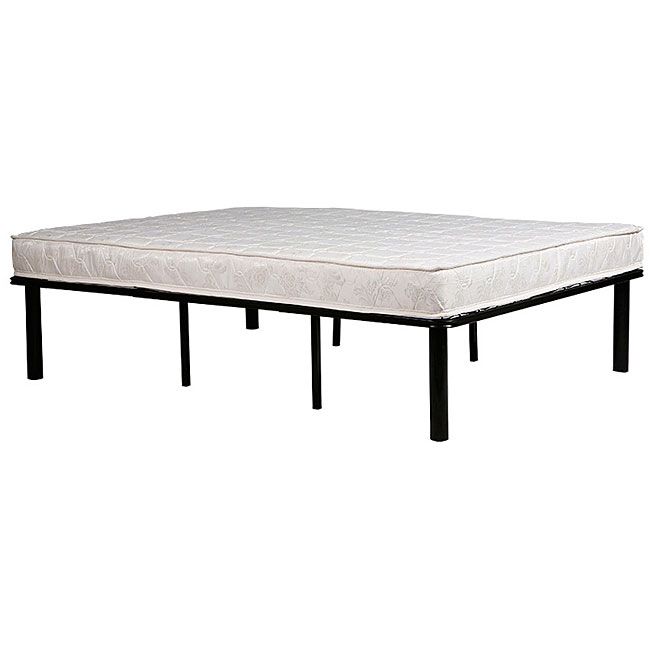 Whether looking for a bed for a child's room or a guest room, a single bed frame is a flexible option. An example of a single bed frame set would be bunk beds, which can be stacked on top of each other, placed side by side in a more traditional arrangement or positioned in whichever way best suits the space available. The style, quality, and price of these single bed frames can vary greatly, so it is best to carry out thorough research before committing to buy. It is essential to consider the needs that have to be met by the single bed frame as well as the style to be achieved and the budget. eBay offers a full range of products from top name brands to antique and used items, which can all be easily searched for on the website.
Dimensions of a Single Bed Frame
In the UK, a regular single bed is 91cm x 190cm. However, it is worth noting that there is no standardised system for sizing bed frames and mattresses, therefore, there can be some variations from country to country. This should be considered when buying accessories, such as bed linen and mattress, for a single bed frame from outwith the UK, as they may not necessarily fit. It is essential to read the dimensions of the product, not just the size description. Some single bed frames may also require slightly smaller mattresses. For example, some bunk beds and trundle beds require specially sized mattresses. If this is the case, look out for deals where there is an option to buy the bed frame and mattress as a package or from the same dealer.
About Single Bed Frames
A single bed frame can be made from a variety of different materials and come in many different styles. The two main categories of bed frame are divans and bedsteads. Divan bed frames are basically a bed base to which a headboard and mattress is added. Within this category are pocket-sprung divans, platform topped divans, and storage beds. Pocket-sprung divans are generally softer and offer the most comfort. Platform topped divans have solid tops on which the mattress sits. These are a cheaper option, and provide a firmer base, however, the style of mattress used in conjunction with the base plays a large role in the comfort and firmness of the divan. There are many headboard options available for use with these divan bases and they are screwed directly onto the divan, or they can be used without a headboard. Storage beds are a version of divan that are a good option if space is limited, or if an uncluttered look is desired, as all of the storage is hidden. These bases have either pull out drawers within them, or have an ottoman-style storage compartment within the base. Access to this storage area requires the top of the base to be lifted and this should be considered when buying, as it may be too heavy for some people. Divan bed frames have the advantage over bedsteads of being, in general, a cheaper option and are widely available, however, they could be considered to be less stylish and ornate, and do require an additional headboard. A traditional bedstead is composed of a bed frame, legs, and a headboard that work as one unit. The mattress sits on slats, usually wooden, in the bed frame. Bedsteads come in a huge variety of styles and can be made of various materials. Wood, metal, leather, and upholstery are the main materials used. Within the category of single bed frames are day beds, four-poster beds, sleigh beds, bunk beds, mid sleepers and high sleepers. The choice of bed frame is wide, so usage, style, and budget have to be considered. Day beds come in different styles, but within the category of single bed frames, they are essentially a one sided single bed. They are the size of a standard single bed, but can be used as a bed or a sofa just by rearranging the cushions on them. They are a popular choice for teenagers and in studio flats, where the bed can be multifunctional and make the most of restricted space. Four-poster beds can add a touch of elegance and glamour to a room. Again, these are essentially a single bed, but have posts running up from the corners of the bed to form a canopy above it. This canopy can be used to hang drapes, which can be closed over at night for a cosy, private sleeping area. Sleigh beds are traditionally solid wooden constructions that include a curving headboard and footboard, however, they are now also available in other materials, such as leather. Bunk beds are a classic choice for a child's bedroom. Comprising of two beds stacked up, they provide a sleeping area for siblings or guests without taking up added floor space. Depending on the type of bunk bed, these beds can sometimes be separated when they are no longer required as bunks, and used as traditional single beds. If an occasional guest bed is required, trundle beds are available. Trundle beds are small single beds that slide underneath a standard single, and can be pulled out and used when necessary. Mid and high sleepers are ingenious bed designs that have a single raised sleeping area, with space underneath for a variety of additional bedroom furniture such as desks, bookcases, wardrobes, drawers, and sofas, or just play space. These are a popular and excellent choice for a small space in order to maximise floor area. The only downside of bedsteads is that they can be pricier than divans, they usually are self-assembly, and storing items underneath them can look messy, although they are available to suit most budgets and there are always stylish solutions to storage problems.
How to Choose a Single Bed Frame
Budget and the intended use for the bed will probably be the main considerations when purchasing a single bed frame. There are many styles available, as summarised below.
| Bedstead | Description |
| --- | --- |
| Traditional | TraditionalComposed of a single unit incorporating a bed frame, legs, and headboard. The mattress sits on wooden slats within the frame. |
| Day bed | This one-sided single bed frame can be used as a bed or seating area. |
| Four-poster bed | This beautiful bed frame makes a dramatic addition to a bedroom and can be decorated with drapes, hung from the canopy above the bed. |
| Sleigh bed | These beds are solid wooden or leather constructions with a high headboard and footboard. |
| Bunk beds | The classic stacked single beds. |
| Mid sleeper beds | Favourites with children and teens, these beds incorporate a raised sleeping platform and additional accessories, such as desks and cupboards. High sleepers are the height of a top bunk bed, whereas a mid sleeper is slightly lower, and suitable for young children. |
| Trundle | Used as an occasional bed, trundles are stored underneath single bed frames and are on castors so that they can be pulled out when required. |
| | Description |
| --- | --- |
| | The base contains springs and is soft to the touch. This is a more expensive option, but has extra comfort. The mattress sits directly on the top. |
| Platform-topped | The base is hard on the top, making it a firmer option. It is a good budget choice. The mattress sits directly on the top. |
| Storage | Storage beds have hidden storage either ottoman-style under the base or in pull out drawers |
Finding a Single Bed Frame on eBay
On the eBay home page, select Home & Garden.. Hover over the words Furniture & Living in the left hand menu, then click on to Beds & Mattresses. Use the search bar at the top of this page to enter exact details about the single bed frame that is required. For example, if the intended item is a single four-poster metal bed, search for "single metal four-poster" The search can be further refined by selecting various criteria, such as price range, brand and condition, from the left hand menu. This should allow the desired single bed frame to be found.
Conclusion
No matter which kind of single bed frame is desired, there is a huge variety on offer. eBay is the ideal search tool for finding the perfect combination of style and budget. It can be used to browse all of the available options and once the use, style, and construction of the single bed frame has been decided, the filtering tools enable accurate matching between the desire and the product.