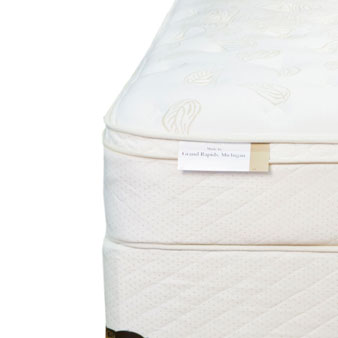 Deciding on what type of bed to buy for kids can be quite daunting. The options are many, but so are the opinions of friends and relatives. Their advice regarding does and don'ts can be helpful, but it can also cause the whole exercise to become one of confusion and perhaps even apprehension. A child's bedroom should be the perfect sleep environment as well as a place they feel is their own domain. Decor is, therefore, important and with the bed being the focal point of the bedroom, it becomes an important decision to make.
Why a Single bed?
Many parents argue that buying a full-size bed for a growing child makes good financial sense, yet a large and unused sleeping surface may cause a child to lose that sense of cosiness and comfort that is associated with being tucked in snugly. A single bed provides all the space a child needs for a peaceful night's sleep and it can continue to provide this into the early teenage years. For the younger child, it also removes any risk of falling from an upper bunk bed. Single beds for kids can be as space-saving as the bunk variety and provide just as easily for that occasional sleepover or family visit. The wide range of single beds available makes it the perfect choice for any circumstance.
Which Single is Best?
The choice of bed depends largely on the dimensions of the child's bedroom and whether it is intended to accommodate a single child or more. On average, single beds measure approximately 36" x 75". Unless circumstances dictate otherwise, there should be enough floor space left to accommodate other furnishings such as a toy box or chest-of-drawers and a small play area. Choosing a single bed that has built-in storage space can alleviate many space concerns. Some have deep drawers underneath that are almost the size of the bed itself which could be used to store toys when the child is little and clothes, shoes, those secret journals, and whatever else the older child deems out of bounds to parents as they develop. As the child grows, so will their need for space and so possibly also the occasions for a sleep-over. This should be considered when choosing which style of single bed to purchase. A trundle bed is ideal under these circumstances and provides even greater flexibility. This bed has an under bed which is on castors for ease of movement. Although it is obviously slightly smaller in size, it is still completely adequate for the average young teen. Most of these trundles come without a mattress and if the bed is only to be used occasionally, then it can serve the same purpose as the single model with the storage drawer underneath. If a mattress is purchased in anticipation of guests, it can always be placed on top of, or underneath the upper bed mattress so as not to create a storage problem and then simply moved onto the lower bed when required. The material from which the bed is manufactured is also a consideration.
What Material to Choose
Given the number of options available, it makes sense to find out a bit about each one before reaching the final decision.
Wood
Wood has traditionally been the most popular choice when selecting furniture and it is true of the choice regarding beds. The natural wood look is adaptable to any decorating style from contemporary to country, and it is perfect for the more formal decor. It also exudes warmth which creates a feeling of security and comfort vital to a sleep setting. Wood is also the least likely material to become unfashionable as time has proved. A solid wood bed can be a lifetime investment and depending on craftsmanship could be cherished by many future generations.
Metal
Metal beds are certainly durable, although they lack some of the flexibility regarding decor that is afforded by wooden beds. A more formal country look still favours wood, although in general, in the case of kid's beds this would probably not be too great a concern. Metal beds may be very plain in design or have a complex and very ornate style, and are, therefore, popular for both boys and girls.
Upholstered Fabrics
Upholstered fabrics may provide a degree of comfort, but are probably the least suitable for smaller children's beds. Occasional grubby hands or a spillage of drinks could ruin the look of the fabric and, as any parent of a small child will know, it is almost impossible to avoid such incidents.
Themed Beds
Giving a child some say in deciding the style of single bed to be purchased can create a sense of personal ownership of at least one room in the home which may encourage a desire to care for its appearance, but it can also be tricky. Children have notoriously short attention spans and this stretches to whatever they may consider a must have item at any particular time. If a parent's plan is for the bed to be used for a long period of time, then it is definitely worth considering other options. The single bed that mimics a race car right down to the decals and flashing head lights, or the adorable princess bed that holds the secret of true beauty sleep may be considered by a child to be absolutely vital to their achieving a true state of happiness. However, in a few years that same bed can be seen as a dire threat to their all-important social image as they begin to distance themselves from childish things. Even a very young child will constantly be changing loyalties and affections regarding popular fictional characters and expect their bedroom to reflect these changes. It is far better to stick to the basic single bed and dress it up in bedding that proclaims the child's current obsession if the family's finances are to be protected. Parents should also be wary of themed single beds that could have a few safety issues with regard to toddlers or younger children. Some parents have raised concerns about the plastic overhangs on some models of the car bed that could perhaps pose risks.
The Shared Bedroom
Where bedrooms are shared by siblings, the single bed is the most viable option if some individuality is to be encouraged and maintained. Again depending on the bedroom's dimensions, it can be creatively divided by a simple screen and with the aid of furnishings and bedding reflect the individual personalities of the children as well as the fictional heroes who currently have them enthralled. It therefore still creates for them a space of their own which is very difficult to achieve with the bunk-bed option. This is also where the storage single bed can make a huge difference to available space. If two single trundle beds are decided on, then double the available sleeping accommodation is provided for use by occasional visitors.
Finding Single beds on eBay
To find single beds on eBay is as simple as going to the home page and opening the All Categories tab. Select Home & Garden followed by Furnishings and finally Beds & Mattresses. The search can be refined by entering a particular item in the Search tab.
Conclusion
A good night's sleep is essential to a child's well-being and this should be the primary concern when purchasing a bed. It is important to note that most single beds do not come with a mattress so that this will have to be purchased separately. Mattresses should be firm and comfortable. A good, sturdy and safe single bed combined with a suitable mattress will help to ensure that a child gets the required amount of undisturbed and restful sleep. It is also advisable to check out a product thoroughly for safety features before purchasing. eBay is a great way to browse current trends and the availability of desired items. The variety of items on offer is sure to satisfy all needs and online browsing is a convenient way of allowing a child some participation in choosing.