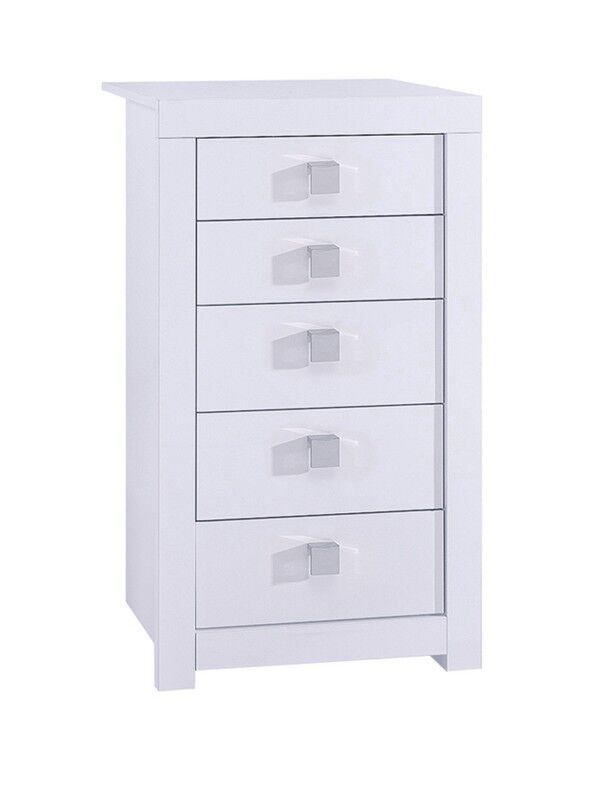 The chest of drawers is a common piece of bedroom furniture. A typical chest of drawers is used to store clothes that do not need to be hung. There are even chest of drawers designed specifically for trinkets and miscellaneous objects. Chest of drawers come in a multitude of shapes and sizes, from as small as two-drawer chests to chests with an unlimited number of drawers.
Before making any purchase, a consumer needs to make a list of everything that is to be stored in the chest. By doing this, you will gain an understanding of what size chest you need and how big the drawers need to be. Drawer sizes can be large and deep for storing items like jumpers and linen or small for storing trinkets and accessories. Measure the space for the chest of drawers to make sure there is enough room for all of the drawers to be completely open.
A typical chest of drawers is wide and short opposed to a tall style, which is tall and narrow. A small chest of drawers is quite a useful piece of furniture, and it is made from a variety of different materials. However, it is most commonly made from wood. When looking for a chest of drawers for the bedroom, the buyer should consider the style, construction, cost, and sizing in order to find a good quality piece of furniture that enhances the overall décor.
Chest of Drawers Styles
To match the existing decor of the room, it is important to remember that not all the wood in the room has to be the same colour. Give one piece of furniture the starring role in the room and surround it with contrasting colours. To choose the best contrasting colours, look at the grain of wood and note what tones it has. Some woods have red earthy tones while others have dark chocolate brown tones. Match the furniture to the tones in the wood.
To pull this look off, the room needs to be balanced, and to achieve this balance, make sure the same colours are on both sides of the room with the contrasting colour in the middle. For example, a pine chest of drawers adds a warm, rustic charm to a room, solid oak chests have a more contemporary look, and a painted chest of drawers creates a brighter, louder look. Determine what look you want when purchasing a small chest of drawers so that it can produce the effect you want.
Early Styles
The very first chest of drawers were travelling chests with drawers in the bottom. As this was such a convenient item, it transitioned into what we know a chest of drawers to be today. Traditionally, chests would have three long drawers on the bottom and two smaller drawers on top arranged side by side. These chests would have been used to store a family's winter clothes.
Contemporary
The contemporary chest of drawers can be made out of everything from wood, wrought iron, or copper to plastic, bamboo, and various other materials. They can be in the traditional styling or be completely unique and original. They can be rounded, curved for a dramatic effect, or typically square or rectangular in shape. There are jewellery chests that commonly have small drawers and decorative legs. Some small chests of drawers commonly serve as a bedside table as well as being a great storage unit. Cheaper chests are made from the alternative materials like plastic and bamboo.
Construction
Regardless of the size of the small chest of drawers or the material it is made from, the construction quality affects the functionality and durability of the product. The majority of chests are made from wood, and there are some easy ways for a consumer to test the build quality. Always make sure the joints are clean with no excess glue protruding from the joints. There should be no staples or visible nails in the joints of wooden furniture, and the method used to join the wood should be tongue in groove or mortise and tenon.
To help determine the construction quality, ask for photos of the joints. With the correct joining methods, a chest can last a lifetime. A well-constructed product is as polished and well-constructed in inconspicuous areas as it is in highly visible areas. If the chest of drawers is not parallel to the floor or if it rocks or squeaks when leaned on, then it is poorly constructed and cannot stand the test of time.
Sanding and Staining Wood
The sanding and staining of the wood is imperative to a decent finish. First, the wood should be sanded with the grain not against the grain. If the wood appears to have dark lines or scratches across the surface, then it has been incorrectly sanded. This can be rectified, but it can be expensive as the chest will need to be sanded back to bare wood and re-stained. When it comes to the stain, it should enhance the wood's natural beauty. A high-quality finish should have an even finish with no dark or light spots on the chest.
Finish
There are only two types of finish for wooden furniture: high gloss and matte. A perfect finish is smooth and free from any defects like bubbles or dust particles. If a chest has been properly finished, it has a depth and richness to it that only comes from quality workmanship.
Chest of Drawers Cost and Materials
A good quality, modern or antique small chest of drawers can be expensive. The cost is worth it if it means the product only need to be replaced if your tastes change. Hardwood products are the most expensive and the longer lasting. Hardwoods are walnut, oak, and mahogany. Softwoods are far cheaper, but they do damage more easily. The most common softwoods are pine and fir. There are also products made from engineered wood. This is man-made wood that is sturdy and strong but can sometimes be more expensive than a hardwood. Bamboo and plastic are the cheapest options, but again, products made from these two materials often are not as durable as the other materials.
Chest of Drawers Sizing
What is small? Does small mean small all around or just short? These are two very good questions to consider before buying a "small" chest of drawers. A small chest of drawers does not have to be small in height and width, which is what a typical small chest of drawers is. Look at a bedside table; this is what is classified as a small chest of drawers today. It is two drawers high and quite narrow. This is not the only style of small chests. Some are quite long and short, which allows for more than just two drawers; there may be four or six drawers side by side. These chests can come with even more drawers, but depending on how deep the drawer needs to be, four to six is usually the limit.
Finding a Small Chest of Drawers on eBay
Thanks to eBay, consumers now have access to products worldwide. Therefore, if you are looking for a small chest of drawers, you should consider eBay. There is a wide range of quality products on eBay just waiting for the right person to buy them. eBay is a simple site to use and requires learning just a few basic steps. Conduct a word search to display only the product you want to purchase. Research the items thoroughly so you know all the necessary details. Also, research the seller's feedback and see what other people have to say about their experiences with that person.
A couple of other things to consider are delivery and customs. If you want to purchase a particular wooden small chest of drawers, make sure that the wood is allowed into your country before any purchase is made. Secondly, shipping on big items can be quite expensive, so make sure you confirm a shipping price before finalising the deal.
Conclusion
A small chest of drawers comes in a variety of shapes and colours. It is so hard to define what a small chest of drawers is exactly that it really does come down to personal preference. There are no specific measurements for a small chest of drawers. It is commonly used as a bedside table, but this item is much more versatile. It can be short and long, which would make for a perfect entertainment unit, or small in every way with beautifully carved legs and used to hold jewellery.
There are so many great things that can be done with a small chest of drawers that we are only limited by our imaginations. Size and construction are the two key factors when purchasing any furniture. Always measure the space and always check that the product is sound. eBay is a great place to start the search for a small chest of drawers, especially because of it is easy to use and affordable.