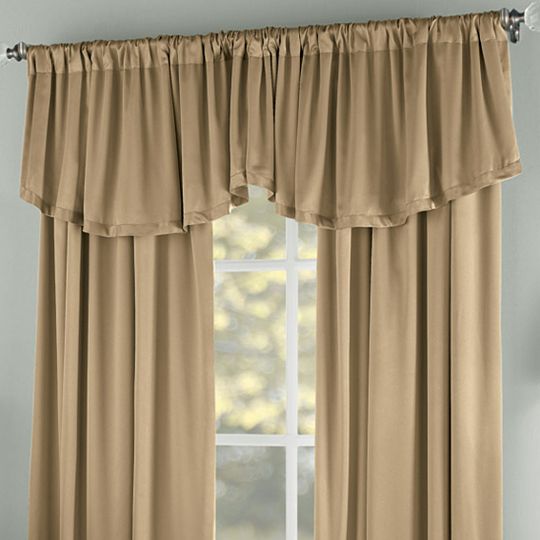 Something as simple as a valance can add to the aesthetic appeal of a window treatment. A curtain valance can dramatically change the look of any bedroom. Valance is the general term for any type of window treatment designed to hang across the top of the window and conceal the curtain rod or blinds; there are several styles available on the market.
The simplest valances are designed with pockets that slip over the rod, and the most elaborate are made of sheers and high-end fabrics. While valances are typically paired with a pre-existing set of drapes, the one exception is a valance designed for a kitchen or bathroom window. Home decorators can purchase ornate sconces to hold and style the valance. Solid coloured valances are ideal for matching patterned draperies or serving as an accent for the dominant hue. Shoppers can find a myriad of valances in every solid colour, size, and style at home good stores and online websites such as eBay.
How to Choose a Solid Coloured Valance
Finding the right solid coloured valance involves matching it with the room's entire decor. When buying a valance for a bedroom, in addition to the curtains, decorators must take into account the flooring, walls, furniture, and bedspread. Buyers should find out if their already hanging drapes have coordinating valances. A solid coloured valance is an easy way to tone down patterned curtains. Choosing a neutral coloured valance that obscures bold panels can take the window treatment from loud to luxurious. White and light coloured valances are also used to brighten up the bedroom since lighter materials let more sunlight through. Dark coloured valances, such as brown, navy, or red, on the contrary, are excellent for keeping out exterior lights and offer more privacy.
A solid coloured valance should stay within the same colour scheme as the rest of the furnishings. Homeowners should shy away from mixing warm and cool colours in the same room; instead, they should stick with complementary and pre-existing patterns. In addition to matching colours, buyers should also consider what type of fabric they need. Some valances are made of thick, starchy fabrics like wool and some cotton blends, which maintain their shape over time; others are made of soft, easy to manipulate materials, such as sheers and linen. When choosing the fabric for a solid coloured valance, one should also consider long-term care and maintenance. Some valances can be thrown in the washing machine and dryer without consequence; others have special care instructions. Consumers should read the care instructions before purchasing a valance.
Another crucial step is measuring the area the valance will hang. Decorators can measure the length of the curtain rod or the width of the window to buy the right sized valance. If using the width of the window, shoppers should add on another few inches to their measurement. Most premanufactured valances can fit a range of window sizes, but cornices are often custom built and measure for specific window sizes. Additionally, decorators should know how much fabric should hang down from each side. While some styles of valances have no excess material, others have a few inches to several feet of fabric hanging from the top of the treatment. Sconces are often mounted to the wall to support and enhance the look of a valance; they are typically metal and are available in an array of lavish styles and finishes.
Styles of Valances
Valances modify the look of window treatments, and the style needed to complete the décor depends on the pre-existing drapes. While some kinds are designed to disguise and mask curtain rods, others are used purely to enhance the look of the bedroom. Below are descriptions of the several types of valances.
| Style | Description |
| --- | --- |
| Ascot | Hanging valance with one or more triangular points; ends of the points often are adorned with tassels or other decorative accents; made from thick, starchy materials that allow them to hold their shape |
| Balloon | Made from lightweight materials; bunched to make it look like it is inflated |
| Cornice | Known also as a pelmet valance; does not have the typical hanging or draped look; box-shaped panel that wraps around the outermost part of the curtains; most are covered in a thick fabric and foam, but some are simply wood panels decoratively carved |
| Crenellated | Similar to flat ones; have signature hemline that resembles the ridges of a castle; requires thicker fabric to hold its shape. |
| Flat | Also referred to as tailored valances; rectangular; no fancy edges or draping |
| Rod Pocket | Often called a tab valance; short curtains that fit over another rod and placed above the original to hide it; typically simple to install and require little effort to arrange |
| | Long pieces of fabric that are draped and wrapped over the curtain rod; can be short to cover the rod or long and flowing to add to the curtains |
| | Also called a festoon or jabot; draped curtain that fits over the curtain rod; can be made from a single piece of fabric or several; end look is a rounded, hanging swoop |
There is no one right valance for everyone; finding a style of valance that complements the bedroom involves choosing the appropriate colour and considering the overall look. Hanging valances, such as ascots, balloons, and swag, add an element of elegance. Cornices and flats are more contemporary valance styles.
Hanging Valances
Besides knowing what style valance can be the best match for the bedroom, decorators must also know how the valance might be secured to the wall. While all valances are designed to be used in conjunction with curtains, blinds, and shades, there are several methods and designs for hanging one. There are three main ways to hang a valance, and the sections below offer explanations of each.
Attached Valance
An attached valance refers to a panel and valance combination sewn together. It is the simplest and often the least expensive option when searching for a valance. Attached valances only need a single curtain rod to hang the entire treatment.
Valance with Independent Rod
Most valances are hung independently of the panels, whether it is with two separate rods or a double curtain rod. The rod that extends farther is the one that holds the valance, and the shorter one is for the panels. Using an independent rod, as opposed to an attached valance, gives the window treatment more depth.
Mounted Valance
Mounted valances are typically only used with cornices; boards are covered in foam and fabric or made from intricately carved wood. It is the most difficult to install as it takes time to measure, cut, and design, but the end result is well worth the effort. This type of valance can be mounted around the window, inside the frame, and even to the ceiling.
How to Buy a Solid Colour Valance on eBay
Take measurements and have an idea of the style and colour valance you want before starting your search on eBay. Once you have an idea of what you want, type "solid colour valance" into the search bar to see a comprehensive list of eBay's items. If you do not see exactly what you need in the auctions, check with the individual seller shops. Remember to include keywords to limit the scope of your search. "Red valance" is a good search; "red scarf valance" is even more precise. Check out eBay's Search Tips page to additional tips to optimise your search.
eBay is designed to allow buyers to custom sort results based on what matters to them. If you are looking for an inexpensive option for covering unsightly curtain rods, arrange valances by lowest to highest price; eBay adds in shipping costs to make sure their list is accurate. Customers can also list valances by highest to lowest price, distance from seller, and time left in auction.
Once you have found a valance that fits the treatment and matches your décor, read the entire listing, including the terms and conditions, to understand the content. Should any part of the listing seem unclear, feel free to ask a question to the seller. The last piece of information to collect is on the seller. Check into the seller's eBay history, paying close attention to his or her approval rating and feedback, and only buy from sellers with high ratings and positive comments.
Conclusion
A solid coloured valance is a decorator's trick to pull together and complete the look of a bedroom. Buyers should know about the various types of valances to make an informed purchase. Swags typically have scalloped edges, and the fabric hangs down from both ends. Flat valances have moderate, squared edges; shoppers looking for more volume or text should opt for a billowing balloon valance. The rod pocket is another volume enhancing style of valance; hang one on a curtain rod and mount it in front of the first rod to give depth to the window treatment. Scarfs and ascots achieve similar looks. While the scarf is a bunch of fabric draped across the rod, the ascot is a triangular piece of hanging fabric. The cornice is the most unusual type of valance. Instead of hanging draped material, a fabric covered box is secured and mounted in front of the curtains. Knowing the aforementioned information equips the buyer with the necessary knowledge to find the perfect valance for the bedroom. Home goods stores and online auctions such as eBay have extensive collection of solid coloured valances available to shoppers.