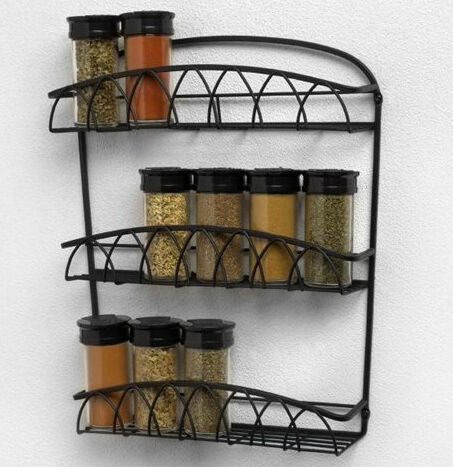 Busy cooks are often dismayed at how rapidly spice jars seem to proliferate and how scattered they seem to get, all ending up in different cupboards, on different shelves and different work surfaces. But the humble spice rack can really come to the rescue. It will put paid to this particular clutter nuisance in a jiffy, transforming an irritation into a pleasure. Instead of hunting frantically through cupboards draws and shelves to find the cayenne or the cumin, cooks can simply reach for the spice rack where the entire collection can be kept.
Spices, of course, have been used by human beings for millennia, initially for medicinal treatments and in various religious rituals, but eventually for culinary purpose, too. Experts aren't absolutely certain, but the consensus among historians is that the first spice rack was probably invented around a thousand years ago. It appears that wandering spice containers were also infuriating cooks many centuries ago. Today, spice racks come in a vast range of different styles, from multiple wall-mounted designs to counter-top carousels, linear racks, and lazy-Susan type versions, and eBay features pretty well all of them. Here's a quick guide to buying a spice rack on eBay.
What Type of Spice Rack?
Given the kaleidoscopic range of styles on offer, it may seem a little bewildering to pinpoint exactly which one to go for. One simple point to consider, though, is how busy a cook the customer is.
Wall-mounted Racks
Individuals that cook meals in their kitchens more or less every day and use spices for flavouring frequently might be best suited to a wall-mounted design – the spices will all be immediately and easily accessible (and just as easily returnable to their new home).
Worktop and Shelf-top Racks: Carousels and Lazy Susan Styles
Cooks who use spices more occasionally might prefer to dispense with the bother of drilling holes in walls and screwing racks into place and opt for a worktop version instead. Most carousel, Ferris-wheel and Lazy Susan racks are designed to rotate freely, making visibility and selection a doddle. Many are also colourful and aesthetically pleasing to look at; they may have a utilitarian purpose, but they can also make stylishly attractive adornments to the kitchen. In addition, they all make the place look a good deal tidier.
Worktop and Shelf-top Racks: Linear designs
These take the form of a straight strip of wood, metal, or plastic, designed to cradle spice jars that can easily be perched on a worktop against the wall or on a shelf. As they tend to be single tier designs (adding more tiers makes them more likely to topple) they have more limited space for storing multiple spice jars, but may be suitable for the occasional cook who uses a relatively small range of familiar spices. eBay's search tools will help to pinpoint the spice rack that is most suited to each individual customer. To begin with, it categorises racks into two broad groups – spice racks with jars, and spice racks only, although the Not Specified category includes racks as well as spices and jars.
Buying Spice Racks on eBay
The first step for new visitors to eBay is to sign up for an account. It's very simple and straightforward and will only take a few moments. Simply visit the homepage, click on the blue Register link at the top and fill in the short online form. Then begin exploring and bidding.
Researching Spice Racks on eBay
Customers who have a clear idea of the kind of rack they want probably need do more than enter a short description into the search box. Those who are still making up their minds might prefer to do a little product research before choosing. eBay's search capabilities simplify product research, making it more of a pleasure than a chore. Customers can specify features and characteristics they would like to include in a prospective purchase by selecting from a list of product characteristics on the left-hand side of the page. Individuals may prefer a wooden spice rack or a chrome or stainless steel one, or have a particular brand or colour in mind. All of these can be selected from the product specification list to focus the search. Once the best listings have been located, it is worth checking the asking price against current market values before proceeding to a bid or a purchase. eBay's sellers do, though, learn very rapidly that it is wisest to ask for reasonable prices if they want to make a successful sale (which they all do).
Ask a Question (or Several)
Visitors to eBay will notice that the product descriptions appearing on listings pages are very brief, however, if customers have queries about the product they don't have to make a gamble and hope for the best. Instead they can put questions directly to the seller via the "Ask a Question" link on the product description page. Sellers on eBay are accustomed to this feature and are happy to respond to queries, and with good reason. There is not a lot to be gained by sending off goods that don't actually meet customer requirements. Instead of the successful sale they were hoping for, they end up with disgruntled customers returning the product, asking for a refund and liable to give negative feedback comments about the vendor for all to see on eBay. The Ask a Question helps ensure than any successful bid or purchase ends up being a "win-win" scenario for both buyer and seller.
Read a Seller's Customer Feedback
eBay sellers value satisfied customers. But customers like to know that they are dealing with a competent and reliable vendor. On eBay, they can check for themselves. Beside the seller's name on the product listing is a number enclosed between brackets. This refers to the number of customer feedback comments the seller has accrued so far. A quick review of these remarks will give customers a good picture of the seller's reputation and reliability.
Look for Top-Rated Sellers
Sellers who have made large numbers of successful transactions and have handled customer issues swiftly and efficiently are awarded "Top-rated Seller" status – eBay's equivalent of the quality kite mark. Visitors who see the "gold rosette" icon depicting Top-rated Seller status can rest assured that they are dealing with tried and tested vendors who have amply proved their reliability, customer service credentials, and efficiency.
Keeping Bids Realistic on eBay
Finding an item that fits the bill on eBay is just the first part of the process. If it is an auction item, prospective buyers will need to make a bid. Sellers set a "reserve price" on the products they put up for sale, a minimum value that bidders must at least meet to win the auction. Popular and sought-after items often generate a lot of bidding. But to help people to make realistic bids, as opposed to getting carried away in the heat of the auction and spending way over the odds, or not bidding enough when others are competing, eBay allows bidders to set an upper limit to their spending in any auction. A keen bidder will probably start with an opening bid above the reserve price, but will also need to maintain a premium position throughout the auction by outbidding rivals. By setting a maximum limit (based on affordability and weighing up extra costs for the seller such as postage and packing or delivery/courier fees), customers can sit back and let eBay take over. The bid will be automatically increased by eBay in increments depending on other bids, stopping when the auction closes. Alternatively, if a rival bid exceeds the customer's upper limit, eBay automatically stops bidding. For those who remain wary about bidding, it may be worth trying eBay's other options such as Best Offer or Buy it Now.
Find Spice Racks on eBay
Because these are such kitchen-specific products, there is little danger that they will generate irrelevant search results when customers make a simple entry such as "spice racks" in the search box. Some products (plastic containers, for example) need more focussed searching, because they are made in different ways and sizes to suit widely different purposes: someone looking for kitchen plastic containers will also find lots of office or garden varieties in their search. But it is possible to refine the search for spice racks further by scanning through the criteria listed in the column on the left side of the page. Customers can specify the brand, the material (e.g., wood, stainless steel, chrome), the price range and even the colour by ticking the little boxes beneath each of these headings. Customers can choose to buy spice racks from the UK, the EU, or worldwide and can also specify the type of seller they'd like to deal with (private, business or Top-rated)
Conclusion
Looking for spice racks is very easy at eBay thanks to the site's advanced search facilities, and there is no danger of paying over the odds in auctions, courtesy of eBay's automated bidding technology.