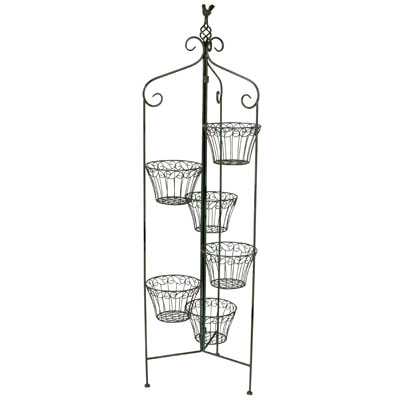 Stands are used to support, organise, and store a wide range of items. They can be used to display and organise newspapers, magazines, DVDs and CDs, or for storing outerwear in order to keep an entryway tidy. Stands are practical pieces of furniture that can help keep a space neat and organised. Since they are available in countless styles and designs, stands are also decorative additions to a property that can help define a room's character.
About Stands
A stand is a rack, base, or piece of furniture used for storing or holding an item or a number of items. They may also be used to display or support an item, such as a television, picture or musical instrument. Stands are used to store a range of items, from magazines and CDs to clothes and shoes. They are also helpful in organising various household items in kitchens, lounges, bedrooms, and other spaces. They often are low tables, sometimes having drawers or cabinets for additional storage. Stands are generally free-standing furniture and not mounted to a wall or other surface
Choosing a Stand
Choosing a stand depends on a number of factors, including the item or items that the piece of furniture will be used to store or support. Selecting the right stand will also be influenced by the storage needs or size of the object that will be supported. For example, a buyer with a large CD or DVD collection requires a large multimedia stand. Similarly, the size of a television will influence the dimensions of the TV stand selected. The availability of space in the room where a stand will be located also influences the type of unit that is purchased. Other considerations when buying a stand include the style, material, and price of the unit.
Stands Styles
Stands are available in a broad range of styles. A stand's style and design is generally influenced by its purpose. A multimedia stand is often modern and contemporary, while a nightstand may be more rustic and traditional. Stands also complement various styles of home décor and help achieve design objectives and visions. The following table contrasts the common styles used for stands.
| Style | Description |
| --- | --- |
| Traditional | Traditional stands are formal and classic. They feature a rustic, antique heritage or period looks. Designs are often influenced by specific periods, such as Victorian or Gothic. Common features include carved wood, dark oil-rubbed or polished metal such as brass or bronze, fabric with decorative patterns, and elaborate scrolls |
| Transitional | Transitional stands blend traditional and contemporary designs to create a casual look. Not as formal as traditional furniture, transitional stands include more modern materials such as plastic, chrome, or stainless steel. They also feature contemporary designs, including simple and understated lines. |
| Contemporary | Contemporary or modern stands feature clean and sophisticated lines. They typically have an understated design with a futuristic or minimalist feel. Contemporary stands may also be experimental, with elaborate and creative designs that create curious and eye-catching centre-pieces. |
Types of Stands
The type of stand that a buyer chooses typically depends on the item it will be used for and the amount of storage needed in the household. The following section provides additional information on the various types of stands.
Entertainment and Technology Stands
Certain stands are designed to support specific types of technology or devices, such as televisions and telephones. The table below provides a comparison of common types of entertainment or technology stands.
| Type | Description |
| --- | --- |
| Television | A television or TV stand is a low table used to support a television. They may have shelving, drawers, or cabinets for storage. More advanced TV stands may also have an integrated mount to elevate and support a television. |
| Entertainment | Large TV or television stands are also referred to as an entertainment stand or centre. In addition to supporting a television, these larger stands are used for other entertainment multimedia devices, such as a CD player, a DVD paper, audio speakers, or a gaming console. |
| Media | Media or multimedia towers and stands are used for DVDs, CDs and other media. They may also be known as a DVD stand, CD stand or rack, or audio rack. |
| Telephone | These stands are used for supporting telephones and answering machines. Telephone stands are small tables that may also feature one or more shelves, which are used for storing a phone book and other items. |
| Magazine | A magazine stand or rack is used to store magazines and newspapers. They are also referred to as newspaper racks and stands. |
Clothing and Accessory Stands
Clothing and accessory stands are used to store and arrange personal belongings, including clothing and outerwear such as coats and shoes. The following table provides information on popular types of clothing stands.
| Type | Description |
| --- | --- |
| Coat | A coat stand is used to hang outwear and other items, including coats, scarves, hats, and umbrellas. They are available in a variety of configurations, including units with built-in storage such as storage benches and shelving. They are also known as a coat rack or hall tree. |
| Umbrella | An umbrella stand is a case used to store umbrellas. They are also used for storing other items, such as walking sticks or canes. Umbrella stands may also be combined with a built-in coat stand. |
| Shoe | A shoe stand or rack is used to store footwear. They are typically placed in a doorway or entryway. Certain shoe stands are designed as a bench, which can be used to sit down. They may also be accompanied by a matching coat stand or rack. |
Table Stands
Table stands support a number of decorative items, including flower pots and plants. They are also found alongside beds and other areas of a home. The table below outlines common types of table stands.
| Type | Description |
| --- | --- |
| Nightstand | Nightstands are also known as night tables and bedside tables. They are generally small and low tables that may have a drawer and cabinet. Traditionally used to store a camber pot, modern nightstands are used to support small and convenient items that might be needed overnight. They typically are used for a lamp, alarm clock or clock, or a phone. Nightstands are also used to store books and medication. |
| Plant | A plant stand is a small table used to place a plant or flower pot for decorative purposes. Certain plant stands also feature built-in shelves, drawers, or cabinets for storing small household items. |
| Corner | Similar to a plant stand, corner stands are typically small and narrow tables that support decorative items. They are placed in a corner where two walls meet. Some TV stands are also designed as corner stands. Examples of items commonly placed on corner stands include flowers, pictures, and pottery. |
Stand Materials
The design and style of a stand often influences the materials used in its construction. Contemporary and modern designs often feature black metal and high gloss glass, while wood is typically used to create traditional pieces. The decor of a room also influences a buyer's choice in what material a stand is made from, in addition to the amount of space available in the spot where the stand will be located. Wood stands are often traditional or classic in style. They generally create a formal look, but may also have a rustic and country feel. Wood stands may also have antique and traditional design elements, such as decorative carving with scrolls and other period designs. Metal stands are made of a variety of metals and metal alloys, particularly steel and stainless steel. Other commonly used metal and metal alloys include chrome and aluminium, although stands may also be made from brass, bronze, nickel, and iron. Many metal stands combine materials. For example, a frame may be metal while plastic, wood, or glass are used for shelving that supports a TV or other items.
Conclusion
From creating a multimedia centre in a lounge to keeping outwear neatly stored, stands serve a number of functions. In addition to supporting, displaying, and storing any number of items, a stand also helps to enhance a space and complement the decor of a room. Since the type of stand often depends on the item it will be used to support, display, or store, researching the various types of stands helps buyers determine that appropriate piece. It also helps determine the most economical choice that matches a buyer's budget. Choosing the right stand will also depend on the size of the item that will be supported, as well as a buyer's storage needs.