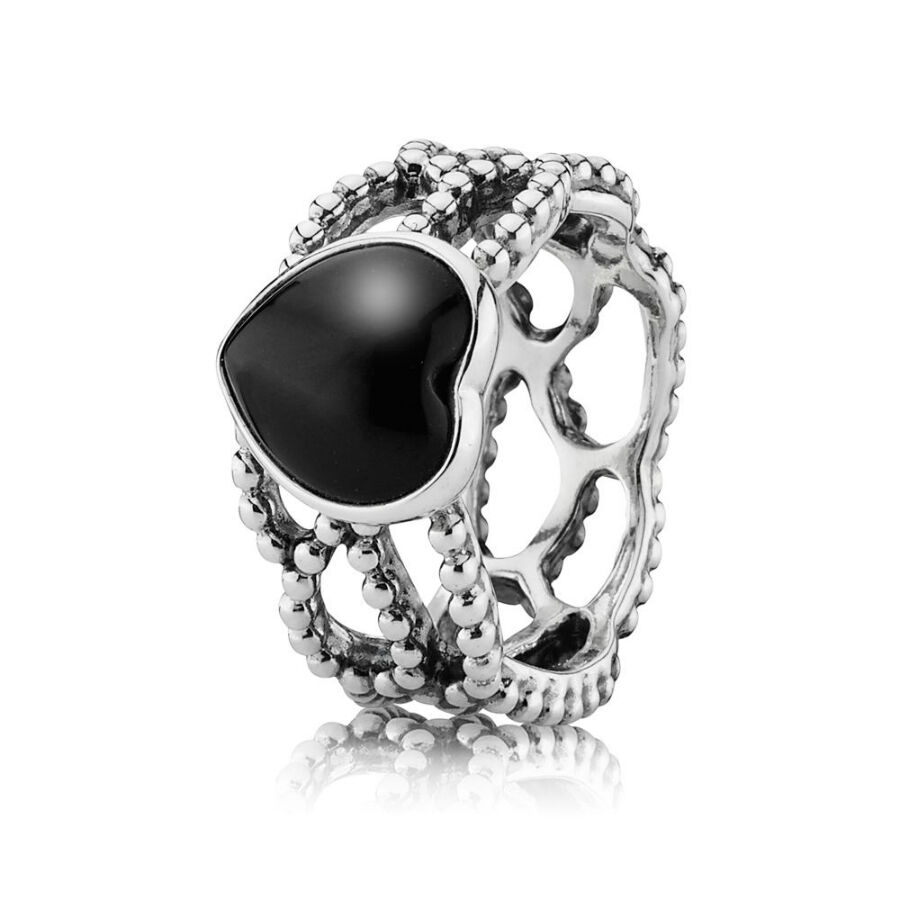 Statement rings are trendy, bold coloured, chunky rings that do not go unnoticed. These rings are large and fancy, and add the finishing touch to an outfit for a party, event, or a night out. They are adorned with large stones or gems, charms, and colour. Prices of statement rings vary, but there are lots of fashionable statement rings available for a good price. Some different varieties of statement rings include vintage rings, oversized rings, double finger rings, cocktail rings, and art deco rings. Statement rings are made of a variety of different types of materials, which impacts their price and worth. Statement rings are not typically purchased as investment jewellery, but rather to match a particular outfit or to complete a specific desired style. It is still important to know the types, and materials used to create statement rings. Another very important factor is the size of the ring. Knowledge of basic ring sizes is important when selecting the appropriate ring.
Statement rings are available in department stores, jewellery stores, second hand stores, and online. eBay has a large selection of statement rings for many different occasions.
Types of Statement Rings
Although there are some similarities between statement rings, including their large size and bold statement, there are many types that provide the wearer with different styles and purpose. When picking out a statement ring, consider the variety of statement ring types. Also consider some important styling tips in regards to statement rings. Statement rings are called statement rings because of their large dominating presence on the wearer's hand, and because of the bold statement they make. It is important to match the ring with the outfit and other jewellery to avoid a fashion clash. Some fun, popular statement ring options include bold colours, jewelled animals, asymmetrical large shapes, and big, bright flowers. Statement rings come in both costume jewellery and fine jewellery, making them a popular option for a variety of settings.
Vintage Rings
Vintage rings are often previously owned, or can simply be a throwback to a previous era. The time period that they reference can be either a century or mere decades past. Vintage rings encompass so many years and eras that their style range varies greatly. There are vintage rings for nearly every taste preference, with lots of options.
Oversized Rings
Oversized rings wrap around one finger, but cover multiple fingers and part of the hand. They are large and typically bold in colour. Oversized rings are large in comparison to other statement rings.
Double Finger Rings
A double finger ring fits over two fingers, and is connected. The ring material can vary, and the design of the ring can as well. Double finger rings sometimes include small figurines or symbols, and they can be made of wood, metal, or other materials. A popular double finger ring is one that incorporates animals or moustaches.
Cocktail Rings
A cocktail ring is generally an oversized ring with faux, precious or semi-precious stones. Cocktail rings first became popular in the 1930s, and have withstood the test of time. They were initially worn to cocktail parties; however, although called cocktail rings, they are now worn for many different occasions.
Although statement rings come in many types, they are consistent in that they are large, bold, and stand apart from other jewellery pieces.
Common Statement Ring Materials
Statement rings are made up of lots of different ring materials. Some of these are brass, stainless steel, silver, gold, and various other alloys as well as plastic, and wood. The stones or designs are also made of a variety of materials, including gemstones, plastic, and rhinestones.
Wood is sometimes used for statement rings that have a more natural look. Some woods expand or shrink, and sometimes crack, so it is best to research the type of wood before purchasing. Plastic is a man-made material is used in some statement rings. Plastic is inexpensive and keeps an outfit more fun and casual. Brass is an alloy of copper and zinc, and is used frequently because of its similar appearance to gold, and because it does not cost a lot. Stainless steel rings are known for their longevity and durability. Stainless steel is also a hypoallergenic material, making it a good option for individuals with skin sensitivities. Silver jewellery is a very popular option for rings and jewellery because of its hardness and durability. Silver is a high quality material, and is much less expensive than gold. Silver is softer, so it is a good option for quality, highly detailed work. Gold is a yellow precious metal that is high quality and typically costs more.
Another factor in the cost of a statement ring is the quality of the stone. Some stones are plastic, while others are semi-precious or precious gemstones. Statement rings are sometimes made out of other materials, as well.
Ring Finger Size
Ring finger size varies a great deal, and wearers must choose the correct size for the most comfortable fit. If the ring is too large, it may fall off and be lost, and if the ring is too tight, it gets stuck on a finger and sometimes cuts off circulation. Below is a table with some of the most frequently found ring sizes. Buyers should be sized to ensure that they buy the right ring. United Kingdom ring sizes are designated by letters. Note that the United Kingdom utilises half-sizes, as well, although they are not displayed in this chart.
| Ring Size (UK) | Ring Size (US) | Diametre (mm) | Circumference (mm) |
| --- | --- | --- | --- |
| J | 4.75 | 15.49 mm | 48.7 mm |
| K | 5.25 | 15.9 mm | 50 mm |
| L | 5.75 | 16.31 mm | 51.2 mm |
| M | 6.25 | 16.71 mm | 52.5 mm |
| N | 6.75 | 17.12 mm | 53.8 mm |
| O | 7.25 | 17.53 mm | 55.1 mm |
| P | 7.75 | 17.93 mm | 56.3 mm |
| Q | 8.25 | 18.34 mm | 57.6 mm |
| R | 8.75 | 18.75 mm | 58.9 mm |
| S | 9.25 | 19.15 mm | 60.2 mm |
| T | 9.75 | 19.56 mm | 61.4 mm |
| U | 10.25 | 19.96 mm | 62.7 mm |
| V | 10.75 | 20.37 | 64 |
| W | 11.25 | 20.78 | 65.3 |
Sizing may differ slightly between manufacturers, so use the above table as a guideline, but double-check the sizing of the ring with the manufacturer's sizing guidelines. Rings that cannot be found in the user's size can be resized by a jeweller.
How to Buy a Statement Ring on eBay
Begin a search for a statement ring on any eBay page by entering "statement ring" into the search box. If you have a general idea of what colour, design, or type of statement ring you want, enter those descriptive keywords into the search box, as well. This narrows down the search results and refines the search to rings that most suit your specifications.
Once you have found one or more items that you like, be sure to read the detailed item descriptions and look over both the specifications and any photographs the seller has supplied. After that, review the seller's information. Read the feedback left by previous buyers over the previous 12 months to see if buyers have been satisfied with the seller's performance. Sellers with a lot of positive feedback are more likely to provide great customer service, prompt shipments, and high quality merchandise than are sellers with a great deal of negative responses on their profiles.
Once you have found the right item, from a seller you are comfortable with, check the seller's other listings for additional items you may be interested in. If other items are combined with the ring in one package, postage costs are sometimes less expensive.
Conclusion
A statement ring is a good finishing touch to an outfit. Statement rings are a popular option to add a pop and get the wearer noticed. Statement rings are larger than average, and often have a bold colour or interesting, intricate design. Some available types of statement rings include vintage rings, oversized rings, cocktail rings, and art deco rings. Popular options include fun symbols like moustaches, peace signs, flowers, or animals. Statement rings are made out of a variety of materials, including stainless steel, silver, gold, wood, plastic, and brass. Different materials impact the price and quality of the ring. There are a lot of different ring sizes available to fit every finger. If a ring is not the proper size, it can be resized by a jeweller. Jewellers specialise in fitting the ring perfectly. It is important to find a ring that is the appropriate size, for if a ring is too small it fits tightly and sometimes gets stuck. If a ring is too large, it easily slides off the finger and can be lost.
Make sure to decide on all these factors and know the proper ring size before purchasing the ring. Statement rings are available in a variety of stores, including department stores, thrift stores, and online jewellery retailers. eBay has a large selection of statement rings available for purchase, in a variety of prices and styles.