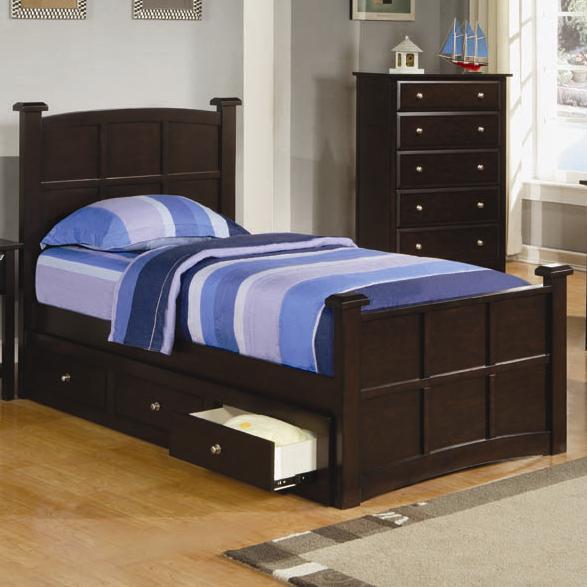 William Murphy invented the first storage bed prototype called the wall bed. This type of bed folded into a wall to maximise the limited space Mr. Murphy had inside of his home. He added storage cabinets on each side of the bed to further increase the amount of open space. His idea did not take off until almost a century later, when manufacturers began customising beds for customers who lived in small apartments or who needed storage beds to open up bedroom spaces. Storage beds grew in popularity as consumers came to understand the benefits of storing clothing, electronic devices, and even personal documents within arm's reach of beds.
Consumers find storage beds in large department shops which dedicate a section to beds and bedding. Bed shops provide an even more fertile ground for storage bed shopping, as these types of shops employ sales professionals which provide accurate measurements of both storage beds and accompanying mattresses. Consumers also shop for storage beds online at the leading auction site, eBay. Before stepping into a bed shop or going online, consumers should first learn about storage beds, storage bed mattresses and bedding, obtaining accurate bed measurements, and a few tips for buying the right storage bed.
What are Storage Beds?
Manufacturers build storage beds to include drawers and/or small cabinets which are underneath the bed frames and mattresses. Some storage beds have hydraulic lifts which provide the additional space. Most storage beds provide easy access to the storage areas, although consumers need to check underneath storage beds before making a buying decision.
Storage beds serve many purposes. Some users keep their clothes in storage bed drawers instead of investing in stand alone dressers. Storing clothes underneath beds not only frees up closet space, it also provides more open space within the bedrooms. Storage beds are also utilised for storing blankets, sheets, duvets, linens, and towels. Some manufacturers create areas underneath the beds which act as shoe racks for low heel shoes. The pace of storage bed innovation gives users virtually unlimited options for storing items underneath their beds.
Storage Bed Mattresses
Despite their unique capability to store personal belongings, the primary purpose of storage beds is to provide users with a comfortable night's sleep. Buying the right mattress does more to ensure restful sleep than any other storage bed buying task. Consumers must consider three factors before purchasing mattresses for their storage beds.
Size
Mattress size is the easiest decision consumers make during the storage bed buying process. Stick with the current mattress if it provides the level of comfort and support that you want in a mattress. However, remember that mattress size must exactly match the dimensions of a storage bed.
Comfort
There is no way to measure mattress comfort levels. Some people prefer super firm mattresses to provide lower back support, while other people enjoy sinking into down mattresses. Mattress comfort is in the eye of the beholder, and it simply requires consumers to lie on mattresses to discern if they provide the level of comfort they seek for their storage beds. Some bed shops allow customers to take mattresses home for a short test period.
Model
Brand name mattresses and storage beds tend to cost more than generic models. However, the extra investment pays consumers back by providing them with longer lasting models. Sealy, Simmons, and Serta represent the most reputable mattress manufacturers, while Sto-A-Way offers first-rate storage bed foundations.
Bedding
The mattress and storage bed foundation are not the only components which provide comfort and support. Consumers need to choose the right bedding to complete their storage bed purchase. Bedding comprises of sheets, blankets, and duvets, which consumers buy for warmth and comfort. Consumers purchase bedding in layers and each bedding layer is a removable and washable part of the bedding.
Manufacturers construct bedding components with cotton, synthetic, or hybrid materials. Consumers who purchase 100 per cent cotton bedding enjoy incomparable comfort and softness. However, pure cotton bedding sometimes wrinkles even if it is washed in a cold cycle. The high breathability of pure cotton bedding more than makes up for its wrinkle potential. 100 per cent cotton bedding absorbs perspiration and immediately expels it into the air. Synthetic bedding, such as polyester, offers wrinkle resistance and higher durability than pure cotton bedding. Synthetic bed sheets, blankets, and duvets do not tear as easily as bedding made with 100 per cent cotton. Hybrid materials provide consumers with a balance between cotton and synthetic material attributes.
UK Mattress and Storage Bed Sizes
The key to buying mattresses for storage beds is to buy the size which exactly matches the dimensions of the beds. Manufacturers typically construct storage beds with raised woodworking that surrounds the perimeter of the bed surface. This means mattresses must slide snugly into the sunken area of a storage beds. Mattresses which are too large do not fit, and mattresses which are too small slide against the interior sections of the beds. The following are the UK sizes for both mattresses and storage beds.
| Bed and Mattress Type | Bed and Mattress Size (cm) | Size equivalent (inches) |
| --- | --- | --- |
| Small Single | Width 75 x Length 190 | 30 x 75 |
| Single | Width 90 x Length 190 | 36 x 75 |
| Small Double | Width 120 x Length 190 | 48 x 75 |
| Double | Width 135 x Length 135 | 54 x 75 |
| King | Width 150 x Length 200 | 60 x 78 |
| Super King | Width 180 x Length 200 | 72 x 78 |
Use a metal tape measurer to obtain an accurate measurement of storage bed and/or mattress dimensions. Most specialty stores which sell beds and bedding employ sales professionals who help consumers buy the right size mattress and storage bed.
How to Buy a Storage Bed
After obtaining accurate mattress and bed measurements, consumers should then write down what storage options they want in storage bed.s Storage beds come in a variety of styles which primarily vary by the size and number of storage compartments. Consumers can expect to pay more for storage beds that contain more storage compartments and storage compartments which are larger in size. Therefore, deciding on what to store in the beds also involves creating a storage bed budget.
Avoid buying second-hand storage beds, especially since the increase in the number of bed bug cases reported over the past few years. Shop at bed specialty shops which carry mint condition, brand name storage beds and mattresses. Consumers can also find mint condition storage beds at discounted prices on eBay. This is due to sellers who bought the wrong size storage bed or sellers who changed their minds about their buying criteria. Manufacturers also offer custom made storage beds that possess amenities which are not available in their regular storage bed lines.
Consumers also have to decide the purpose of buying storage beds. Besides providing storage space for their possessions, there are also other buying considerations. Storage bunk beds are popular amongst college students who need storage in a small dormitory rooms or apartments. This type of storage bed does the best job of maximising limited shared spaces. Storage bunk beds also work for children who share bedrooms. They can store their clothing and other possessions in compartments which are located on their bunk level. Children storage beds come in a wide variety of colours that brighten their bedrooms. Many children use storage bed compartments to store their toys. Consumers may want to buy storage beds for guest rooms, and guest storage beds do not require as many storage compartments as personal storage beds.
Buying a Storage Bed on eBay
Buyers find a wide selection of storage beds on eBay. Simply type a few keywords into eBay's search engine and then navigate through the search result pages until you find a seller who matches your shopping criteria. Type specific keywords to narrow the search results and ensure you find the right type of storage bed. For example, if you type "king size storage beds" or "folding storage beds", you will reduce the amount of time it takes you to find a seller of storage beds. Once you find an eBay seller who meets your buying needs, click the seller's product page to review return guidelines, accepted payment methods, and delivery terms.
Consider buying from eBay's "Top-Rated Sellers". These sellers have established track records for selling high-quality merchandise at reasonable prices.
eBay Stores
Many eBay buyers mistakenly believe eBay is only an auction site. In fact, once you form a business relationship with an eBay seller, inquire about buying directly from that seller's eBay store. Many eBay sellers operate in product niches, such as beds and bedding. For instance, you can buy comforters from the same seller who ran the storage bed auction. Sellers who operate eBay stores often bundle products at discounted prices. You may find an eBay seller who offers a queen size mattress and bedding to fit the mattress for less than if you bought the products separately. Some eBay sellers entice buyers by throwing in a duvet or pillows as part of the final storage bed sale.
Conclusion
The primary reason why consumers buy beds is to have a comfortable place to sleep the night away. This involves buying the right type of mattresses and bedding which enhances the sleeping comfort levels. Consumers also buy beds and mattresses to provide the support required to prevent back and neck pain. However, manufacturers now construct beds and mattresses which not only maximise comfort and support levels, but also maximise the limited space that many consumers have in their homes or apartments.
As the name implies, storage beds offer users drawers and open compartments to store items such as shoes, bath towels, electronic devices, books, and virtually anything else which fits inside of standard dresser drawers. The storage spaces are sometimes constructed into the sides of beds or built into the headboards. Consumers must decide on what size mattresses and storage beds they want before they move on to other buying factors. The mattress and storage bed sizes must exactly match. Then storage bed buyers can decide on the number and size of the storage compartments, which directly impact the price they pay for storage beds. Expect future storage bed designs to include fold out trays for dining and space underneath the beds to store additional items.