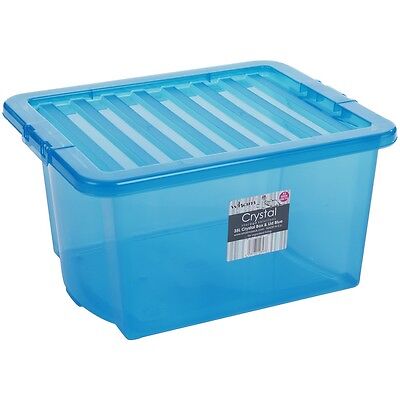 Buying the right storage box with lid to meet individual needs is a pressing issue in many homes. Not only can storage boxes fulfil an essential requirement to keep all sorts of items neat and organised, they can be attractive features in their own right. From small boxes for delicate craft materials to larger boxes for toys and tools, there are many sizes and shapes of storage box available. Boxes may have further useful features such as a lid that clips to the box, providing a secure seal, or a stacking system. Lids fulfil vital requirements to keep items safe and protected from damage as well as being visually appealing, keeping all clutter out of sight.
About Storage Boxes with Lids
Storage boxes with lids have been used since time immemorial both for keeping valuable items safe and as decorative possessions. The ancient Egyptians crafted beautiful wooden jewellery and treasure boxes, while medieval travellers utilised wooden chests with curved leather covered lids to protect against the elements. More unusual types of storage box include exquisitely crafted humidors for cigars and decorative hat boxes. The standard file storage box has its origins in mid 19th century England, when the development of corrugated cardboard meant a sturdier and more robust box could be made. Together with advances in mechanisation and shipping, this meant that cardboard boxes became widely available for transporting and storing glass, ceramics and food produce. Plastic boxes became more popular in the late 20th century as a cheap and practical alternative to traditional materials.
Choosing Storage Boxes with Lids
Storage boxes with lids come in various materials and designs for different uses.
Storage Box Material
The more popular materials include plastic, wood, cardboard, seagrass, bamboo, and steel and are described below.
Plastic
Plastic is a popular and versatile material for storage boxes. It is lightweight, durable, easy to clean and boxes often have snap lids providing a secure seal to protect against damage due to insects or damp. Plastic boxes are ideal for long term storage as well as providing a smart storage system for everyday items. They are often stackable, which can save space in small areas, or designed to next inside each other when not in use. Boxes are often designed to be stored in awkward places, such as underneath beds. Plastic boxes are the ideal container to keep food fresh and hygienically stored. Plastic is also a relatively inexpensive material making this an economic choice. No assembly is required for the standard type of plastic storage box, though larger items may be delivered flatpacked.
Wood
Wooden boxes are valued for their aesthetic appeal, with many beautiful designs to choose from. They range from small boxes for collectibles or everyday items to large chests for duvets, sheets, blankets, and clothing. Wooden storage boxes with lids can be expensive, but they can also be unique and beautiful features of the home. They may have a dual function, with many chests often doubling up as coffee tables. Wooden boxes may be delivered flatpacked or assembled.
Cardboard
One of the cheaper storage solutions, Cardboard storage boxes with lids are ideal for items such as CDs, paperwork, or everyday items like chargers and desk accessories. Cardboard boxes can be surprisingly sturdy, especially when corners are reinforced. They can usually be collapsed when not in use. Cardboard is frequently made from recycled materials. Cardboard boxes are usually delivered flatpacked.
Seagrass
Seagrass is an increasingly popular choice due to both its traditional, elegant appearance, and its inherent strength and durability. Seagrass is a natural, renewable material making it an environmentally friendly option. Seagrass boxes with lids are also relatively inexpensive. They are often used for bathroom storage.
Bamboo
Bamboo storage boxes with lids are often used for clothing and bathroom storage. Bamboo is quick growing and can be harvested every few years, making it an environmentally sustainable resource. It is stronger than oak and extremely durable. Not only this, but bamboo is a versatile and pliable material that can be easily crafted to make attractive storage boxes.
Steel
For the ultimate in strength and sturdiness, steel boxes are difficult to beat. Tool boxes are often made from steel, and the material lends itself to features such as cantilevered design and designs with many separate compartments. They often have a powder coated finish for protection against corrosion. Large steel storage boxes with lids are interesting features of contemporary or industrial styled homes. Steel boxes were used as coal boxes and provide practical storage for logs or coal in modern homes.
Storage Box Uses
Storage boxes with lids have various uses, from filing paperwork neatly away and holding desk accessories and craft materials that may clutter the workspace to storing food hygienically and providing large scale storage for bedding, toys, and garden equipment.
| Uses | Material | Description |
| --- | --- | --- |
| Paperwork | Cardboard, plastic | Lightweight, sturdy, to fit standard sized paperwork, collapsible design |
| Desk accessories | Plastic, cardboard, wood, bamboo | Stackable design, internal compartments if required |
| Craft materials | Plastic, cardboard, wood, seagrass, bamboo | Stackable design, internal compartments if required, cantilevered design |
| Food | Plastic | Stackable design, snap close lid |
| Jewellery | Wood, cardboard | Cantilevered design, internal compartments, lockable, decorative |
| Bedding, clothes | Wood, seagrass | Large size, fits space available, possible dual function as seating or coffee table, decorative |
| Garden storage | Wood, plastic | Weatherproof, large enough to hold garden equipment and/or items such as cushions, fits space available, possible dual function as seating |
| Toys | Wood, plastic, seagrass | Fits space available, possible dual function as seating |
| Tools | Steel, plastic | Cantilevered design, internal compartments, carry handles, lockable |
| Bathroom storage | Plastic, seagrass, bamboo, wood | Lightweight, transportable, decorative, water resistant |
Find Storage Boxes with a Lid on eBay
Storage boxes with a lid can be located from the eBay homepage. From the left side of the page, select Home & Garden followed by Home Decor under the Furniture & Living tab and then Boxes, Jars & Tins. Storage Boxes can then be selected from the left side of the page and a number of options are given beneath to refine the listing further by style, material and condition. Alternatively, storage boxes with a lid may be searched for directly at the top of the eBay homepage or any other eBay page. Enter "storage box with lid" into the search field, or refine the listing further by requesting items such as "plastic storage box with lid", "wooden storage box with lid" or "new storage box with lid". To ensure the listing only searches for relevant items, items can be searched for under Home, Furniture & DIY instead of All Categories.
Conclusion
A storage box with lid or system of storage boxes with lids is the perfect solution to organising and storing any kind of item, from jewellery, collectibles, paperwork and desk accessories to food, tools and clothing. Storage boxes with lids are available in an array of shapes, sizes, designs and materials to suit various needs. The type of storage box selected will depend upon different criteria, such as the item(s) to be stored, amount of space available, conditions of storage and aesthetics. Storage boxes with lids may have many useful features, such as snap close lids, stackable design, cantilevered design, locks, collapsible design and separate internal compartments. When purchasing a storage box or storage system, it is important to keep all these criteria in mind. It should also be remembered to research sellers and review feedback to ensure purchases are bought from a trusted seller. Shopping around is well worth the while to find the best products at the lowest prices. Good quality storage boxes with lids are essential components of the modern home and provide effective storage for everyday items as well as long lasting protection for those treasured possessions.