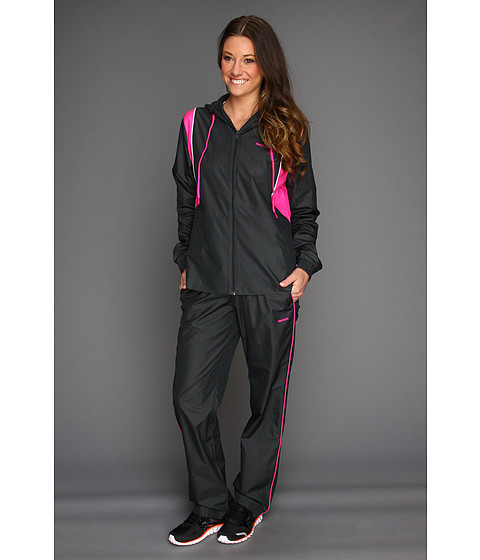 Tracksuits help keep a jogger warm during early morning or winter weather runs, but they also serve as a comfortable, casual outfit to wear at home, especially when one wants to ward off a winter chill. Tracksuits include both a pair of trousers and a jacket, which are generally worn over other workout clothes. While it is generally common for tracksuits to display bright and sharply contrasting colours, they are also found in more staid varieties. One should heavily consider the material with which a tracksuit is made before purchasing it, as different materials have different qualities which may or may not be ideal to their use in particular applications.
Whatever type, fit, or brand of tracksuit one intends to purchase, a shopper should deeply consider the merits of shopping online for her tracksuit rather than heading to retail outlets. Some websites, such as eBay, allow a discriminating shopper the ability to snag name brand options at far cheaper than retail prices.
Picking Tracksuit Colours
As tracksuits are often sold in a matched set, they are frequently manufactured to display bright, bold, and contrasting colours. Stripes along the leg and arms, contoured sections in selected off colours along the waist or shoulders, or inner linings manufactured in an off colour are all very common.
Complementary Colours
The individual who embraces the bright coloured style and loves the sharply contrasting colours often featured, should consider selecting a suit manufactured to display complementary colours. This means colours opposite each other on the colour wheel are used. Blue and orange, yellow and purple, or red and green are all prime examples. In general, one should look for a suit which features the darker colour as the primary colour, with the lighter or brighter colour acting as the accent.
Offset Colours
Offset colour schemes use two colours which sit adjacent to each other on the colour wheel. Colour pairings chosen in this style include blue and teal, yellow and green, and orange and red. As with complementary colours, one should look for a tracksuit in which the darker colour of an offset colour pairing is used as the primary colour.
Monochromatic Colours
For the one who shies away from brightly contrasting colours, tracksuits with a monochromatic colour scheme are in order. This means that the tracksuit's palette is based on one colour, but features a darker hue and a lighter hue. This is an ideal option for the individual wanting a lighter-coloured tracksuit with a dark accent colour.
Neutral and Accent Colours
Many tracksuits are also manufactured which feature a combination of neutral and accent colours. These are great options for the buyer who prefers only a small pop of colour in her wardrobe, or who is looking for a specific colour to match to other accessories, such as shoes or headbands. Whites, greys, and blacks are usually paired with striking colours.
All Neutral Colours
Relatively few tracksuits are available in all neutrals, but they are an ideal option for anyone who does not want to worry about matching, or worry about certain colour combinations going out of style. Tracksuits in all neutral colours are also easily mixed and matched, allowing easy replacement or trading out between pairs.
Selecting the Best Tracksuit Fit Style
Tracksuits generally come in two styles: loose and fitted. Which variety is best to purchase is entirely dependent on one's intended comfort level and intended use of the tracksuit.
Loose Tracksuits
Some tracksuits are manufactured as relatively loose around the legs, arms, and waist. These are generally intended to be used more as comfort items, as the looseness interferes with any athletic activity. These looser style tracksuits are also often manufactured in softer fabrics, which do not do much to help one wick away sweat.
Fitted Tracksuits
Fitted tracksuits are cut slightly more closely around the waist and legs, though not nearly enough to restrict movement or feel uncomfortable to the wearer. Instead, this lack of excess fabric helps prevent distracting friction and noise during jogging.
Selecting the Best Tracksuit Fabric and Fibre Type
Tracksuits are manufactured in an almost endless array of different fabrics and fibres. In general, one should stick to the simple rule of thumb that synthetic fabrics are more suited to heavy athletic use of a tracksuit, while softer, natural fibres are generally intended for casual tracksuit use.
Natural Fibres
Common natural fibres often used in tracksuits include velvet, velour, cotton, and cashmere. They are often softer than synthetic varieties, and are even much more expensive.
Velvet, Velour, and Cashmere Tracksuits
Tracksuits made of velvet, velour, or cashmere are super soft and comfortable and keep the wearer incredibly well insulated despite the relative thinness of the fabric. However, these fabrics wear out quite easily, and are not suited for heavy or athletic uses. They are also often prohibitively expensive.
Cotton and Cotton-Blend Tracksuits
Some tracksuits are manufactured with cotton and cotton blends which mimic the texture and appearance of velvet, velour, or cashmere tracksuits, but they cost only a fraction of the price. These options are good for the individual wanting the comfort and expensive look, but who care less about the insulation properties.
Synthetic Fibres
Synthetic fibres often used in tracksuits usually include nylon, rayon, and spandex in various combinations. However, many tracksuit manufacturers also often use their own specially formulated synthetic fibres. Synthetic fibres are often seen used in tracksuits made specifically for athletic use.
Nylon, Rayon, and Spandex
These fibres are often used alongside each other to increase a tracksuit's longevity, while also making it more fitted and more breathable. These fibres are generally also quite cheap for manufacturers to work with, and this savings is usually passed on to the consumer in the form of lower prices. In some cases, these fibres are also used with specially designed fibres and fabrics.
Polyester
Polyester is usually used in tracksuits because not only is it lightweight and long lasting, but it also serves to be wind and rain resistant. Because of this, polyester does not typically breathe well, meaning a shopper interested in a polyester tracksuit may wish to consider purchasing one with underarm vents to allow for adequate breathability. Polyester tracksuits are also relatively inexpensive.
Gore-Tex
Many tracksuits feature Gore-Tex, which is a specially formulated synthetic fabric that is incredibly breathable, but also waterproof. Also known for being incredibly thin, it is used in many tracksuits to make them waterproof and breathable, while still allowing the suits to be fitted and lightweight. The individual who jogs in mixed weather may wish to invest in a Gore-Tex tracksuit or a tracksuit with Gore-Tex lining.
Microfibre
Some manufacturers of tracksuits take note of the popularity of velvet, velour, and cashmere type tracksuits and make a synthetic fibre alternative, such as microfibre. Microfibre features tiny synthetic fibres which are soft and plush to the touch, mimicking the pleasant feel of velvet. Microfibre tracksuits, however, are very affordable by comparison, while also featuring superior insulation capabilities.
Tactel
Tactel is a relatively new synthetic fibre sometimes seen in tracksuits. Said to dry up to eight times faster than cotton, it is extremely breathable, making it an ideal summer tracksuit option. It is also soft enough to easily compare to cotton and other natural fibres, making it the fabric of choice for the shopper wanting a long-lasting activewear tracksuit which is still comfortable enough to be worn in casual scenarios.
Finding a Stylish Tracksuit on eBay
Buying a stylish tracksuit on eBay should be easy and efficient, even for the person who is new to eBay. To begin, head to the eBay homepage. There you should find the eBay search bar. Click on the search bar and enter in the words which best describe the style of tracksuit you want. "Purple tracksuit set" and "blue velour tracksuit" are just two examples. If there is a brand name or size you have in mind, enter that information with your search. If you need to redo a search or would like to begin a new search, the search bar is also found on each eBay internal page.
If you find an item or listing which looks ideal, but does not provide all the information you need, you can select the option to directly contact a seller with questions about an item. Simply search for the 'Ask a question' function on the listing page.
Conclusion
Tracksuit fashion swings significantly with the times, but looking stylish in a tracksuit takes little more than understanding a few reliable fashion rules. If you are looking to follow the established pattern of purchasing a tracksuit in bright, bold colours, follow a few simple fashion rules to select the best colours and even match them to other gear. The shopper looking for more staid colours can easily find matching tracksuit sets in plain, timeless options.
A buyer should also heavily consider the content of the fabric from which the tracksuit is fashioned, as different fabrics feature different properties which are suited to different uses. Some lightweight, all-synthetic tracksuits are specially formulated to wick away sweat and help keep the jogger warm without overheating during a workout, while others are designed purely for comfort. Whichever style and variety of tracksuit one settles upon, a buyer should consider purchasing online at eBay in lieu of traditional retail shopping.