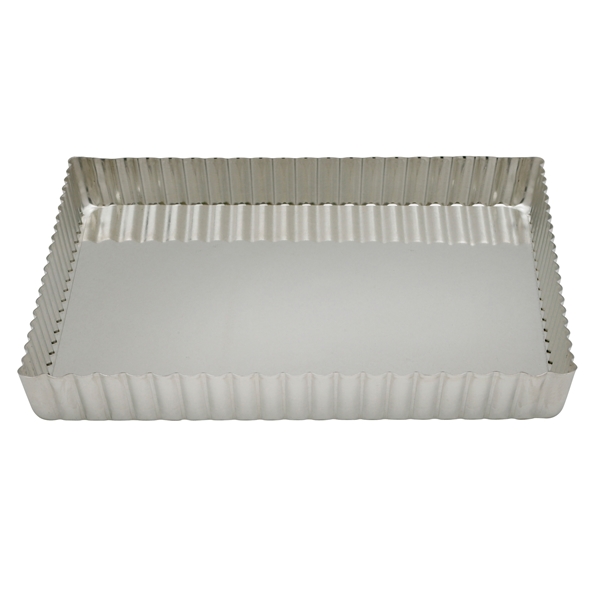 Tart tins come in many different shapes and sizes, including trays containing a series of small indented shapes, individual foil or metal containers, and larger tins to accommodate tarts for sharing. In most cases they are shallow; less than one inch, in the case of the smaller varieties.
About Tart Tins
Tart tins can be used for both savoury and sweet food. Most frequently circular, and occasionally rectangular in shape, in tray form they also come with novelty options, hearts and stars being popular motifs. Normally lined with pastry, which is sometimes baked blind, that is, while still empty, they make the perfect receptacle for a range of delicious fillings and are very convenient because they usually cook quickly.
Tart Tin Materials
Different sorts of non-stick heatproof materials can be used to make tart tins, including aluminium foil, carbon steel, aluminium, and silicone. Generally the materials used for ovenware and bakeware, including tart tins, are suitable for most types of oven, apart from microwave ovens, which do not tolerate metal elements.
Choosing the Most Suitable Tart Tin
With so many varieties available on eBay, tart tins are suitable for lots of different uses. Savoury tarts, such as quiches, can be prepared in full-size quiche tins, normally between 10 and 12 inches in diameter, or in mini tart tins designed for individual tarts, including bite-size canapes and novelty food items. Sweet tarts can also be prepared in larger tins for family consumption, or in smaller individual cases for packed lunches, parties, or after dinner treats.
Most Important Features
Some, but not all, tart tins are safe to use in a dishwasher, a useful feature for busy households. Those with easy clean properties have an added coating that renders the surface smooth and shiny so that baked food does not stick, as do the majority of tart tins that are non-stick.
Size
The smallest tart tins are constructed for canapes and there are usually 24 indented shapes per tray, measuring approximately 1.5 x 0.8 inches each. A 12-shape tin will produce 1.8 x 1.8 inches mini tarts, and these come in heart shapes as well as rounds. Individual tart tins measure between two and four inches in diameter, and purchasers can opt for stars or hearts as well as circular tins. Smaller oblong tart tins are also available, measuring approximately 4.3 x 2.4 inches, as well as larger ones at 11 x 8 inches. Standard circular tart tins are between 10 and 12 inches in diameter. Deeper tins also come in a ceramic variety and are ideal for muffins and cup cakes, as well as tarts.
Personal Requirements
Choosing the right tart tin means taking individual requirements into account, including selecting the material that fits with the rest of the bakeware in a kitchen. For example, if this is mostly carbon steel or aluminium, then ovenware in the same material will be a good match. If microwave cooking is preferred, then non-metal materials such as Pyrex glass, ceramic, or silicone will be needed.
Fit for Purpose Containers
Cooks who regularly bake may find a combination of larger, family size tart tins and one or two tray tins featuring different shapes will suit most occasions. If cooking for lunch boxes for adults or children, for picnics, or for occasions when bulk baking is necessary, using aluminium foil containers may be the best option. These are extremely lightweight and portable, as well as economical to buy as they are sold in large batches on eBay. If it's not possible to gather, wash, and recycle them at home, at least they are easily disposed of in public waste disposal facilities. Building up a good collection of different size tart tins will help towards the creation of a well-stocked kitchen, and there will be no difficulty finding flan tins on eBay.
Buying a Tart Tin on eBay with Confidence
There are a number of very useful tools available on eBay to help buyers make a purchase with confidence.
Research Tart Tins
Next, take the time to research tart tins and draw up a checklist of preferred, desirable features that may include, but are not limited to, style of tin, size of tin, preferred material, and any particular colour that may be required. On the home page, a search for "tart tins" generates a list of options on the left hand side of the page; this allows purchasers to quickly scan and to explore the categories and sub categories that are most relevant to the kind of item they have in mind. Once suitable listings have been found, checking to see whether they reflect the current market price for comparable tart tins is a useful way of gauging whether the item is worth buying or bidding for.
Ask Questions
Using eBay's "ask a question" feature on the listing page can help bidders get the answers they need to any queries they may have. Frequently, buyers use this to contact the seller for further information so there are no unanswered questions before bidding on an item. It is standard practice to ask a seller for additional details or photographs and this helps to ensure that goods for sale are exactly as described.
Check Feedback
The listing page for an item displays the seller's user id, including numbers in brackets, which, when clicked, display a feedback list. From this it is easy to get a summary of the views of other buyers in relation to their experience of transactions with a particular seller. eBay sellers are rated according to the quality of feedback and the number of successful transactions they have conducted. The very best earn a good reputation for resolving any issues that might arise quickly.
Make Realistic Bids
When selling an item, a minimum or reserve price is often stipulated. This means that the seller will not accept a bid that is less than this amount. Some items, such as collectables or antiques, will have a higher reserve price than standard goods, so it is essential that bids are realistic, remembering that the seller aims to achieve the best price. Bids in excess of the reserve price will ensure that the buyer is aware of genuine interest in the product, although this does not guarantee a successful sale. Some listings may also contain options for "Best Offer" or to "Buy It Now" so it is always worth investigating these if the tart tins selected match exactly what is required. Consider how essential the item is and how quickly it is needed, before deciding the maximum bid price to put on offer.
Additional Costs
Tart tins are relatively small items and usually lightweight so the costs of sending them are unlikely to be significant unless they are ordered in bulk. If this is the case, and for any other items that are heavy or bulky, higher carriage costs may be incurred, or it may be necessary to make arrangements for a pick up. When calculating the level of a maximum bid, these costs should also be taken into account. Once a maximum bid level has been set, and to minimise the number of times buyers have to check back on the progress of a sale or auction, eBay automatically increases the value of a bid up to the specified maximum amount when a new, higher bid is made. As soon as another bidder offers more than the maximum bid, however, the automatic increases stop.
Find Tart Tins on eBay
The search box on the eBay home page makes finding tart tins simple. Getting to the most relevant listings can either be achieved through a generic search or opening the All Categories dropdown next to the search box, selecting Home, Furniture & DIY, and clicking on the Cookware, Dining & Bar link in the left-hand bar. If collectable items are being sought, choose the Collectables sub category instead. Click on the various subcategories, or, alternatively, simply enter the desired product name, type, or style of tart tin in the search bar at the top of the homepage.
Conclusion
Choosing ovenware and bakeware is something dedicated cooks may have to do several times over – many products come with guarantees, but constant use, plus wear and tear and hygiene considerations mean it's wise to plan for replacements when utensils become worn. eBay lists a wealth of different types of Cookware, Dining & Bar accessories – from tableware and linen to pots and pans, and ovenware – allowing purchasers to research sellers and individual items in order to explore the most suitable options to meet their needs.