Caring for tropical fish is a rewarding experience. To maximize enjoyment and foster a healthy living environment, purchase a properly sized and equipped tropical fish tank. The right tank not only adds aesthetic value to a room but also brings a sense of peace amongst inhabitants.
Positioning and Shape

Fish tanks may be wall-mounted, built-in, or freestanding. Wall-mounted fish tanks and built-in fish tanks are ideal for smaller living areas; these tanks are generally positioned at eye level. Conversely, freestanding tropical fish tanks become increasingly popular due to their ease of maintenance. Moreover, standard rectangular tanks and bow-fronted designs offer the largest surface area in relation to tank capacity; however, if desired, you can choose spherical and cylindrical varieties.
Materials
Tropical fish tanks may be fashioned from glass or acrylic panels. Glass aquarium fish tanks are easier to clean and more durable. On the other hand, acrylic fish tanks are lighter, more insulative, and less prone to chipping; however, these tanks require full-stand support under the base.
Fish-Tank Size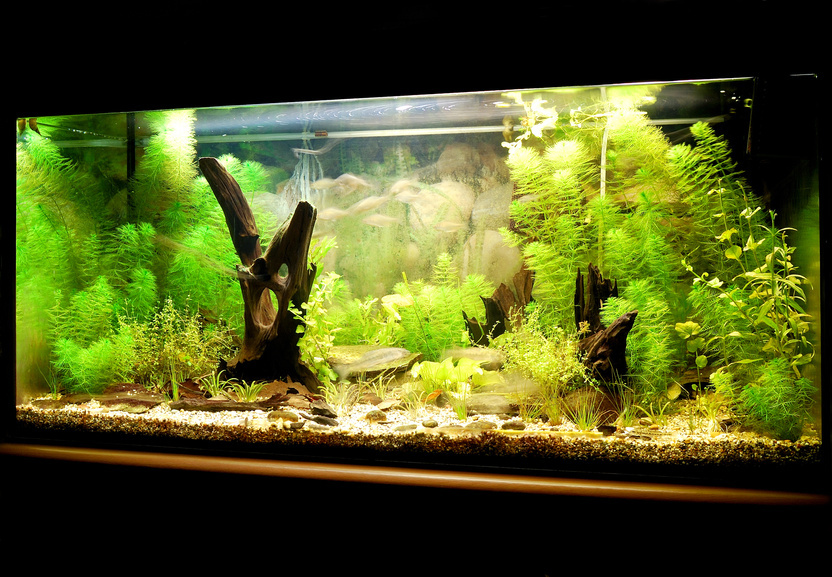 Ensure that the fish tank is compatible with the species of live tropical fish you intend to buy. While some fish require little room due to their small size or inactivity, others are quite active and grow to great lengths, therefore, requiring a large tropical fish tank in order to thrive. In general, fish tanks vary in size from small goldfish bowls to larger 946 L public aquariums. It is a good idea to purchase one that allows for expansion should you desire more fish down the line; larger fish tanks also require less attention and maintenance. As a general rule of thumb, to determine the necessary size of the tropical aquarium, allot each fish 3.8 L of water. Most tropical fish are peaceful; however, some varieties, such as angelfish and bettas, tend to act aggressively with other species, and should be kept isolated.
Fish-Tank Heaters
Tropical fish tank heaters feature a thermostat, which helps keep the water at a preset level, since fish rely on the water to regulate body temperature and provide warmth. Because tropical fish need warmer water to flourish, set it higher than that of the ambient room temperature. Moreover, the heater's size should be proportional to that of the fish tank. Still, cooler rooms require larger heaters.
Filtration Systems
Essential to tropical fish health, tropical fish tank filters help maintain water quality. While power filters fit onto the side of the tank, canister filters go under the water; these filter types are relatively easy to maintain. Lastly, under gravel filters go where their name suggests.