Having an anchor at the ready on your boat is crucial. After all, you do not want to drift away unaware, such as in your sleep or while fishing. The right boat anchor keeps you safely in one place. Buying a used anchor, providing it is in good condition and is the right type, is a great way to make substantial savings.
Choose a Used Anchor Type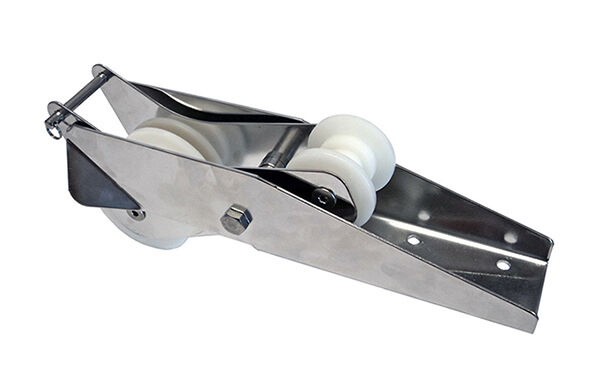 Used anchors are available in an array of types. The traditional fisherman's anchor is a popular choice for many vessels, as it is a non-burying type. This ancient design is a good all-round anchor, well suited for those who need to anchor on multiple seabed and riverbed types, particularly rock, kelp, and grass. You can stow a plough anchor over a bow roller for ease of use and fast deployment. Like the fisherman's anchor, the plough anchor is an all-rounder. A fluke anchor, such as one by Danforth consists of a stock at the crown and features a lower crossbar with two flat flukes and a hinged stock. The Danforth fluke is a burying type, offering a great deal of resistance and holding power when properly set, and ideal for soft bottoms, but not firm, rocky, or kelp bottoms. Fortress and Guardian anchors are lightweight, folding anchors, perfect for small vessels. Negating the need for a powered windlass, Fortress and Guardian anchors have a very high tensile strength-to-weight ratio and offer high resistance and holding power in almost any bottom. A claw anchor, such as the Bruce anchor, holds well in most conditions and is a variation of the plough anchor. A good choice for smaller vessels, claw anchors hold in most bottom types, but may have problems penetrating weed and kelp.
Consider Your Boat Size
The size of your boat is a crucial factor when purchasing a used anchor. The size and weight of your boat determines how much holding power you need. That does not necessarily mean the bigger the boat, the heavier the anchor. It is also a common practice to have a secondary anchor on board in case your first anchor fails or if your primary anchor does not set in a particular bottom type. Most anchors have paperwork or an inscription detailing their weight and the maximum weight and length of the boat they can hold, to make your decision easier.
Examine the Used Boat Anchor

When purchasing a used boat anchor, you must make sure it is in good condition with a thorough physical examination. While some corrosion and wear is perfectly normal, it should not show excessive corrosion. This is particularly important at the joints, as severe corrosion here indicates that the anchor may break away at the corroded joints. Check the ring and the head, too, and if they show excessive wear or corrosion, they may snap while you are hauling the anchor back in.