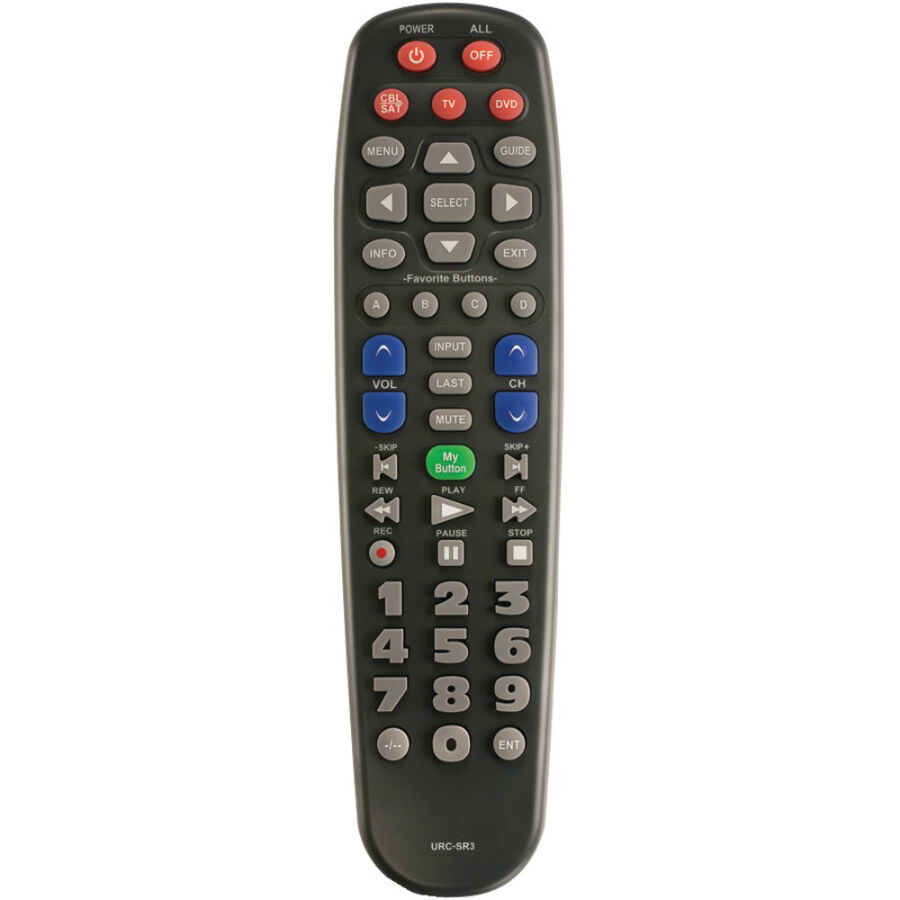 It happens all too often that the remote control for the DVD player goes missing or suddenly stops working. When this happens, a person is stuck having to move back and forth between the couch and the television to operate the controls. This can get old very quickly. Fortunately, DVD remote controls can be replaced rather easily. They do not have to be a big expense either. Many people sell used remote controls at discounted prices. This makes them very affordable. Buying a remote control that has been previously used requires a bit more legwork than purchasing a brand new one. Once a shopper has considered all their options, like the different types of DVD remote controls, they have to go a step further and analyse the remote's condition and price. There are many great deals on used DVD remote controls out there, and many of them can be found on eBay..
Types of Remote Controls
If the original remote control to a DVD player has been lost, then there are several options to pick from when it comes to choosing a replacement. Shoppers can obviously look for the exact same remote that was lost or broken, but they can also check out other types of remotes to see if another would be a better fit. The table below lists the types of remotes that are available as well as a description of each type.
| Type | Description |
| --- | --- |
| Dedicated | Device-specific remote; usually the remote that is included with the DVD upon purchase |
| Brand-Based | Remote that works with all devices made by a specific brand or manufacturer |
| Universal | Third-party remote that can be programmed to many different brands and devices |
| Learning | Universal remote that can learn codes from various devices; works with more devices than a universal remote |
| Programmable | Completely customisable remote where users can programme specific buttons to perform certain tasks |
Third-party universal remote controls are among the most common types of replacement remotes. They are available in many different designs and can be programmed to work with the DVD player, TV, VCR, and any other devices in the home theatre system.
Options to Consider
There are so many options for shoppers to consider when trying to find a remote control to use with their DVD player. Some of the features shoppers should consider include large buttons and backlighting, as well as the different types of batteries. These all affect how convenient the remote control is to use.
Large Buttons
Remote controls with large buttons are especially helpful for people who have trouble seeing or for people who have trouble pushing smaller buttons. The remote control itself can be larger to accommodate the buttons, or the buttons can just be arranged differently on a remote of the same size. All of the functions for fast-forwarding, rewinding, pausing, and more are all present on these types of remotes.
Backlighting
A remote with backlighting is ideal for watching movies in a dark room. Rather than having to squint to see the buttons or get up to turn on the light, the buttons light up once the remote is activated. This makes it easy to see which button is being pressed without having to disturb anyone else in the room or having to adjust positions.
Battery Types
Most DVD remote controls work with standard AA or AAA batteries, but others can be used with rechargeable Nickel Cadmium or Lithium Ion batteries.. These rechargeable batteries are often more powerful than disposable batteries, which means that they last longer. DVD remotes that have LCD screens or backlighting have a tendency to drain batteries much faster than remote controls that do not have these features. When checking out different DVD remotes, shoppers should consider the cost of replacement batteries, too.
Considerations When Buying Used DVD Remote Controls
The shopping process for a used DVD remote control is different than the process for shopping for a new one. Shoppers must follow all of the steps for buying a new remote, then go a step further. Once the shopper has decided on a type of remote and the features they require, the shopper has to inspect the price and condition of the remote as well. While the quality and condition of a new remote can be guaranteed by the manufacturer, the same does not hold true for used remotes. For this reason, shoppers have to take the time to inspect the remote and make sure that it is in working order, that it comes with instructions, and that it is priced in accordance with its condition.
Instructions
A new remote comes complete with the instructions necessary for programming and operating the device. When purchasing a used DVD remote control, it is likely that the previous owner has misplaced or thrown away the instructions prior to selling it. Many universal remotes are programmed in the same way, but without the codes, the process can take a lot longer.
Learning remote controls and programmable remote controls require many more steps to programme them. Unless the shopper is familiar with these types of remotes, programming them without the instructions would be nearly impossible. For this reason, shoppers should look for DVD remotes that come with instructions included.
Condition
The condition of a used DVD remote is of utmost importance. The remote needs to be in working order or it is not worth the investment. When shopping for a used remote, it can be hard to tell if the remote works or not. The buyer can ask to test out the remote if they are purchasing it in person. When shopping online, buyers must read the description carefully to ensure that the remote control is in working order. It is not uncommon for people to sell their remotes for parts at greatly discounted prices.
Price
The price of a used DVD remote should correspond to the condition that it is in as well as its value. Shoppers need to compare the retail price of the remote when it is new to the price that the seller is selling it for in used condition. Delivery costs need to be factored into the final price as well. A used remote with postage and packaging should never be more than the cost of the remote when it is brand new. Likewise, if the DVD remote is priced well under the retail price, then the shopper should take the time to enquire why it is being offered at such a discounted rate. If there is a huge discrepancy, then the remote may not be in working order. Remote controls that show signs of use should be priced much lower than those that are in better condition.
How to Buy DVD Remote Controls on eBay
When shopping for used DVD remote controls online, eBay should be the first place that people check. eBay brings buyers and sellers from across the UK together in one convenient location. Because all sales go through private sellers, it is easier for shoppers to locate or negotiate a lower price than they could anywhere else. In order to find the best deals on eBay, shoppers have to know how to search the site properly and narrow down the results to find just the right items.
Keyword Search
To get started, type keywords into the search bar that describe the type of DVD remote control you are looking for. Be sure to keep the search query simple, because a search that is too specific might not return any results. You can opt to search all categories on eBay, or you can specify which category you want to focus your search in.
Refining Search Results
A search for 'DVD remote control' is very broad and likely returns thousands of results. Rather, select the brand, type, price range, or condition to narrow down the list of results. Additionally, you can sort the results by price, relevance, or distance, so that listings that better match your search are moved to the top of the list. You should then have a manageable number of listings to sort through to find the DVD remote control you are looking for.
Conclusion
If a DVD player remote control dies or breaks, users do not have to subject themselves to the hassle of having to get up and down to operate the player. Finding a replacement remote control fixes the problem and means that the user does not have to buy a whole new DVD player. To save even more money on the investment of a new remote control, shoppers can look for remotes that have been previously owned. All types of remote controls are available in used condition, so shoppers do not have to find an exact match. They can choose from a wide range of remotes that might better suit their needs. Shopping for a used remote control is a bit trickier than shopping for a new one. Rather than just grabbing one off of the shelf, shoppers must take the time to evaluate the remote to ensure that it is worth the price and is in working order. No matter what kind of remote control a shopper is looking for, they can find a large selection of used DVD remote controls on eBay.