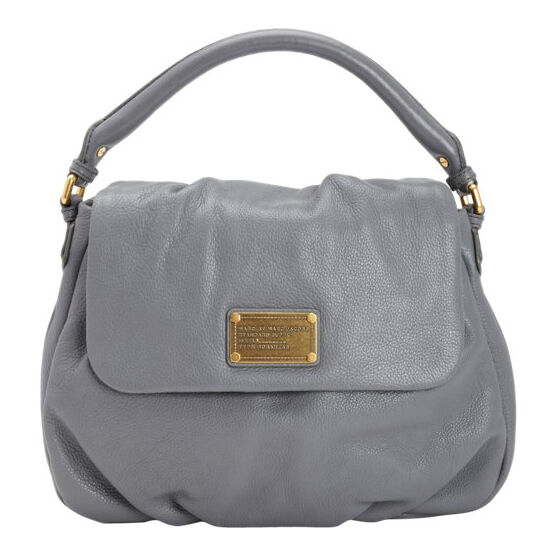 Throughout their history, handbags and their precursors have served practical functions while still making a fashion statement. Over centuries and millennia, the form and contents of the purse have varied. From Ancient Egyptian men wearing small bags around their waists to the girdle pouches of the middle ages, handbags have reflected the fashion of the times, symbolised the wearer's status, and held everything from coins to daggers. But it was not until the development of the railroad, when people travelling long distances needed handheld luggage, that the handbag as we know it really emerged. This marked the emergence of some of the most famous handbag designers, Thierry Hermes, and Louis Vuitton.
Handbags today come in many different sizes and styles to match various fashions and occasions. Buying used handbags can be a great way to save money, and because well-made handbags tend to be very durable, shoppers can still get quality items that will look sharp for years to come. Knowing what to look for in a used handbag can make the buying process easier and more successful in the end.
Types of Handbags
There are several different types of handbag, and within each type, several variations. Handbag types are generally classified according to size and structural features, as outlined in the following chart.
| Type of Handbag | Description | Recommendation |
| --- | --- | --- |
| | Large capacity holds many items; handles may be long enough to put over shoulder; may include internal organisation compartments and external pockets | Going from work to gym; travel; day at the beach; shopping |
| | Medium or large capacity; strap or straps fit over shoulder; may have internal compartments and external pockets; hobo bag is a popular style with slouchy shape and rounded corners | Excellent for everyday use and casual evenings out; nappy bags ideal for carrying baby supplies |
| | Long strap fits across the body; bag sits at waist or hips; keeps arms free; comes in small, medium, and large sizes; may have internal compartments and external pockets | Perfect for going to school; great bag when hands and arms need to be free, such as when riding a bicycle; casual weekend use; travel |
| | Small- to medium-sized; short straps to be carried by hand; structured or unstructured; generally longer that it is wide | Professional day use; dressier evenings out; parties |
| | Small, elegant purse to match formalwear; strap may tuck in to convert to a clutch purse; wristlets have a small strap that fits over the wrist | Formal occasions; fancy dinners; weddings |
| | Evening bag without a strap, meant to be hand-held | Formal occasions; fancy dinners; weddings |
As shoppers decide between the various handbag types, they should consider the intended use and frequency. Overstuffed handbags of any size look awkward, so it is important to find a bag that has enough room to hold essential items. Thinking about how they prefer to carry their bag helps determine what kind of straps or handles they should look for. Yet another structural consideration is closure type. Some bags, especially totes, may be open at the top or close with a magnetic snap, some zip shut, while others have a flap enclosure.
Handbag Materials
Handbags come in a range of materials that vary in look and durability. Deciding on a particular material depends largely on personal preference, budget, and the level of formality.
Leather
Prized for its durability and appearance, leather is the most common material used for handbags. But not all leather is the same: it can differ significantly depending on the animal it is from, what part of the skin is used, and how it is processed.
| Leather Type | Description |
| --- | --- |
| Top-Grain Leather | Uses the outer layer of the hide; sanded or processed to remove natural markings, creating a soft, smooth texture; very durable, yet the processing reduces full durability |
| Full-Grain Leather | Uses the outer layer of the hide, but is unprocessed; natural markings are evident; strongest kind of leather, highly durable |
| Napa Leather | Usually dyed black; remarkably supple feel; genuine Napa leather is very durable |
| Tooled Leather | Tools used in the final stages of processing to create unique, intricate designs, texture, and colour |
| Quilted Leather | Stitching along leather creates a puffed, quilted effect |
| Patchwork Leather | Formed from different pieces of leather sewn together; highly popular from the 1960s through the 1980s |
Different animal skins have specific characteristics. Cowhide is the most common kind of leather. Sheepskin is the second most common, and is somewhat less durable than cowhide. Goat and kid leather makes up only about five percent of leather products; it has a finer suede than cowhide, and is more durable than sheepskin. Pigskin comprises about ten percent of leather products; it can produce a fine suede but has large pores that are visible on top-grain leather. So-called exotic leathers like alligator, ostrich, and snake are sought for the unique markings on the skin.
Faux Leather
People who want the look of leather but prefer an alternative for ethical or budgetary reasons may find faux leather (also called pleather, leatherette, and eco-leather) a good choice. Some faux leathers can be quite supple and luxurious feeling. Faux leather handbags tend to be more affordable; in addition, they are durable and require minimal care.
Canvas
Another very popular material for handbags is canvas. Canvas is durable, can be dyed in different colours or printed, and is a stylish, practical choice for casual occasions.
Satin
Satin is often used for evening bags. Its elegant sheen matches perfectly with its delicate size and detailing. Extra care should be taken when carrying a satin bag, as it can snag when coming into contact with rough surfaces.
Other Textiles
Handbags come in a wide range of other materials, including cosy faux fur, vibrant vintage upholsteries, sporty, lightweight nylon, and luxurious silk.
How to Buy a Used Handbag
The first step in purchasing a handbag is to think about its intended use: when, where, and how often will it be used? Is it meant to carry many items, or just a few? Does it need to look formal, professional, or can it be casual? Is it a seasonal bag, or something to be carried year round? Deciding on these questions narrows the choices down to one or two different kinds of handbags. It also helps to have an idea of what colours or designs complement one's wardrobe and figure. Handbags are prominent accessories that go everywhere, so they should be flattering and complementary to one's individual style. Finally, it is important to decide on a budget. Designer handbags, even when bought used, can be rather pricey; however, they are high-quality, durable items that can even be sold again. If investing in a designer handbag is not a priority, or not financially feasible, there are plenty of stylish, quality handbags that can be quite affordably priced when pre-owned.
Inspecting Condition
When shopping for a used handbag, it is important to inspect the item's condition. Are there signs of wear and tear along the seams? Is the lining intact? Are there any interior or exterior stains? Is there much wear along the handles and straps? How is the hardware? Do all the buckles, snaps, and zips function? Is there any fraying or discolouration? Is the bag odour-free, inside and out? Cobblers may be able to fix certain things like seams, and cleaning can bring new life to a bag, but some things like stains may be there for good. Buyers should also consider the cost of any repairs or cleaning, and add that to the resale price tag.
Where to Find Used Handbags
Used handbags are available from a number of places. For those who prefer to buy in person, consignment shops, vintage shops, thrift shops, and street markets are good places to look. There is also a wide selection online, including auction websites like eBay, where shoppers can find lots of bargains and purchase directly from the seller.
Special Considerations for Buying Used Designer Handbags
The biggest concern when shopping for a used designer handbag is authenticity. There are certain basic steps to take to confirm a bag's authenticity. Before buying, shoppers should research the designer's product line, familiarising themselves with the different models and their specific features. They should find out what kind of hardware the manufacturer uses, be it nickel, leather-coated, silver, or brass, and whether the hardware is stamped with some brand indicator. They should know what colours that model comes in, and what kind of stamps the designer uses on that model. There is a wealth of information on the Internet about how to authenticate designer handbags; consignment shops can be another source of information and advice.
If buying online, there should be photos posted that detail all the marks of authenticity. If there are not, shoppers should request them from the seller. Photos should be downloaded and saved, so that once the product arrives, it can be compared with them for consistency. If there is any doubt, the buyer can post their own photos of the item to check for authenticity.
How to Buy Used Handbags on eBay
If you've decided to look for a used handbag online, eBay is a great place to search for high-quality items at affordable prices. First go to eBay's home page, and enter keywords, such as "used black hobo bag&", in the search bar. Keep in mind that there is a wide range of used handbags available; the more specific the keywords, the narrower and more relevant the results. You can refine the original search results by then selecting brand, price, seller location, and other limiting factors. For more search tips, visit eBay's Search Tips page.
Before You Bid
Before bidding, read the item description carefully, checking for details like material, dimensions, and the seller's return policy. Take shipping costs into consideration when placing your bid. If buying a used designer handbag, refer to the section above for tips. If you have any questions, it is easy to contact the seller.
You should also get to know a little about the seller. Reading customer feedback, particularly from those who have purchased handbags or similar items, can be quite useful in gauging the seller's reliability and product knowledge. Top-rated sellers have completed a high volume of transactions with excellent customer satisfaction.
Conclusion
Many women consider handbags an essential element of their wardrobe. The handbag's combination of function and style has secured it a prominent position in the fashion world since its emergence in the mid-nineteenth century. And because there is a handbag for nearly every occasion, many consumers wish to acquire several handbags to suit their many needs. Shopping for used handbags is an excellent way to save money in the process.
It is important that shoppers know what to look for in a used handbag. The first level of decision-making is what kind of bag to buy; this depends on the intended use, and the woman's personal style. She should then consider what kind of material she wants: handbags come in a range of different materials, each with its own particular qualities and advantages. Finally, she should know what to look for in a used handbag. Inspecting an item's condition is a vital part of the buying process. And, if she is considering a used designer handbag, there are additional steps to take to verify its authenticity.
Buying used handbags is an excellent way to acquire a quality product at an affordable price. By informing themselves about the buying process, women can find a stylish, durable bag that they will love.