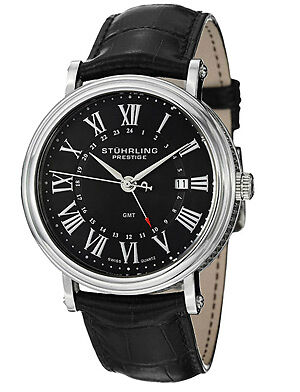 Good watches are made to last more than a few lifetimes, and the market for used watches, as a result, continues to grow. While some people favour metal straps, some others prefer leather, and there is no definite winner here; it is simply a matter of preference. Buying a used leather watch cannot only result in considerable savings, if one ends up buying a good watch, it can also become a prized possession.
Buying used leather watches is no longer as difficult as it used to be a decade or so ago, thanks to the widespread usage of the Internet. Now, you can turn online to portals like eBay, and search through scores of alternatives, and you continue to have the option of walking into local pawn shops or shops that deal in secondhand goods. In either case, there are some aspects you should familiarise yourself with, and these include identifying the different kinds of watches on offer in terms of design, technology, and pricing.
The Movement
Different leather watches rely on different technologies, and the most common ones include mechanical hand-winding, mechanical automatic, and quartz. Choosing among these, too, is based on a person's preference, although mechanical watches continue to be looked upon as the most reliable.
Mechanical Hand-Winding Watches
Mechanical hand-winding watches rely on the use of a mainspring and gears, and you are required to wind the watch by using its crown every 30 to 40 hours. The spring slowly unwinds providing power to other components. Mechanical watches do not require batteries, which makes them environmentally-friendly alternatives. Most vintage and antique watches rely on mechanical movements, and well-crafted mechanical watches continue to be popular owing to the great style they offer coupled with durability and reliability.
Mechanical Automatic Watches
Mechanical automatic watches rely on the wearer's bodily movements to allow them to wind up. They do not require manual winding and simply wearing them on the wrist does the job. As long as one continues to wear an automatic watch it does not stop running, and once removed, it can continue to run for up to 72 hours, depending on its winding reserve.
Quartz Watches
The introduction of quartz battery watches dealt a big blow to the, then prominent, Swiss watch industry, and their popularity has not waned in any manner since. While you can look for a fairly affordable quartz watch, you can also come by some high-end alternatives. Quartz movements are electronic in nature and they are called so because these watches involve the use of actual quartz crystals. While most quartz watches use replaceable batteries, some, like Citizen's Eco-Drive, are solar powered and rely on rechargeable batteries.
Solar Watches
Solar watches, like the Eco-Drive series by Citizen, rely on solar power to keep running and use the same basic technology that is used by quartz watches. These watches come with internal rechargeable batteries that are charged when the wearer is out in sunlight. Once the battery is fully charged, it can provide enough power for the watch to run up to six months without needing to be charged again.
The Case
The body of a watch sits in a frame, which is referred to as the watch's case. These cases come in various shapes, like round, rectangular, square, oval, and some cases can even take the shape of popular objects, like footballs and beer cans. These cases are made using different materials, which include different qualities of plastic, a number of hi-tech materials, metals like steel, silver, gold, platinum, and titanium, wood, and even stone. These cases can be adorned using different types of designs, finishings, and embellishments. The material used to make the case can have a significant bearing on the price of the watch, wherein a steel-cased watch would, in all likelihood, be cheaper than one that comes in a case made of titanium.
The Design
The design of a watch has a bearing on how and where it can be worn, and most watches are designed to be used under particular conditions. For instance, would you want to wear a sports watch to a high-end, sit-down dinner function? Your basic options when it comes to leather watch designs include those for everyday use, sports watches, formal watches, and high-end watches.
Everyday Use
Even when you are looking for an everyday use watch, you should still pay attention to aspects like what you wear it with, as well as the features for which you are looking. For instance, if you wear a suit to work, you are better off looking at formal designs, and if your work wear is more casual, you can think of buying a sports watch and doubling it up as an everyday use watch. When it comes to the features, ask yourself if you want your watch to have a date function, a chronograph, or a backlight.
Sports Watches
Good sports watches are rugged, durable, and come with multiple features. Good sports watches tend to offer water resistance up to 100 m and some of the better models offer shock resistance as well. These watches commonly include features, like chronographs and backlights, and more advanced models even offer LED screens, calorie counters, and heart rate monitors. Also included in this category are pilot and diver watches.
Formal Watches
Most formal watches offer distinctly timeless designs and work well when worn with most types of formal attire. A gold watch with a leather strap, when paired with a tux or a dress, can look fantastic, and when looking for a formal watch, those with visible mechanical movements are suggested, since they help add an air of sophistication. Your formal watch should offer more than your everyday watch, so looking for an added feature, like a moon phase display, certainly helps.
High-End Watches
Many people look for used high-end watches since they allow them to own a piece of luxury, albeit at a reduced price. These watches are normally produced in relatively small numbers, instantly recognised by watch aficionados, and not easily available. High-end watches include watches made by prominent watchmakers, and some of these names include: Patek Phillipe, Vacheron Constantin, Franck Muller, AUlysse Nardin, Breguet, and Audemars Piguet. What you should remember is that although used high-end watches are up for sale, they can still be quite expensive.
The Leather Strap
A leather strap works by adding a certain level of charm and sophistication to a wristwatch, and you can always change the strap as, and when, required. Leather straps for watches are made available in different colours, hues, designs, and patterns, and different types of leather are used in their making. The table below shows commonly used types of leather used to make watch straps.
| Leather Type | Other Uses |
| --- | --- |
| Bridle | Belts, gun belts, leashes, pet collars |
| Latigo | Belts, leashes, pet collars, cinches, tack |
| Natural vegetable tanned leather | Holsters, sheaths, belts |
| Suede | Garments, chaps, trim |
Although most types of leather used to make watch straps are durable, their use is not very common when it comes to waterproof or sports watches, simply because the quality of leather deteriorates with extended exposure to water.
Aspects to Consider
When buying a used leather watch, you should pay attention to certain aspects of the strap as well. When it comes to attachment styles, the two most commonly used alternatives include straps with straight-ends and straps with integrated-ends, which come into play when the strap needs replacing. If you are looking for a replacement strap you also need to identify the strap size and strap length.
Buying a Used Leather Watch on eBay
If you are looking for used leather watches, eBay has some great alternatives on offer, which include options for men, women, as well as children. You have a range of brands from which to choose, some of which include Breitling, Omega, Rolex, Seiko, Swatch, and Tissot. The designs on offer range from sports watches to formal watches to high-end watches; and you can expect to find mechanical hand-winding watches, mechanical automatic watches, quartz battery-operated watches, quartz solar powered watches, and more.
eBay gives users a simplified search tool that helps them look for any product they want, and this tool can be used to good effect when it comes to looking for used leather watches as well. All you have to do is enter what you are looking for, which, in this case, can be "used leather watches", hit enter, and eBay gives you an array of options from which to choose. The other option you have when looking for used leather watches on eBay is using the category-based search route.
Conclusion
If you are spending a considerable sum of money when buying a used leather watch, it is important that you pay attention to the durability of the watch as much as its design and functionality. The size of the watch that you should look for depends on your taste as well as your personality, and the same hold true for choosing designs and colours as well. When it comes to movements, you basically have mechanical and electronic alternatives from which to choose, and the more intricate a watch's functioning, the more expensive it is.
When buying a used leather watch, it is important that you take into account the features you actually need, simply because the cost of added features can up the cost of a watch considerably. If you are buying an expensive watch, bear in mind that it needs periodic upkeep in the form of servicings at the local watchmaker every two to three years. If you wish to buy a used leather watch, buy the best one within your means, and treat it with respect.